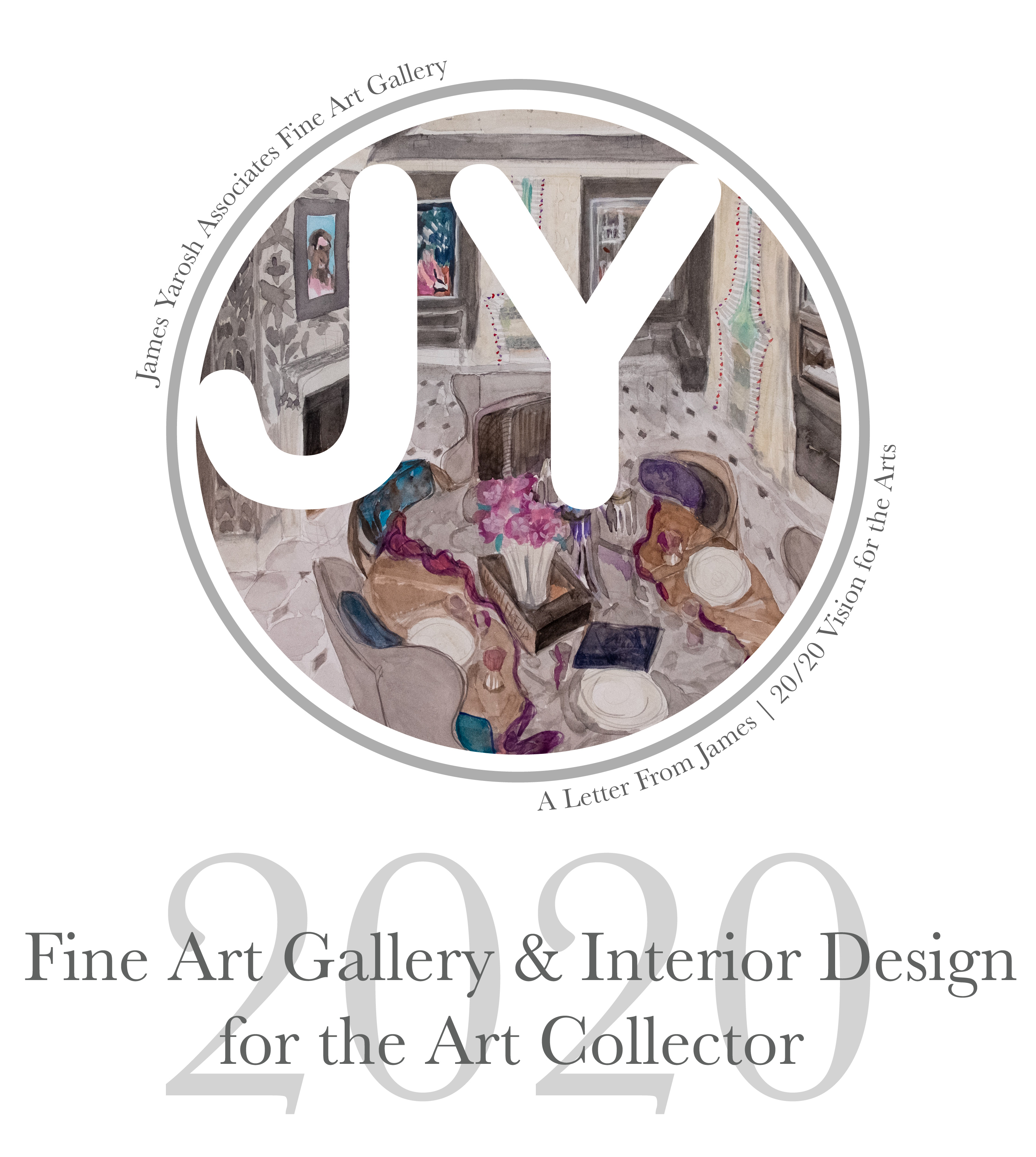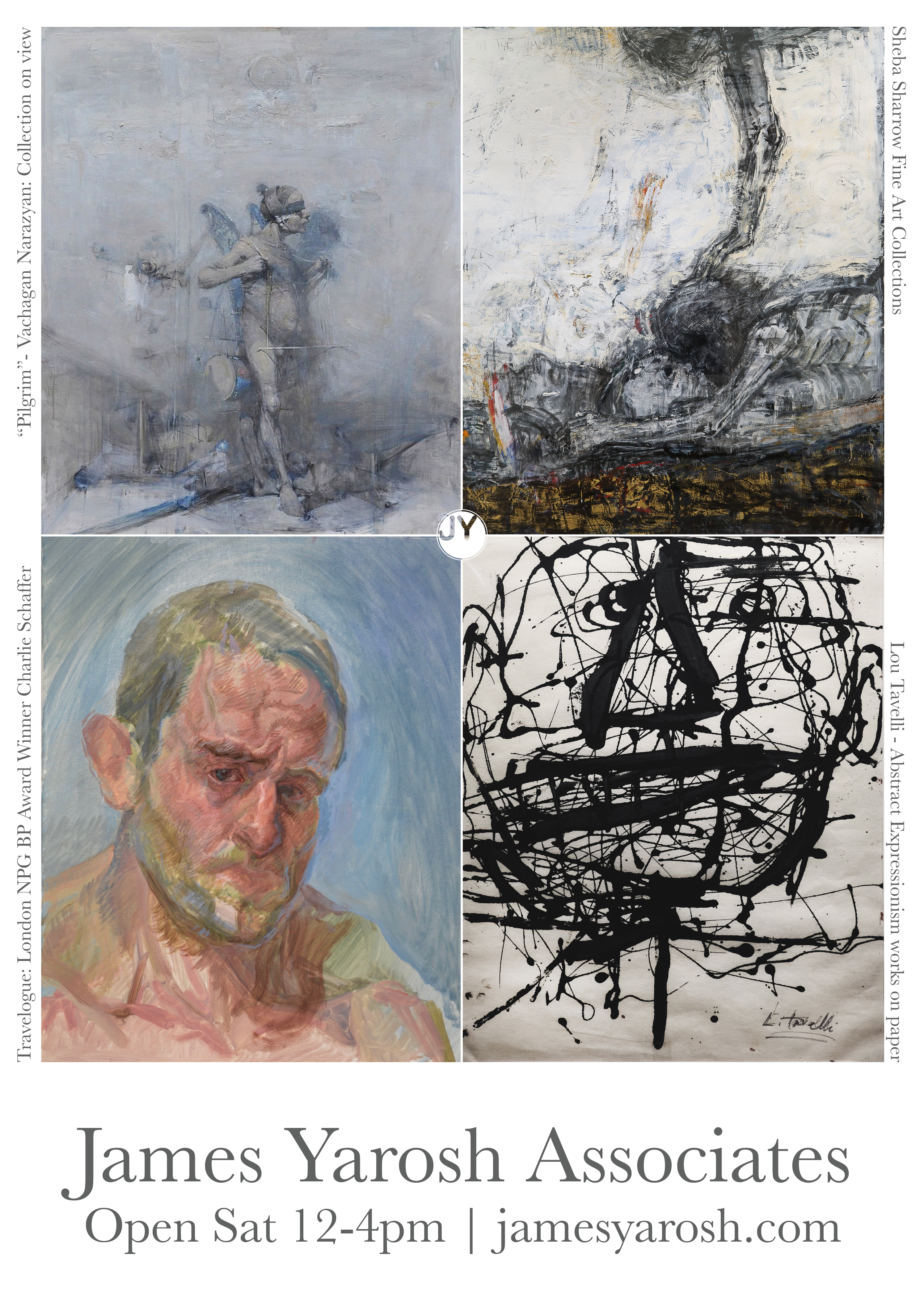 A LETTER FROM JAMES YAROSH - 20/20 VISION FOR THE ARTS:
In reviewing this past year, I remembered the excitement with which it opened: lovely words penned by Noelle Newell in a profile about my work as an interior designer and art dealer in an online feature in Wall Street International magazine. She wrote, "Yarosh like many great interior designers is part illusionist and part alchemist. The maximalists Tony Duquette and Juan Pablo Moyneux come to mind. I consider Yarosh a curated maximalist. His trained eye knows which stylish periods marry well together — such as Directoire and Art Moderne — and that they do not compete with the art being exhibited."
It was flattering recognition to open 2019, which was bookended by a likewise positive finale: a nine-page photo-driven feature in NJ HOME magazine showcasing my artistic interior design of a three-bedroom New York City apartment, which I created for a long-time client who trusted me with the gift to design a space that set the stage for them to "paint" a vision of a happy future life there.
The year in between was filled with the energy and efforts required for navigating doing good work in both the arts and in the interior design industry. My design work load continued to grow with projects both locally and in several states, with my gallery in Homdel as my creative headquarters. The year also included two museum-filled trips to Europe with my long-time partner that had me contemplating starting to paint again for myself — and what that would involve.
It was a busy year.
Then, this past Fall the Mansions in May showhouse committee put out a call to the design community to lend their talent and time to their charitable cause. I wondered, "Could this be another opportunity for the gallery and my work?"
It was at the 2014 Mansions in May that I was awarded the grand atrium space and had the honor of creating my idea for "An Art Collector's Sanctuary" within the 63,000-square-foot, Carrere & Hastings–designed Blairsden Mansion estate. I was intrigued by the possibilities presented by what the upcoming 2020 showhouse, Tyvan Hill, could offer as a vehicle in which to create. During my walk-through, I fell in love with the patterned stone floor and found inspiration in the tall windows of the dining room. The design idea came to me instantly. With an October museum trip upon me, I executed a little drawing that would become a watercolor rendering and upon my return pulled together pieces to meet the submission deadline. It was another example of "If you want to get something done, ask a busy person."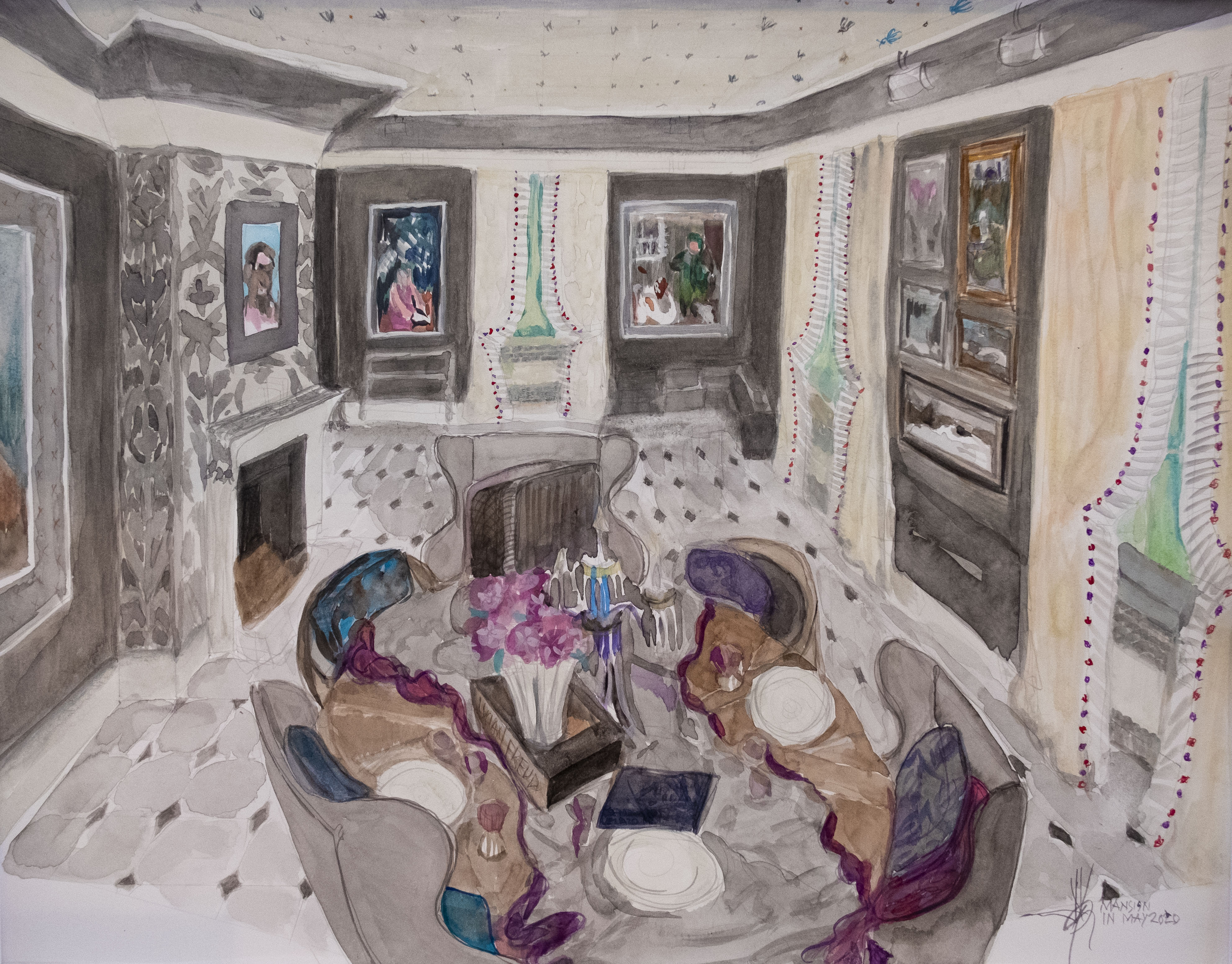 I was creatively excited by the process of diagnosing how the art and design could honor the elegant bones of the house and then catapulting this concept into reality. I could see it done so completely in my mind down to the detail of stacking certain art books as a pedestal for a vase of flowers on the table.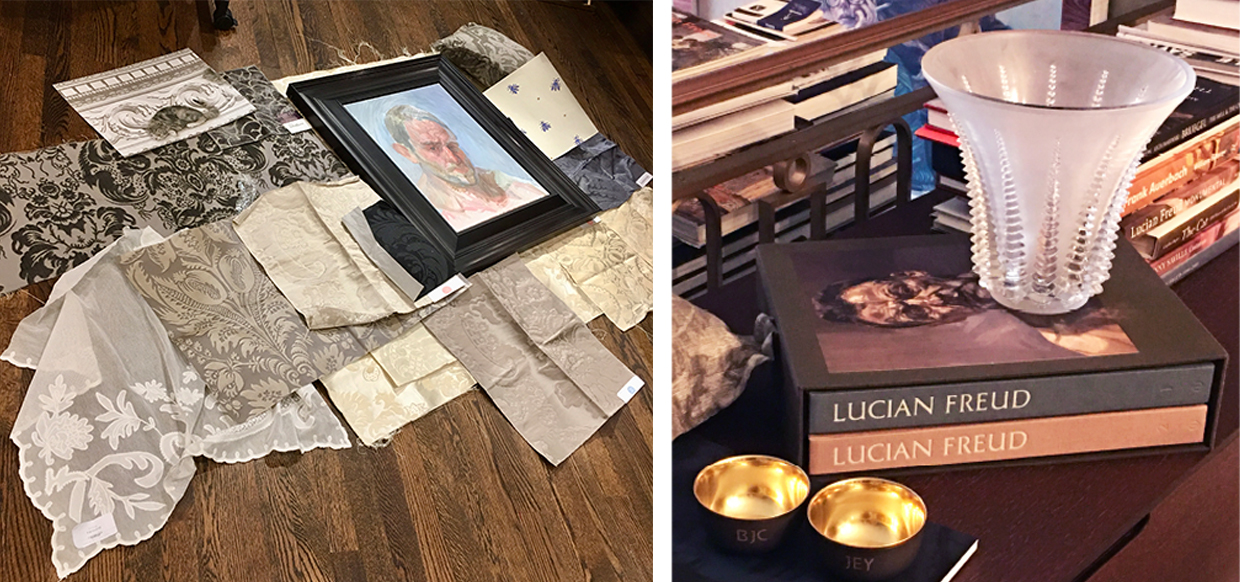 I curated a collection of diverse art to encircle the dining room space, allowing it to become another gallery in the round to present important pieces that tell stories and represent the artists' dedication to craft and efforts to achieve personal greatness. I believe it's important to live with such works that engage and challenge us intellectually. Paintings are a way of expressing our hopes of engaging with one another on a cultural level, connecting us through our own shared humanity in ways that words alone cannot. Living with art feeds our souls in ways decoration alone cannot.
I fell in love with the vision of the room I wished to create; the space illustrated so much of what fine art and design means to me, with the layering of beauty and decoration. I loved the pieces of art I selected for the room as they represented the artists' unique voices — something I respect and admire in my gallery's fine art collections. Their works would sit above the interior design as reminders that art is not just more decoration, but rather is a symbol of greatness that we can surround ourselves with. It could serve as an example of what living with art could look like.
I was not seeking to do a showhouse, but my work ethic and "If I Can, I Do" attitude toward creation has always driven me to do more. With the pressure of meeting a submission deadline, it appeared that my next six months would be devoted 100% to this endeavor of channeling my love of creating and unlocking the potential of a great home. This is something I love. During my first decade owning my gallery and raising it to national attention, I honed my love of interior design by learning and working on projects for other designers. Then, in the next decade, I created projects for my own clients, channeling my artistry into my work in interior design to become an accomplished medium. Indeed, when done well, interior design is an artform in its own right.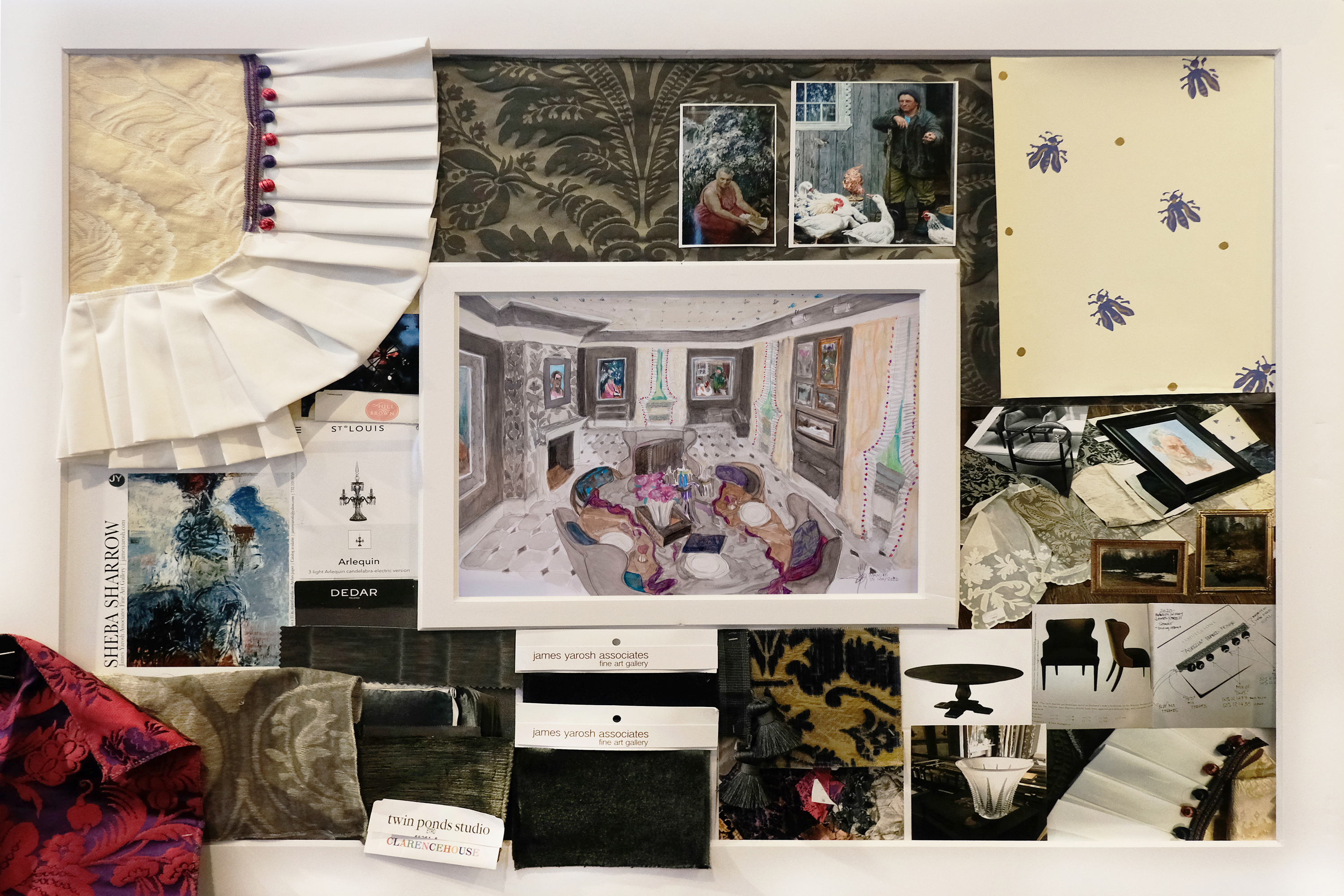 I most love the act of creation in what I do, and the combined synergy of my work as a gallerist and advocate for my gallery artists, and my museum travels and study all point to the same goal of growth in what I can do. I believe my efforts have long been to extol how the benefits of living with art is transcendent. This has become the flag that I carry with all of my work.
Crossroads

But was having another showhouse space in which to create my own vision from scratch only just a good business decision? Considering what I wrote above, what was it that nagged me to decide to rescind my showhouse application early before they awarded spaces, despite my excitement for creating a space that I knew would make me proud? One reason was if they did offer me the space, it would have been more difficult to say no. Although business, of course, is how we earn a living and ideally implies the good ethics of how we conduct ourselves properly in the world, it had become clearer to me that business goals alone were not enough for artistic success. Business is the means of an artist doing good work, and in turn, business in the arts is very personal as it is executed on the backs of one's talent. The arts deserve more.
The answer was simple, if perhaps not always easy to employ: We can only give 100% to so many things in life; it is difficult to give one's all to keep many plates in the air. Definitions of success in the arts cannot become "career only" if one's artistic spirit is to thrive. Instead of trying to balance all these plates so they wouldn't fall, I thought it wiser to set some down and decide which ones were best to serve.
One of the reasons I can be so passionate as a gallerist is that I know what the world asked of artists — and it isn't balanced. I began working in galleries at 17. It was a chance to fight the good fight for the arts, and I excelled at it. This brings me joy, fulfillment and meaning. I have always sided with the artists. Proof of this is that what I loved most about the new showhouse design project was the opportunity to use all of my talents as an artist and experiences to create design for design's sake — just the way great art is created for art's sake.
If this showhouse was an exercise of my showing that I can create exciting and intellectually charged spaces after 20-some years, I know it. So, instead of giving myself completely away to execute something that I already created successfully in my mind, I decided to bet on the big picture by taking a small step back to give back to myself. I firmly believe that this re-aligning of value on all the facets of my artistry, like painting, and all the things that make one's personal life happy will help me bring a more whole package to my career and move me forward, both personally and professionally.
The inspiration and discipline of creation is the same with art as it is with design. When design is explored with an artist's eye, it can become an art form that lets beauty lead in the composition of great spaces that dovetail with the client's hopes and dreams and are interpreted by an artist/interior designer. It is a true labor of love. Great homes are created with thoughtfulness, knowledge and generous time to allow the process to proceed at its own pace, combined with some painterly genius inspired by marrying a space with those who live there to reflect their hope of the future. It's meaningful work, which is the reason why I offer interior design with a focus toward art collectors: Because we are special. We understand one cannot just buy or own beauty; we hope to sit next to it, learn from it and nurture it so it can bloom within our lives. That's the work and role I am looking to sign up for.
Artists have always had the best antennae for seeing and sensing the world in which we live. It is our gift to recognize it, and despite the fact that many of us work by ourselves, we are part of a larger community. This unites us in knowing we are not alone, but rather together in working toward something much greater.

In reflection, I felt at a crossroads as we mark the coming of a new decade. I want to make sure I see 20/20. I've come to understand that I should not limit myself to being an advocate for the arts. I should acknowledge that I am part of the arts. I need to focus each facet of my life's work on pushing the boundaries of creative endeavors and allow the synergies of artistic overlap inform and better all I do. I need to let go of the elements of this dog-eat-dog world that does not move this agenda forward. I have always believed work in the arts was noble work. It is time to focus on greatness.
A gallery succeeds through the merit of the work exhibited and through the visitors who are open to learning these artists' stories and allowing them to lead discussions. The arts have always led the way.
I am grateful to begin my 23rd year of James Yarosh Associates Fine Art & Interior Design Gallery and thank everyone who has supported my life's work and put me in their trust. Although I cannot share my completed vision for the Mansions in May this year, my wish is to share this excitement of my design process so you can know my passion. I encourage you to visit the gallery and join me in conversations about art and the dialogue between art and design. The gallery represents artists whose greatness is something I believe worthy of collecting and living with as part of our daily activism of supporting the arts by choosing works that engage intellectually and favor beauty. Imagine the possibilities of a life that welcomes the arts to live with us … it's the only path for me and my fellow artist hearts.
I invite you to be a part of it. The arts belong to those of us who choose beauty.