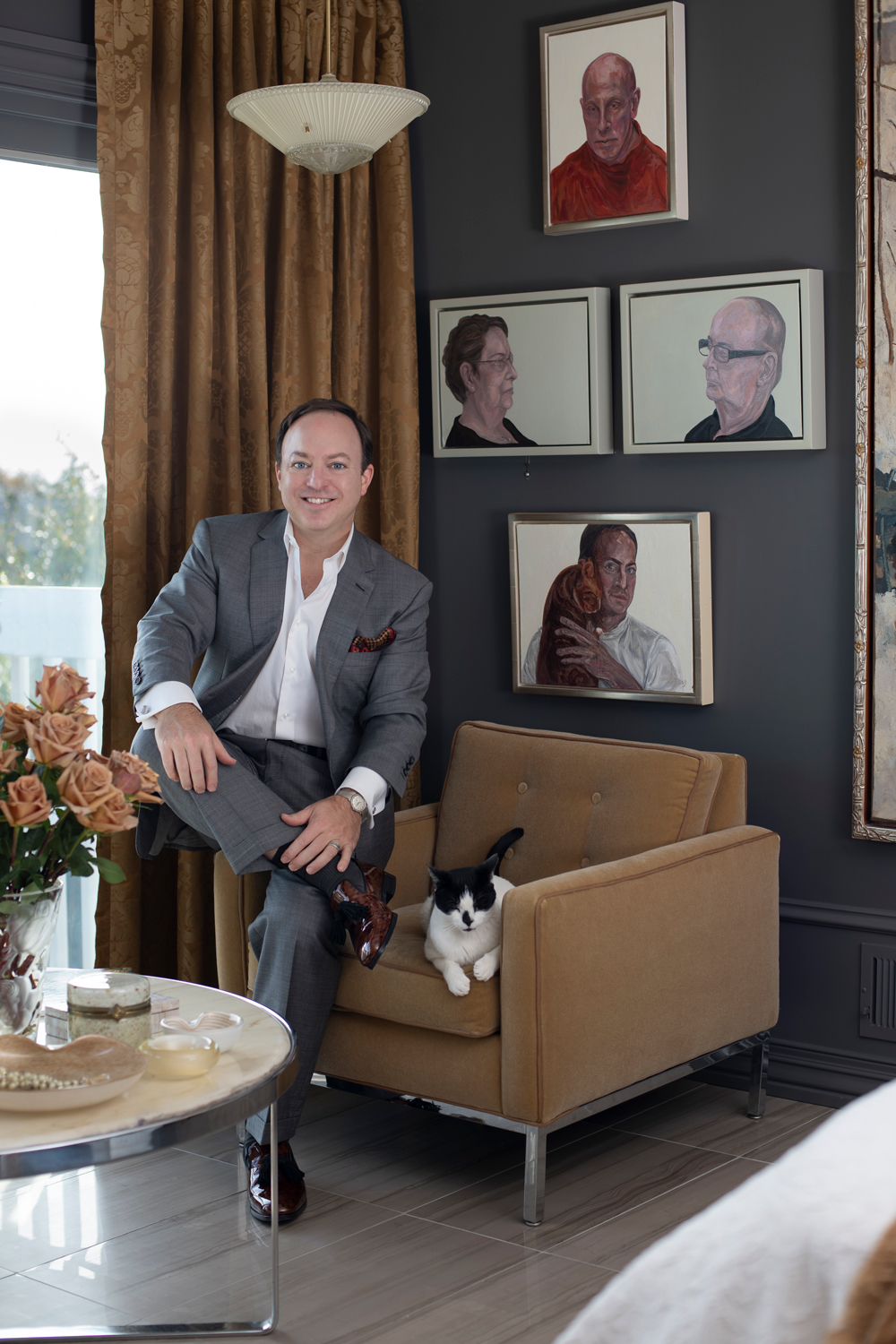 Gallery owner and interior designer James Yarosh photographed with his painting series, A Family Portrait
Fall 2018. Photo: Patricia Burke
ABOUT
JAMES YAROSH
Established in 1996, the James Yarosh Associates Fine Art Gallery in Holmdel was founded upon and remains loyal to its vision: to represent fine art for art's sake and to curate gallery collections and thoughtfully present art and interior design specification with an artist's eye and understanding.
Gallery owner James Yarosh draws upon his unique skill set as an artist, dealer and published interior designer to bring his curated perspectives to the homes of his art collector and interior design clientele. A world traveler who has studied the design of major art museums, Yarosh employs his industry experience and network of international artists, which he has honed over three decades, to capitalize on the synergy of creativity he can bring to his projects. His expertise—whether it's gallery and artist representation, the companion frame-making atelier services, interior design work of specification and partnering with clients to create beautiful homes—works in harmony, fueling both each endeavor and Yarosh's desire to learn and grow as an artist.
Yarosh opened his eponymous gallery at age 29 and soon after began receiving national critical acclaim for presenting Russian fine art collections and recognizing significant art movements in their infancy. Today, the gallery continues its path of advocating for artists of merit and showcasing what is great in the arts. It aspires to represent a variety of artistic voices of our times by exhibiting the works of both new and established museum-recognized artists. It aims to offer the highest quality of art while maintaining accessibility to the general public.
During his first decade of gallery ownership, Yarosh developed his natural skills with interior design, consulting and lending his artist's eye to projects other interior designers hired him to develop. Through this hands-on experience, he learned the trade, working on large-scale new construction and total renovation projects from conception to completion. Drawing on his great respect for the arts and design world as inspiration, Yarosh now employs his trademark ability of integrating art and design in a way that results in visual excitement while still allowing both disciplines to stand on their own merits. "One of the gifts of time turns out to be understanding the importance of experience and knowledge to trust one's artist's intuition," he says. "Greatness in design doesn't come from following trends; it's created by following beauty."
Current Events: In 2021, James Yarosh Associates Fine Art Gallery celebrated its 25th anniversary and began its next chapter by launching the exhibition "The Humanist Show." The show's focus was on three artists born nearly a century ago whose figurative/expressionist art is remarkably current with today's times; it offered a re-examination of what personal collecting and placement of art in the home should look like. "There should not be a chasm between what museum art looks like and what we invest in for our homes in terms of intellectual engagement. Art sits above design and transcends decoration. The exhibition represents the gallery's mission of advocating for art, which is something that I, as both a dealer and collector, truly believe in."
Current gallery collections include Russian Realism painters from the Wurdeman Collection, Non-conformist artist Vachagan Narazyan, Iliya Mirochnik and Sheba Sharrow (the subject of the 2020 gallery exhibit "History Repeats"). The gallery also recently introduced the work of Miriam Beerman, one of the first women to have a one-woman exhibit at the Brooklyn Museum and the subject of the 50-minute artist documentary, "Expressing the Chaos." In fall 2021, the gallery will be exhibiting at the NYC fair ART ON PAPER, where it will feature the work of artist Sheba Sharrow.
Also marking the 25 years of Fine Art and Design in 2021, Yarosh opened his art-filled seaside townhome to be re-photographed by home and design photographer Patricia Burke. The photographs illustrate Yarosh's personal concept of what living with fine art can look like when paired with interior design. This new portfolio of images featured on the gallery's Interior Design portfolio pages comes after an initial shoot of Yarosh's home after its 2006 renovation was featured nationally in Art & Antiques Art Collectors' Sourcebook magazine (2006) and locally in DesignNJ (2007). Yarosh's designs for clients in New York City and New Jersey have been recently featured in NJHOME and Gallery magazines.
As an artist during the 2020 pandemic shutdown, Yarosh took a sabbatical to return to his first love of painting, revisiting themes of family and autobiographical subject matter. Renewed to begin again, Yarosh has reclaimed his artist identity, which informs all his creative and business endeavors, always allowing the arts to lead the way forward.
Coming Soon: In the upcoming book, New Jersey Masters – A New Legacy of Visual Arts by Tova Navarra, Yarosh will be included as both an artist and writer of the afterword. He is also lending his talents to the gala committee of the Morris Museum in support of its Spring 2022 gala honoring Marsha Baldinger, Vice Chair of the museum's Board of Trustees, for her past and ongoing advocacy and support.
Gallery Highlights:
In 2017, James Yarosh Associates Fine Art Gallery partnered with Monmouth University to curate a one-person exhibit of Sheba Sharrow's work for a presentation at its museum. The exhibit, "Balancing Act," focused on the last two decades of Sharrow's work. This show allowed Yarosh, as guest curator and show designer, the opportunity for collaboration with university professors, who provided academic and guest scholar critiques in the show catalog, for which Yarosh contributed a foreword.
The following year, as part of its Fine Art and Design Departments Career Day, the university invited Yarosh to speak on an artist's definition of success and participate in a panel discussion.
In 2016, the gallery's 20th anniversary, Yarosh re-examined the idea of gallery openings and began hosting invitational fine art and design-themed salon events to open new gallery hangings. The limited-space events became invitational gallery dinner parties that fostered more intimate conversations and greater understanding of the arts and what inspires those who create it. Interior design partners have included trunk shows with iconic fabric houses Luigi Bevilacqua, Clarence House, Dedar, Fortuny and Hermès, featuring industry leaders as special guests. Artist meet-and-greet evenings have included Clarence House's art director Kazumi Yoshida and his original drawings for his fabric designs as well as the Ringling Art professor and New Master's Academy painting instructor, artist Iliya Mirochnik for a from-the-artist's-studio event that included an in gallery painting demonstration and works inspired from his travels in Austria.
Over his decades in business, Yarosh has participated in various charity designer show houses, including Kips Bay, Mansion in May, Twin Maples and Stately Homes by the Sea. He was awarded the largest second-floor space—the atrium at the Blairsden Mansion in Peapack-Gladstone, New Jersey, which he conceived as "An Art Collector's Sanctuary"—as part of the 2014 Mansion in May Designer Show House. The gallery's interior design presentation offering the idea of living with art was a perfect fit for the skylight-lit room without windows that became a gallery in the round within the 63,000-square-foot Beaux-Arts estate by architects Carrère and Hastings, who also designed the New York Public Library, The Frick Collection and Neue museums. The event attracted over 30,000 guests and raised over $2 million dollars for charity.
In 2012, Yarosh served as a fine art judge at the 42nd annual Monmouth Festival of the Arts, an event he participated in as an artist 25 years prior, at the beginning of his career. In a solo window presentation at the Art Alliance of Red Bank, New Jersey, Yarosh showcased a series of his own oil paintings entitled "A Family Portrait" in May 2011. Yarosh also served as a competition judge and presided as a guest judge at the nationally recognized Bayonet Farm Art and Music Festival's plein air competitions, alongside his invited guests, Peter Trippi, editor of Fine Art Connoisseur magazine, and Stephen Doherty, editor of Plein Air Magazine. Additional public art efforts on a local level included a decade-long run of Yarosh curating seasonal one-person exhibits of artists as part of "Windows at Garmany" in Red Bank, New Jersey.
Charity–Olivia Newton-John Cancer, Wellness and Research Center: Yarosh also has proudly achieved In-Circle status for the gallery due to his continued support for the Olivia Newton-John Cancer, Wellness and Research Center, earning a silver contribution level and gallery recognition paver at the Austin Hospital in Melbourne, Australia.
Other Publications and Media Appearances: Incorporating an artist's eye and fine art as the basis of interior design inspiration has led to Yarosh's publication in New York Spaces magazine, multiple design features in DesignNJ, Gallery and NJ Home magazines, as well as other publication features. In addition, Yarosh's design experiences for residential projects encompassing over 20,000 square feet earned him a guest appearance on HGTV. Yarosh also was featured in the Art & Antiques Collector's Sourcebook in an article titled "Imperial Eye," which discussed and showed his personal and gallery fine art collections and his involvement with notable Soviet-era and Russian art.
Gallery Location:
In fall 2012, James Yarosh Associates Fine Art Gallery moved to its current home at the former site of the 1917 firehouse loft on Main Street, next to the old white church in Historic Holmdel Village. The new location underwent a full interior design renovation to provide not only a thoughtful setting to display art and gallery openings, but also a sanctuary for kindred spirits of the arts to visit with the welcoming presence and interest of an artist's home.
The gallery is open to the public every Saturday from 12 to 4 pm to view fine art collections in person or initiate a conversation about a potential design project. Weekday and evening hours are available by appointment by calling 732-993-5278 or via email at jamesyarosh@yahoo.com.
James Yarosh Associates Fine Art Gallery, located at 45 East Main Street, 2nd floor loft space in Holmdel, New Jersey USA. The entrance is on the inside corner of the building, and additional parking lots are in the rear.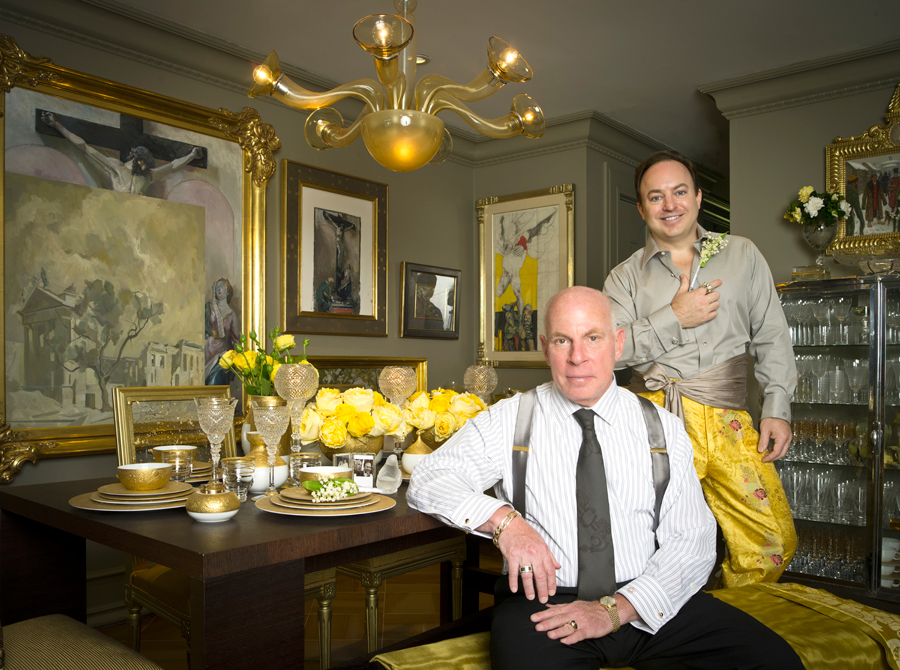 On August 19th, 2016, on the occasion of their 23rd anniversary together, Barney Cohn and James Yarosh were privately married and took a wedding portrait. The actual ceremony took place at the Atlantic Highlands Courthouse on August 9th, James's birthday, with the mayor officiating. Two dear friends served as last minute witnesses for the secret nuptials. Photo by Mark Ludak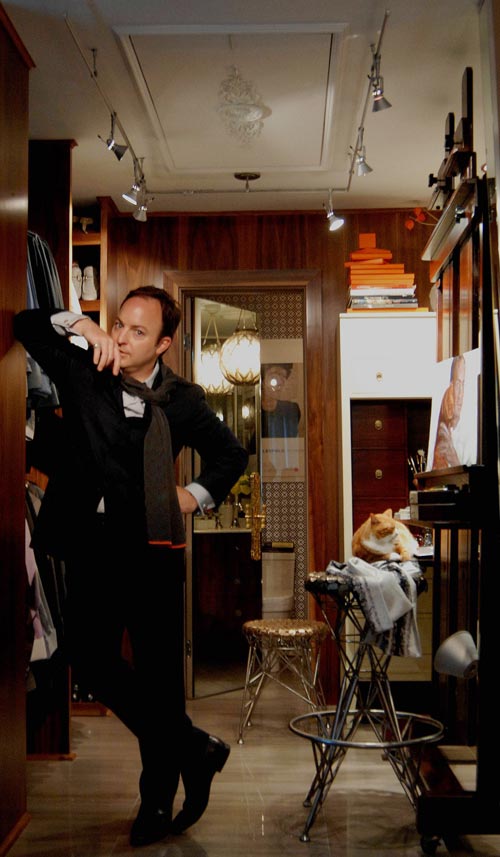 Gallery owner James Yarosh as photographed by Valentine-2009