JAMES YAROSH ARTIST BIOGRAPHY
James Yarosh, Artist, Art Collector, Designer and Gallerist
When James Yarosh addressed the students of the Art Department at Monmouth University on career day in 2018, he began by saying a career in the arts is one outside the norm...and with that, not only can we choose our own path to create, but we also get to define our own definitions of success
Throughout his early schooling, James was an artist. He had his first gallery show at 17, which led to a job offer and subsequent management position at the gallery for the next 8 years. During this time, he balanced work, night school and private art courses, receiving invitations to area art shows at which he received favorable newspaper reviews..
Following a logical career path, James continued on to manage a gallery in New York City, where he soon realized that the position has less to do with art and more to do with a business conformity that James found incongruous with his mission to promote art for art's sake. With this philosophy in mind, he left the city to live in Ocean Grove, a small town on the Jersey Shore, and became an art consultant at local galleries, an occupation that allowed him the freedom to follow his intuition. Upon meeting his partner, Barney Cohn, at the age of 26, James made the Shore town of Highlands, NJ, his home.
James continued to see a disconnect with galleries missing the mark in promoting art for the sake of art rather than a commodity. In 1996, at age 29, he opened his eponymous space — the James Yarosh Associates Fine Art Gallery — in Holmdel, NJ, and embarked on creating a haven for art, a place where likeminded people, both artists and art collectors, could gather and learn from each other. Building on a solid work ethic cultivated from when he started in the business at age 18, James immersed himself into this endeavor, largely abandoning his own painting with the exception of weekly figure drawing classes for the first decade of his gallery..
Intrigued by interior design — and becoming increasingly passionate about the proper role of fine art in that design — James learned more about the trade on the job, working as a subcontractor creating design ideas, choosing fabrics and colors and assisting on job sites to help curate all aspects of design from the blueprint to final details, guided by his aptitude as an artist and his honed eye for quality. As his expertise grew, he added "Design Specification" to his fine art gallery's services. Under his guidance, interior design projects became creative endeavors about composition, textures, color theory and the subtle art of guiding one's eye to tell a story.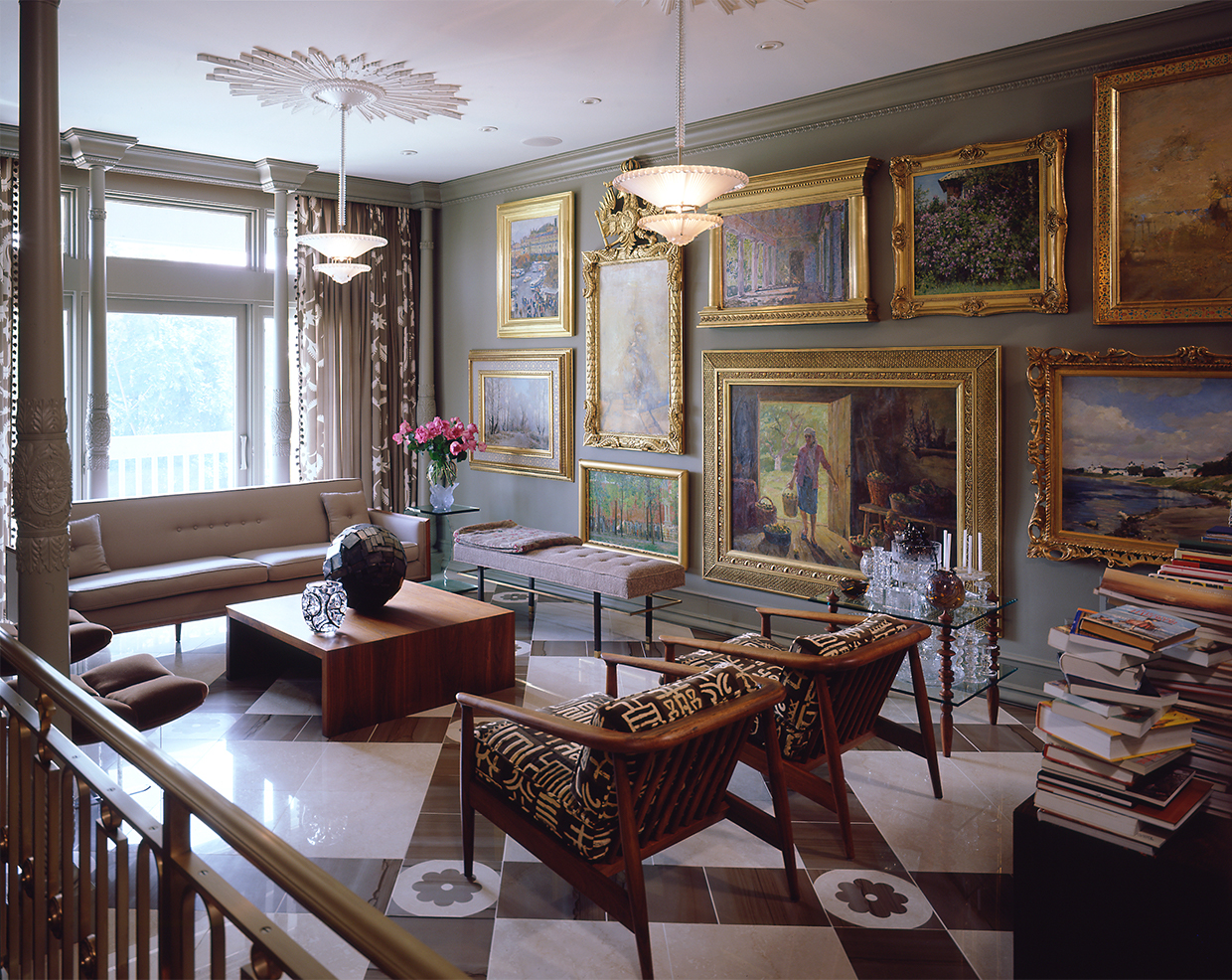 Ever the student, James began traveling regularly to Europe, visiting art exhibitions and studying how fine art was displayed in the great museums of the world. Through his first-hand studies, he established a design philosophy centered on how elements of design play a supporting role to the art. Art, he asserted, was not just additional decoration, but served as symbols of our culture to which we relate intellectually in a space of beauty.
When James turned 40 in 2007 and looked at the previous decade in retrospect, he realized how quickly time had passed and how little he had attended to his own painting. He decided it was time to rebalance his life in the arts and adjust his priorities by focusing inward. He began again to paint, taking weekly drawing classes at the Metropolitan Museum of Art and devoting the time necessary to learn via his self-guided path of art studies. His paintings are portraits, subjects that represent the intimate reality of his life; the series was titled "A Family Portrait."
In 2013, James was presented an opportunity that would further establish his gallery as a resource for art design for serious art collectors: designing a room in the high-profile designer show house Blairsden Mansion, during the 2014 Mansions in May charity event. Awarded the Atrium space, James reconceived it as "An Art Collector's Sanctuary," a large undertaking that James saw through with the steadfast encouragement of his mother, Regina Yarosh.
As the show house preparations progressed and she supported James in his project, Regina received a diagnosis of pancreatic cancer that she chose to keep secret until after her son's work was complete and the house open to the public for view. James recalls this as a most loving act by his mother. He dedicated the room to Regina with gratitude for her caring words of encouragement: "You know you can do this ... you only doubt yourself when you are tired ... and for then I am here to remind you."
The coming year saw James with a heightened focus on family while still balancing the demands of the gallery. All the while, Regina cheered him on and gently reminded him to take time for himself, too. Regina passed on December 7, 2014, a day before James was to begin a new course of painting studies in Manhattan. Plans were cancelled.
Work, however, had sprung into high gear on the heels of successful fine art and design presentations that increased the gallery's reputation. James immersed himself into his career again, creating interior design projects that showcased beauty and set the stage for future happy life scenarios to play out. The path was an easier one than facing the loss of family and facing a blank canvas on an easel..
But family remained at the forefront. On August 9, 2016 — James' birthday — he and Barney were privately wed at the Atlantic Highlands Courthouse, with the mayor officiating and two dear friends serving as witnesses. Then on August 19, on the occasion of the couple's 23rd anniversary, they were more formally married and took a wedding portrait.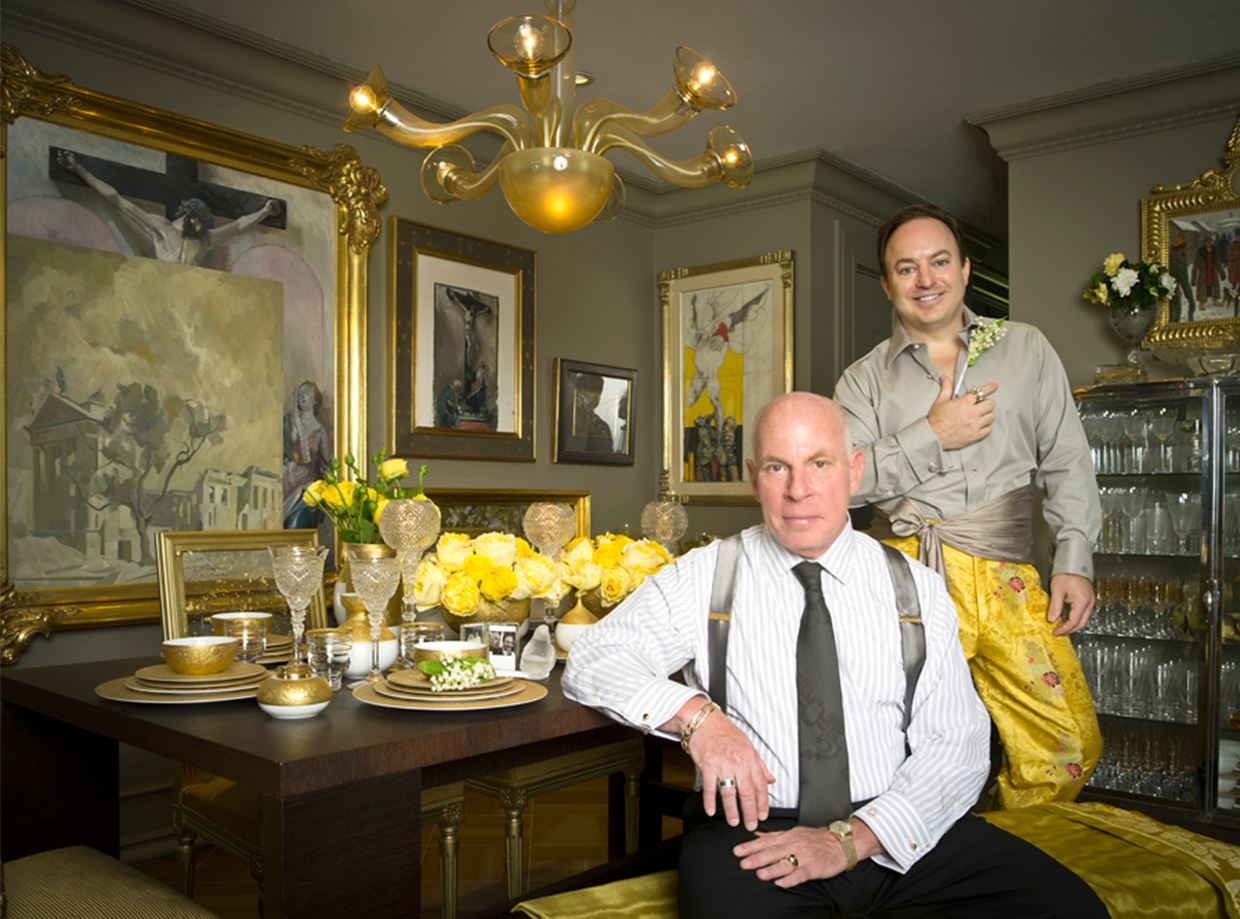 In 2019, five years had quickly passed again, with James focusing on his career and continuing to advocate for his gallery artists, promoting art awareness and understanding. He found safety and solace in his travels. His visits to the great museums fed his soul, and the art he beheld reminded him that beauty still exists, despite the grief he still felt. His study of artists like Lucian Freud, Oskar Kokoschka, Zurbarán, Goya, Rembrandt and Velázquez became his fuel and seeing such works in person was a reminder of the greatness that was possible as an individual within the arts, to once again place faith.
How to begin again? James realized those definitions of success required him to turn his attention back to his own art making — but how? His roles of "art dealer" and "interior designer" all seemed to be vehicles to hone his philosophy to once again becoming a painter.
However, the opportunities to be a painter never came easily to James, who found the more he learned, the more difficult the craft became. To James, painting is an intellectual endeavor, one that requires bravery and discipline, a focus that has become the bedrock where James has placed his faith.The idea of a fantasized sabbatical came in the form of a pandemic that stopped the globe's business. James seized the opportunity to pause, return to basics and throw himself back into painting. His focus was fueled by the pithy words of Alice Neel: "You should keep on painting no matter how difficult it is ... unless it kills you, and then you know you have gone too far."The result of James' determination is "Holding on to Happiness (...not Ilean too)," an autobiographical painting depicting his life from December 7, 2014 to May 23, 2020. This painting is an expression of loss, one that weaves together a symbolic story that continues the theme of "A Family Portrait," examining what life looks like today versus ten years ago..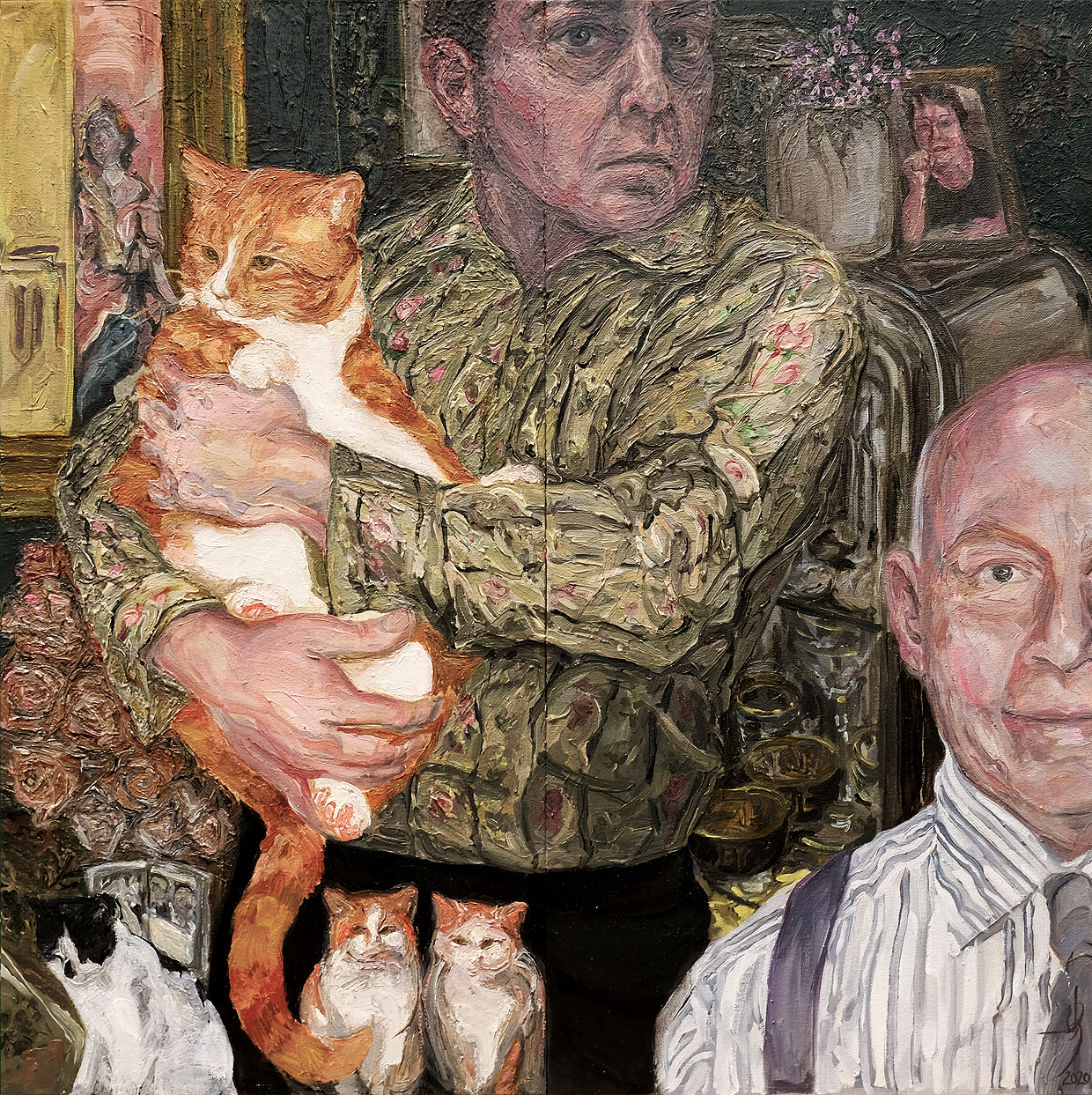 James' work is acutely aware of how time relentlessly moves forward and as life wears away our mortality, it also hones our attention to focus on what is most important to value. The self-portrait reflects  a silent sadness that sits with James when reflected in a mirror, though he finds himself still standing. The compounding loss of his beloved mother, a move far away by his father that dissolved his cherished sense of a nuclear family, followed by the death of Ilean, his first pet shared with his partner, Barney.
In the portrait, James is seen holding his beloved cat in a pose from their annual New Year's Eve party family picture and Barney is seated in his wedding attire from the 2016 town call ceremony. Barney is positioned forward, an allusion to James' future, and smiling as a symbol of happiness. Other elements include three cats at the bottom, symbolizing the years the couple fostered strays, and James' shirt, which is patterned after a set of linens that shroud Ilean in his arms.A vase of pink lily of the valley are placed next to his Mom, who is rendered as a framed photograph on a curio filled with fragile crystal china carefully arranged to keep safe and protected. The curio's treasures read as a map to James' past, an ephemeral, very personal assemblage of items that remind James of where he has been and, in turn, point to where he is going.The partial view of a painting at left includes subjects of a ravaged Potsdam scene post–World War Germany juxtaposed with The Crucifixion, a religious story of knowing one's fate, but exercising the strength to walk that path forward with dignity — not unlike a cancer journey. In the depiction of the statue of the very human Mary Magdalene character left behind and bereft in grief, the tiny portrait's arm extends beyond the artwork (to touch the cat) and thus blends the story — art — with reality. Mirroring this, the etched patterns of the near transparent vase behind James' head, burst like heart-shaped tears that cry, blurring the lines of where life and art begin and end. All this while the lavender roses, rusted with time, are laid in the lower-left corner.This is a first painting with which to begin again, one that represents a storied path of an artist whose life is deeply saturated and dedicated to the arts, yet whose personal goals of painting are always just beginning as he weaves biographical subjects in and out of his life, based on career, travel and a constant quest to find beauty in subjects that connect us all. James' portraits represent the intimate truths of the painter's life with paintings as a shared diary of discovery and created for art's sake.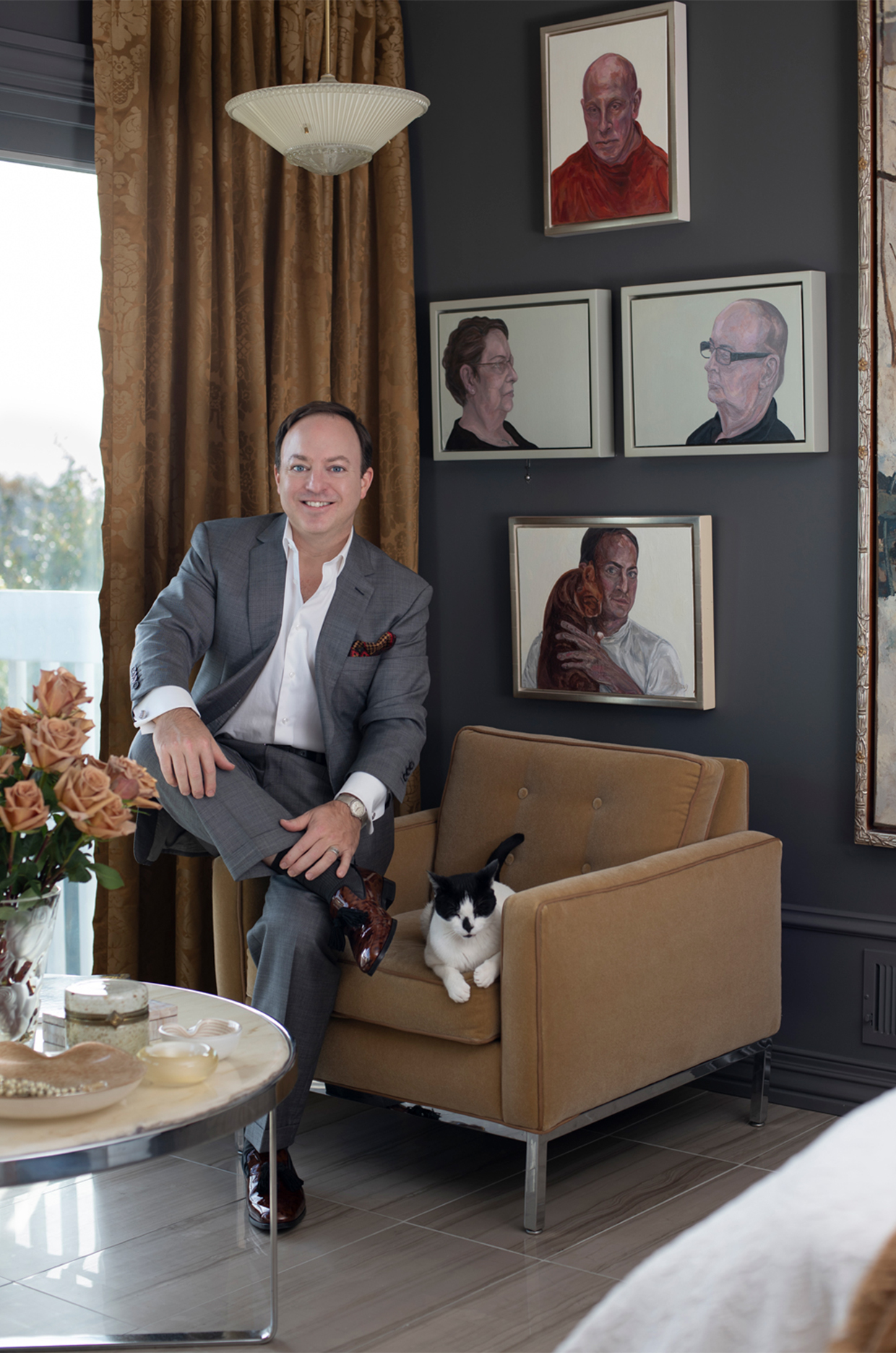 James Yarosh, Artist, Art Collector, Designer and Gallerist, lives with his partner, Barnet Cohn, in a seaside townhouse in New Jersey, USA. During his recent stay at home, he discovered more acutely that living with art can even be great company: Being surrounded by portrait paintings and art created by the great minds of artists that tell important stories of humanity that connect us all is inspiring and have become a great source of solace.