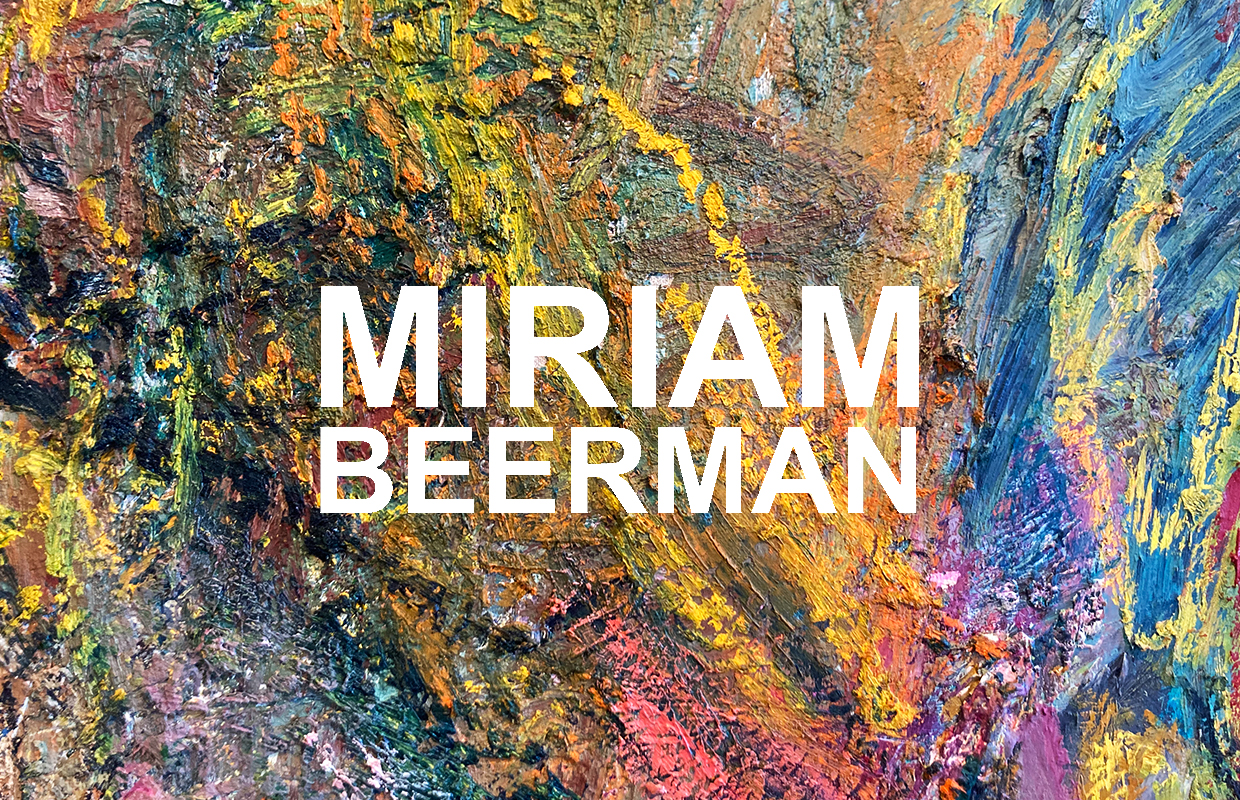 THE ART OF MIRIAM BEERMAN NOW ON VIEW AT JAMES YAROSH ASSOCIATES FINE ART GALLERY
In her six-plus-decade career as a painter, Miriam Beerman might have sat in her studio, next to her demons and monsters, ready to slay them on canvas, but as an art collector and gallerist who is offering her paintings at my James Yarosh Associates Fine Art Gallery, I am sitting beside her greatness.
"I have spent most of my life creating images that are responses to the brutality of our time. I am reminded constantly of the world's injustice. It weighs upon my mind and body. Therefore, I seek the beauty and the vigor of the paint and the poetry that inspires the act of painting," Beerman, who was born in 1923, has said. "There are some who feel they have to bear witness, and I happen to be one of them."
Using her art as that voice even during a time when her male peers dominated the world of 20th-century art, Beerman rose to a critical recognition in museums and solo shows in her own right. In 1971, she made history when her exhibition Enduring Beast became the first one-woman show mounted by the Brooklyn Museum.
Her work is included in the collections of prestigious museums across the globe, including the Metropolitan Museum of Art and Brooklyn Museum in New York; the Phillips Collection and Corcoran Gallery of Art in Washington, D.C.; New Hall College, Cambridge University and the Victoria and Albert Museum in England; and the Museo d'Art Moderno de la Respublica in Spain.
In the 50-minute artist documentary "Miriam Beerman: Expressing the Chaos," which is currently streaming on Amazon Prime and YouTube, the artist is shown in her 90s, and it is an unflinching look at an artist dedicated to her craft. The film's revisiting of Beerman's work is an excellent example of how artwork that was once not so easily understood can be viewed with the benefit of hindsight with new eyes resulting in re-discovery and a resurgence of interest. Since the film's debut in 2015 at the Palm Beach International Film Festival, over a dozen of her works have been accepted in as many museums across the United States and are part of current show exhibition schedules.
Beerman, The Early Years
After earning her BFA from the Rhode Island School of Design, Beerman studied with established artists, including Yasuo Kuniyoshi at the Art Students League who had a strong influence on her as a young painter. Beerman admired his treatment of the figure and his arresting use of color. Kuniyoshi was not interested in making art that was "pretty," a philosophy that Beerman also espoused. To Beerman, her role as an artist was to witness the violence, brutality, human anguish and corruption that marked history — from the headlines to the footnotes — and its implications on the humans who experienced it.
Beerman received two consecutive Fulbright Scholarships to study in Paris under Stanley William Hayter, part of the Parisian avant-garde, an artist whose work she admired, and where she painted in a building once used by Picasso. As she delved more into the dark side of abstract and figurative expressionism, she saw its power to raise political and ideological consciousness.
Seeing the Light
Beerman's work speaks to her truths as an artist and meets the viewer directly in the same manner in which life often hits us. Her recording and delving into this subject matter represents not an avoidance of the empathy she feels for her fellow man, but shows her as someone who is working through the pain. Through her discovery and undoubtedly biographical journeys of the mind, Beerman has found a way to light up the monsters. She has replaced the blackness of fear to find fantastical colors and has made friends and set up house there to observe and absorb what is to be learned. Intentionally jarring, too, is her vigorous, painterly Colorist style, which sometimes conveys the dichotomy of pain and suffering against poetry and comic relief. As viewers, we get to safely look through the windows.
Beerman's storytelling of explorations of subject such as metamorphosis, artist portraits, self-portrait, animals and the sometimes-dark journeys of life can be alternatively easy and difficult. The artist's method itself is psychological as one who paints beautifully on the surfaces and obscures the messiness of what lies beneath. Her works offer a path that explores those feelings and gives us a chance to walk through / work through them to persevere. For example, her representation of seven of the ten Biblical Plagues of Egypt shows the ancient afflictions as part of her contemporary themes: the Holocaust, Hiroshima and the ever-present threat of nuclear disaster. Through her poignant images of human suffering, she reminds us that despite the atrocities, there is resilience. We are still here; and in 2020, at 97, so is she.
Perhaps for Beerman, too, living with this pain sparked the discovery that fears are more frightening if you don't look at them.
Yarosh explains that where there is darkness in art, there is often light: "As we learn more about art, we learn not to be afraid of the dark. Art doesn't scare me; my disappointment centers on the fact that there are those who do not understand the importance of what art can bring to our lives. It's the darkness of art that bears witness to the past; it becomes the light and serves as our reminder of a pathway out. Art,for many, can become the only silver lining of pain, and it's the most sensitive and bravest artists who reveal lessons to be solved like masterful riddles. Art through the ages has always been there to tell its story to those who are open to the world, so that they may feel communally and know they are not alone. Their art ultimately reminds us beauty still exists. If a visit to a museum that curates to this logic could feel like a tonic during an afternoon visit imagine what it could be like to live with such art, to be surrounded by greatness where you live.
"I first saw Miriam Beerman's art in 1991 at an exhibition at the State Museum in Trenton, and it resonated with me as important," Yarosh said. "As a younger artist, I was inspired by her. Today, I am equally excited to revisit her work. It is a great opportunity to review an artist's lifetime of work, curate the pieces to introduce and then create an exhibition at a gallery level that is accessible to the public. I know my longtime clients see my excitement when I choose to introduce new work at the gallery as I'm more and more selective as to what I want to represent, having worked in galleries since 1985 and coming up on my own gallery's 25th year in business.
"Miriam's art, like much of the work I represent, tips the scales toward hope and beauty — it is like a magic trick," he continues. "We all have a choice to see the positive in life. For those who are forced by life to see the impossible and yet turn to art in order to find understanding and who choose to create — that in itself is a definition of hope! Miriam Beerman is a hero: the darker the paintings, the bigger her spirit grew. To see her life's work and to be able to collect pieces from that canvas diary allows us to grow our armor, to wrap our walls in art that fortifies our spirit and acknowledges that lesson to embrace happiness at every turn.
"I am ultimately interested in the artist's voice on the topics that connect us as humans and in artists who use that voice to expand on such conversations to enlighten others in ways words cannot. James Yarosh Associates Fine Art Gallery is proud to add Miriam Beerman as one of the gallery's featured artists."