AN ARTIST/ART DEALER/INTERIOR DESIGNER'S NJ SHORE TOWNHOME
As an artist, James Yarosh knows that artists' homes are autobiographical—and the most interesting. As an art dealer, he learned that when you find an artist to love, you collect works by that artist to the best of your mean. As an interior designer who has studied how art is displayed in major museums around that world, he has learned the aesthetic hierarchy of layering what is beautiful on top of what is beautiful and allowing the fine art is sit on top, not as additional decoration, but as symbols of our culture that spark intellectual conversations that can forever feed the soul and inspire.
Yarosh, who celebrates 25 years of fine art and design with his eponymous gallery, has learned in his craft to never underestimate experience and also remembers to ultimately trust his artist's eye and intuition for interior design and architectural detail. If asked, he credits his mother, Regina, for most importantly teaching him how to make a house a home. He has transformed his own 2,500-square-foot townhome on the New Jersey Shore into a portrait of his own family and shares the space with his husband, Barney Cohn, a retired New Jersey Department of Corrections prison chief, and a series of stray cats that have decided to call the art collector's residence home.
A Masterpiece To Call Home By Tova Navarra
As featured in Art & Antiques magazine
As featured in DesignNJ magazine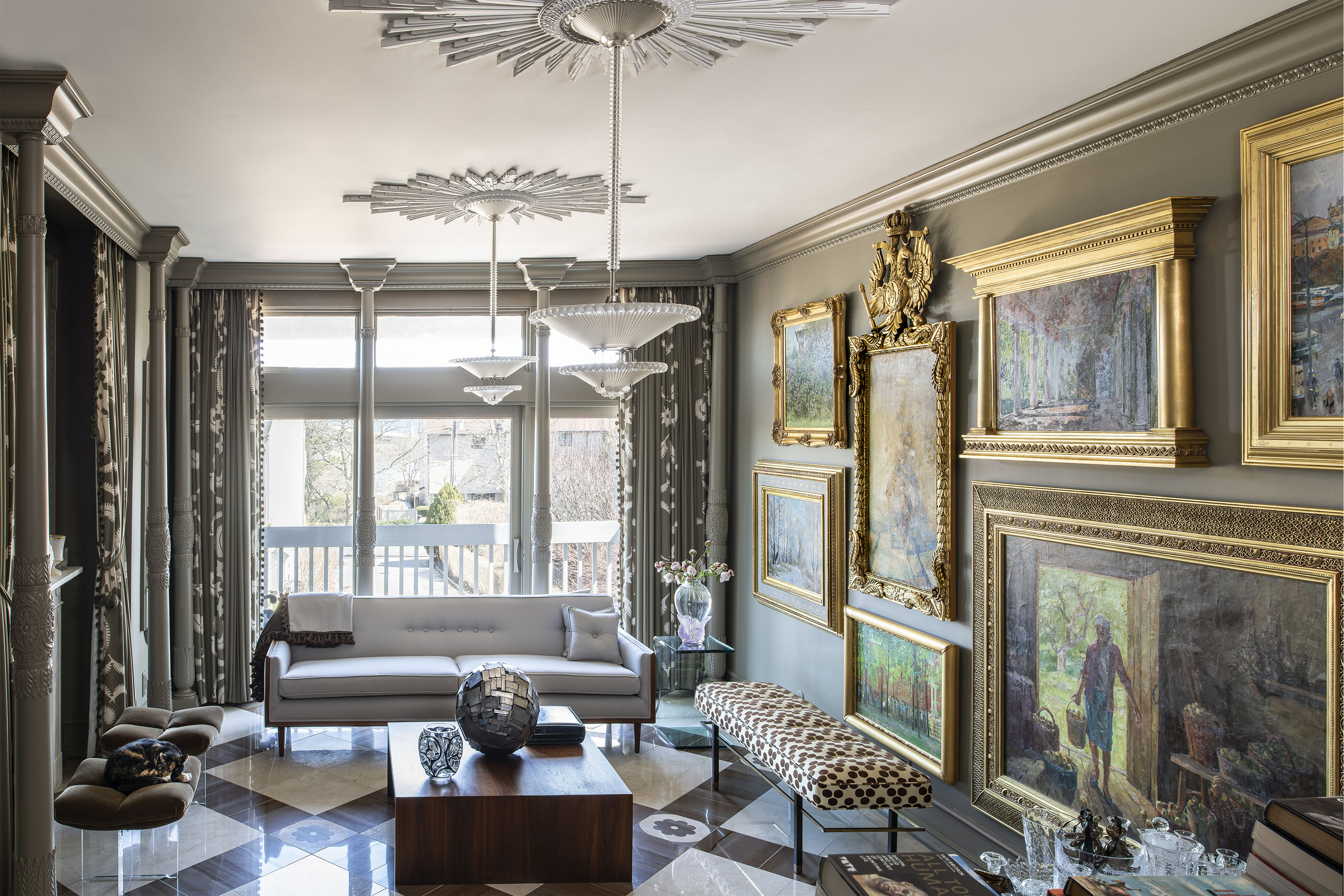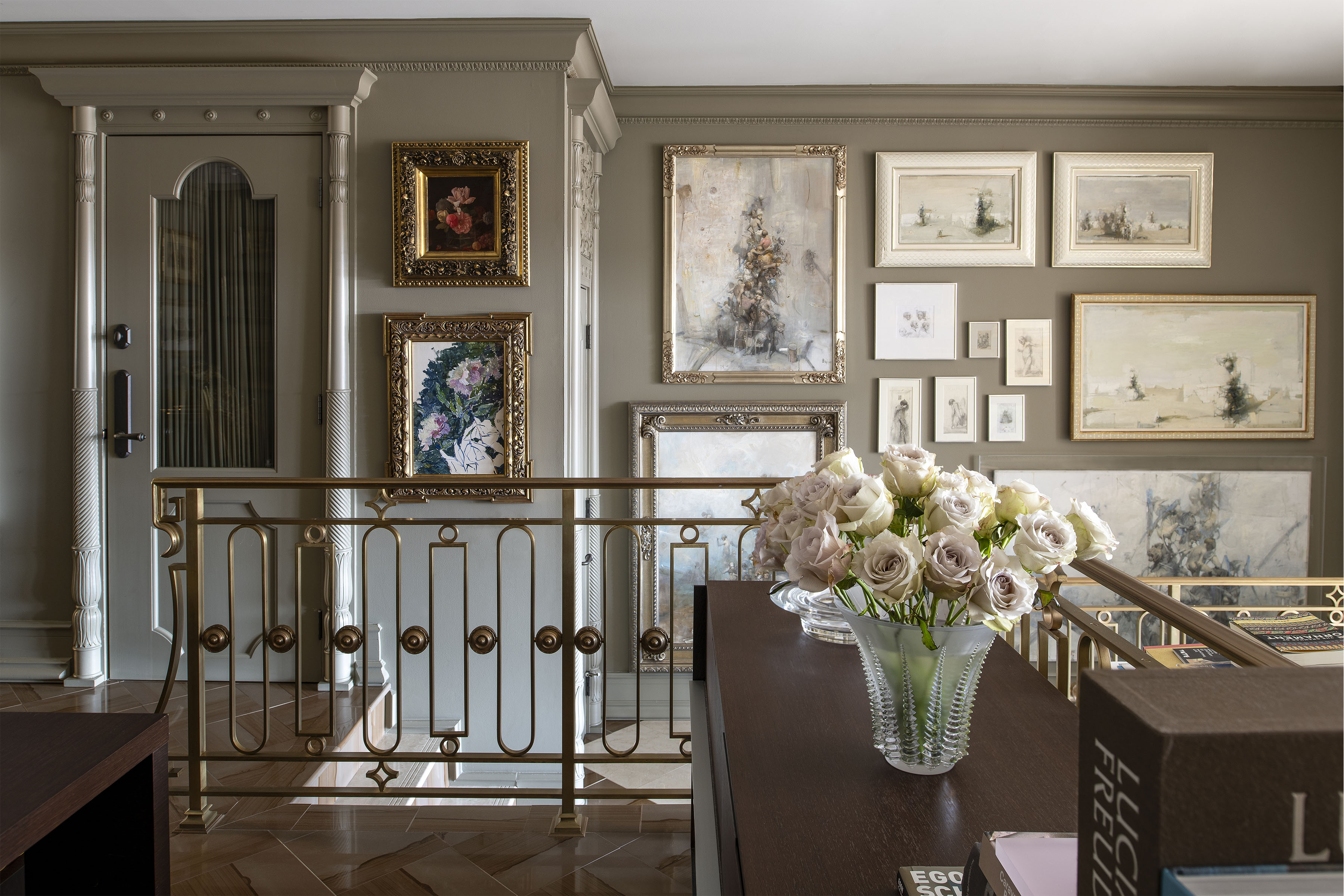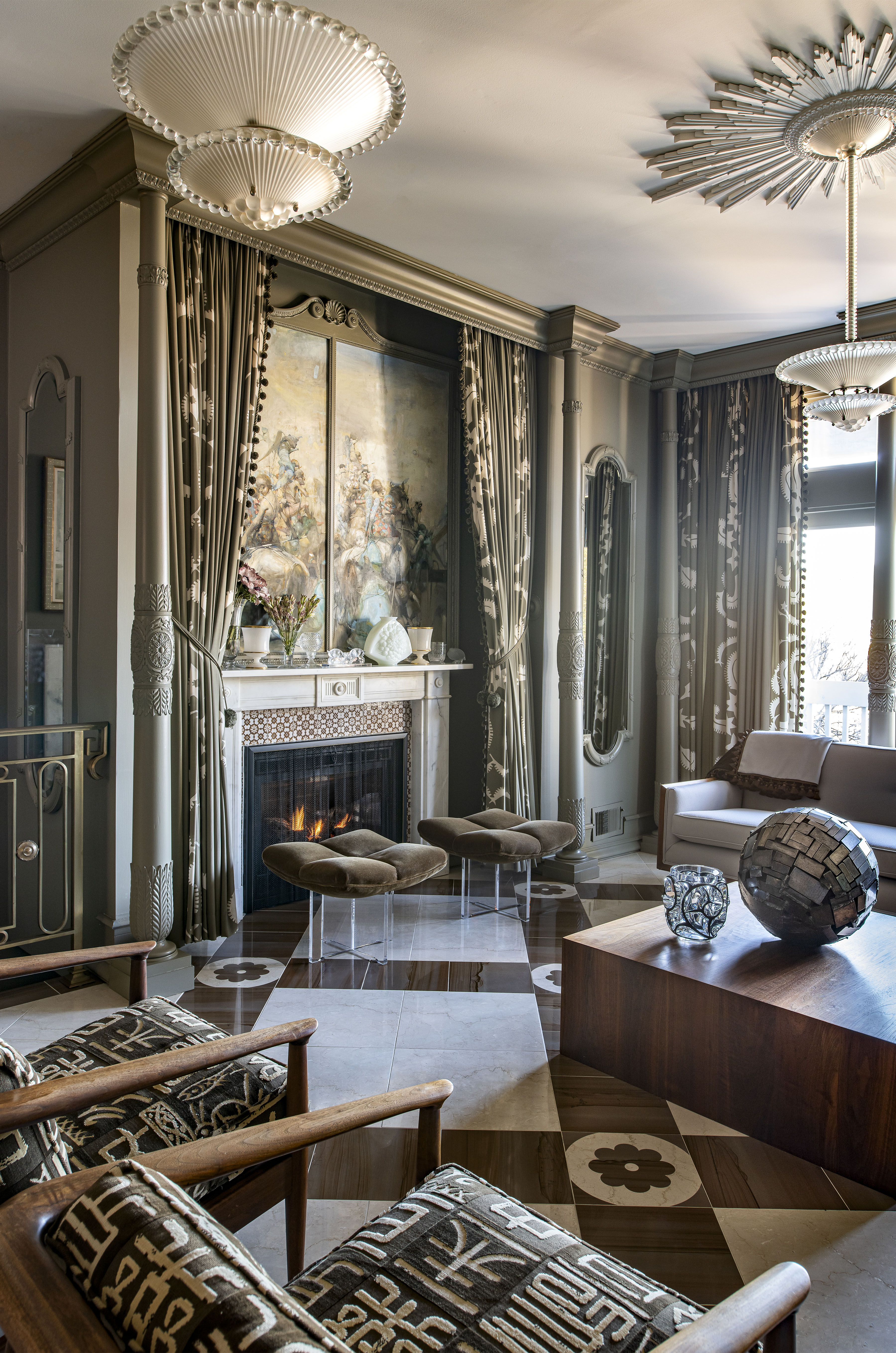 Living Room
A renovation began with the idea of creating a molding package and re-centering the fireplace to create a blurred past for what began as a simple box townhouse with water views. Once the elegant lines for the space were created to include hand-carved columns, door frames and ceiling medallions in mahogany, the space was painted over in all one color to neutralize the renovations' presence as supportive for the art hangings that were to come later. This suppression of ornateness complemented the selection of the clean lines of the midcentury modern seating — neither competed with the art collections and the framing responses chosen for the art. The railings are bronze and continue the marriage of maximalist and minimalist design. The marble flooring of the living room is set diagonally to center the space; it also inform the continued choice of patterns — parquet and mosaic — throughout the house. The drapery fabric was a repurposed scarf design pattern, custom-colored and printed on silk and edged in a custom Scalamandré pom pom fringe that echos the pattern trim of the pair of Perles vintage Lalique chandeliers. Art collections in this space focus on Russian Realism artists, including Yuri Kugach, Vjachaslav Zabelin and Nikita Fedosov as well as a large-scale diptych over the mantel and a collection of white paintings in the stairwell by Non-conformist artist Vachagan Narazyan.
Dining Room
Artwork includes Miriam Beerman's large-scale painting Nothing has Changed and Iliya Mirochnik's Mudcracked Houses and humanist artist Jacob Landau among the Saint Louis Crystal and Wiinblad for Rosenthal Magic Flute china that sits under an Artemide chandelier.
Kitchen
The kitchen's blue tones are a nod to the sea that sparkles outside the townhome's windows and is chocked-full of color-curated collections sprinkled together like the ingredients of a complicated recipe. Artwork includes the large expressionist work by Sheba Sharrow entitled Moto Perpetuo and Charlie Schaffer's untitled self-portrait, among other Russian Realism works.
Master Bedroom
The layered, rich fabric throws stretch across the bed like waves, mimicking a shoreline, folding and creating patterns similar to those formed in the sand. Reclining among them, Butterfly, Yarosh's cat, illustrates another philosophy of the artist-designer: Homes filled with fine art are meant to be lived in; they are a backdrop for memories, places where life unfolds.
To Yarosh, the intention of design, like art, is to look to the past and take the beauty of traditions and retell those stories in a way that resonates today. He proposes that sometimes the patterns and color used in the past was more forward than what we consider "modern" today. In the master bedroom, the dark walls lead the gaze outside, drawing attention to the view. Simultaneously, the greens and golds of the various surfaces and fabrics direct the eye to the synergy of colors that reside in harmony with nature, supporting the idea of rest and renewal.
The art collection includes works by Yarosh, including intimate pieces such as "A Family Portrait" series and "Holding on to Happiness (not Ilean too)," a new work created during the 2020 pandemic shutdown, which afforded Yarosh an opportunity to return to his roots as a painter.
"Road to Bethesda," a large-scale work by Canadian artist Daniel Barkley depicting a modern interpretation of the Biblical story of the pilgrimage by those hoping to be cured, serves as a reminder that no matter where we are on our life journey, there are those among us who always choose to put one foot in front of the other to continue on with dignity and to find paths of grace
.
The collection also includes six portrait studies of sailors painted in the 1950s by Russian Realism artist Pointer Maltsev, which depict his time at sea.
Sources
Adrian Pearsall, Artemide, B&B Italia, Bevilacqua, Clarence House, Chesney Fireplaces, Dedar, Fersa, Fortuny, Harvey Probber, Hill Brown, Jean Monro, Jens Risom, Lalique, Lelivre, Quebracho, Rocky Mountain, Rosenthal, Saint Louis, Scalamandre, Solar Tile, Viking, William Yeoward.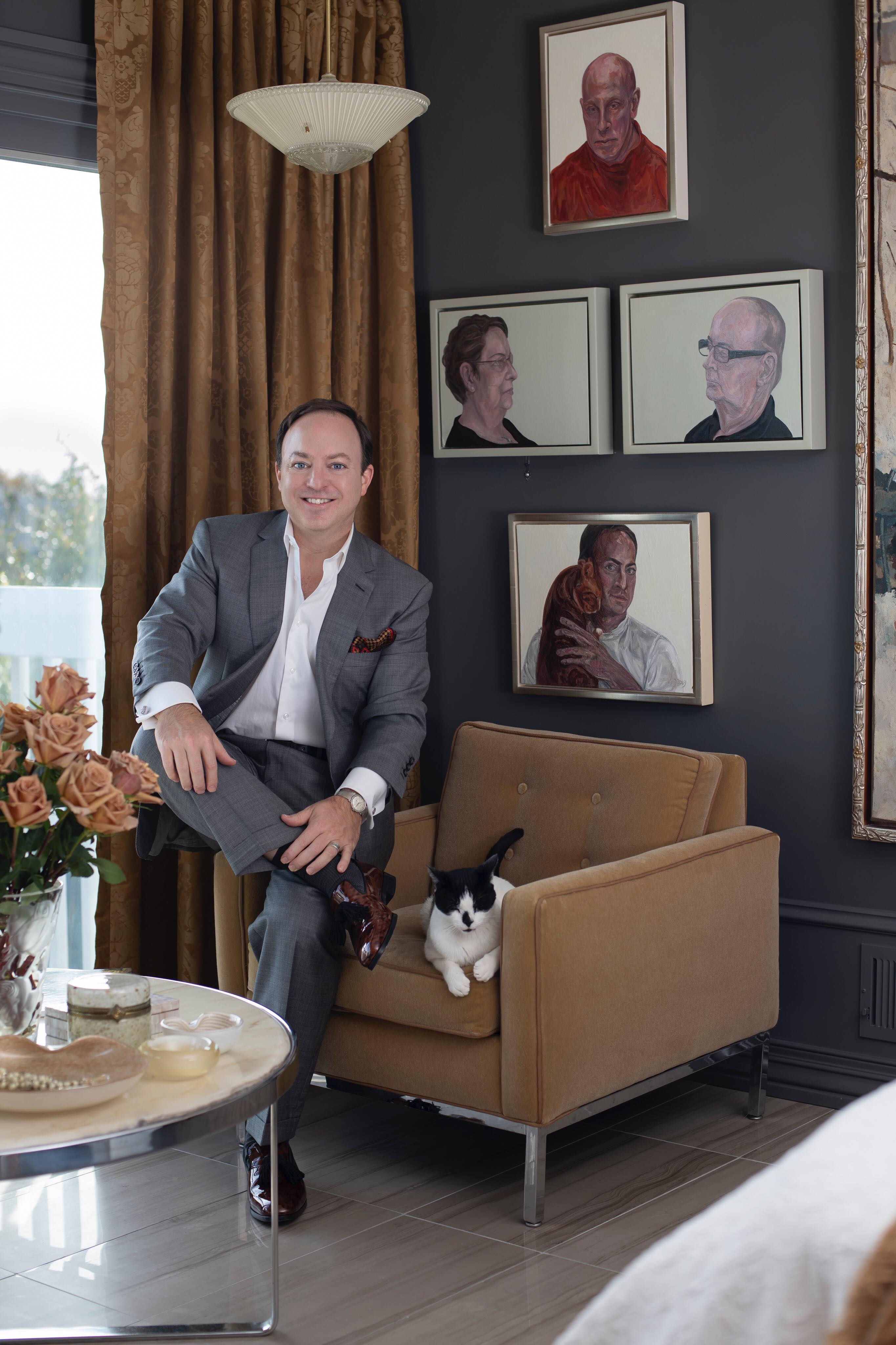 About James Yarosh Associates
Established in 1996, the James Yarosh Associates Fine Art Gallery in Holmdel was founded upon and remains loyal to its vision: to represent fine art for art's sake and to curate gallery collections and thoughtfully present art with an artist's eye and understanding. As a gallery owner, Yarosh has received national critical acclaim for presenting Russian fine art collections and recognizing significant art movements in their early stages. Drawing upon both international and regional resources, Yarosh represents a variety of artistic voices of our times by showcasing the works of both new and established, museum-recognized, artists of merit in a space designed to replicate the intimacy of an artist's home.
Photos by Patricia Burke - James Yarosh 2021