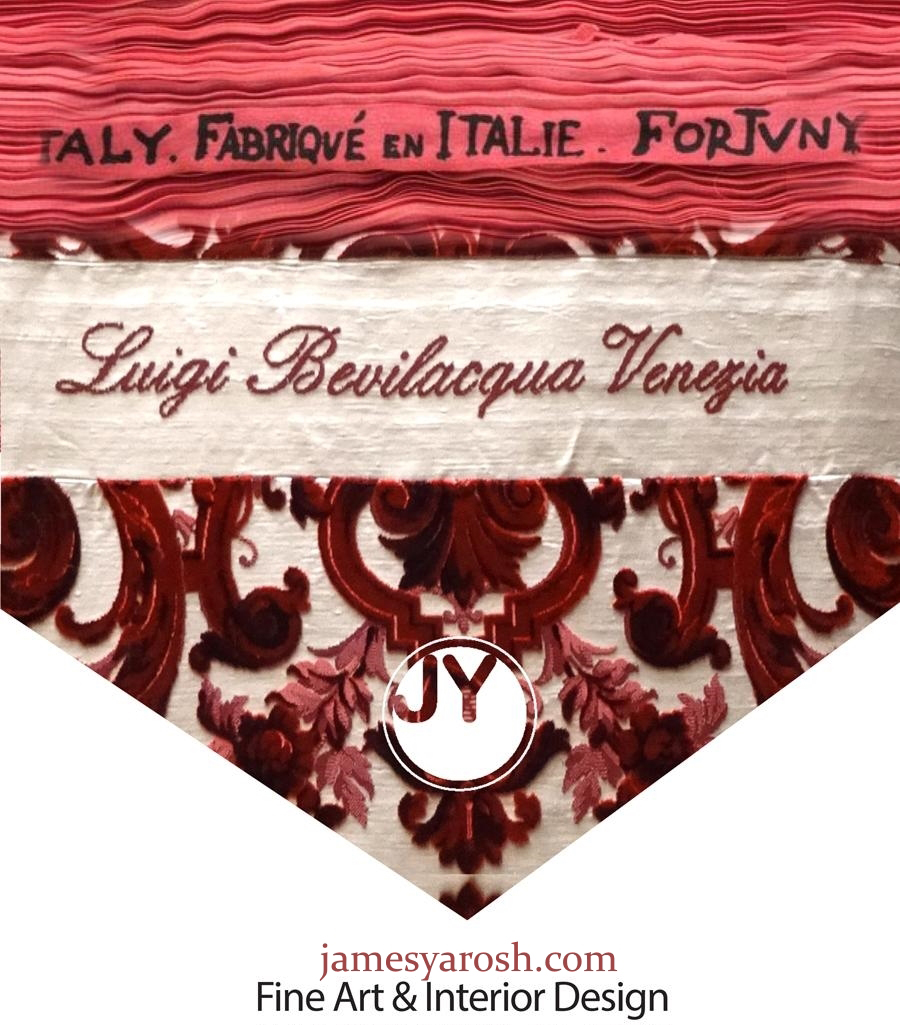 FINE ART & INTERIOR DESIGN SALON AND GALLERY SHOWING AT JAMES YAROSH ASSOCIATES FINE ART GALLERY:

A PRESENTATION OF FORTUNY / BEVILACQUA AND A NEW HANGING OF FINE ART FOR THE HOLIDAYS
NOV 30 - DEC 2, 2018
James Yarosh Associates Fine Art Gallery, Holmdel, NJ:
James Yarosh Associates Fine Art Gallery will host an invitational, limited reservation salon evening on November 30th from 6 to 9 p.m. and open-to-the-public weekend event on December 1st and 2nd from 12 to 4 p.m., both of which will showcase a new gallery hanging of artwork and a trunk show of interior design fabrics by the famed fabric houses Fortuny and Luigi Bevilacqua. Additionally, fine art for the holidays will be open to the public Saturdays for the entire month of December.
The salon evening includes special guest Wendy Dreer, the U.S. sales director for the Venice-based fabric house, who will offer history and expert background on all things Fortuny and Luigi Bevilaqua. The art exhibit will feature gallery artists such as Iliya Mirochnik, Vachagan Narazyan, and Sheba Sharrow, as well as Russian Realism collections by Yuri Kugach, Vjachaslav Zabelin, and other artists.
Artist and gallery owner James Yarosh says his love of quality home furnishings is what fuels his work in interior design for both large- and small-scale collectors: "Salon events allow for conversations to evolve over a night with the atmosphere of a dinner party to engage. It is exciting for me because I get to show both the art and artisan textiles and how such pairings elevate the two with a synergy that is understood only through a direct experience. The show scenario offers a glimpse of the beginning process of a new design project and allows us to explore fine art pairings together, and through this, we all get to learn and discover new ways of seeing and living with beauty."
Yarosh has carved out a unique name for himself as an interior designer for art collectors, sharing his enthusiasm as he educates clients on how to love and live with fine art. He established the James Yarosh Associates Fine Art Gallery in Holmdel in 1996 with a vision to represent fine art for art's sake and to curate gallery collections and thoughtfully present art with an artist's eye and understanding. Yarosh has received national critical acclaim for recognizing significant art movements in their early stages, most notably for his representation of Russian fine art.
During these intimate afternoon and evening events held at Yarosh's loft gallery, guests will enjoy an exclusive opportunity to mingle with likeminded individuals and enjoy one-on-one discussions with design leaders in the forum of an artist's salon. In this relaxed atmosphere, guests can spend time with displayed works of art as they meet artists and hear about the inspiration and mastery behind the works.
"The idea behind the Salons is to share what's 'behind the curtain,'" says Yarosh. "Guests can see what excites those who live to appreciate the arts—those who visit artists' studios, travel to museums and reference international design sources from cities of culture such as London, Paris, and Milan. Through this mutual celebration of beauty in the world of art and design, we aim to spark meaningful conversation."
Fortuny prints have been handmade in Venice since 1907 and offer a range of high quality solids and textures with refined color. Mario Fortuny, a Spanish-born textile and fashion designer, was world-renowned for the inventiveness and beauty of his work. His intricately hand-pleated Delphos and Peplos gowns—made of fine Japanese silk shaped at an extremely high temperature—are works of art, and his printed, hand-painted fabrics in such patterns as the Lucrezia, De Medici and Moresco have adorned the interiors of museums, churches, and stately homes since the early 20th century.
Luigi Bevilacqua is a centuries-old fabric company located in Venice, Italy and is still owned and operated by the Bevilacqua family, they who hand-makes luxury fabrics for furnishings and interiors. Bevilacqua's skilled weavers produce everything from brocades, velvets, damasks and satins to trimmings and handwoven velvets, often using their original 18th-century looms. The company's historical archives hold more than 3,500 original designs.
James Yarosh Associates Fine Art Gallery is located at 45 East Main Street, Holmdel, New Jersey and is open to the public every Saturday 12-4pm, weekdays and evenings by appointment. Complete show information can be found online at jamesyarosh.com