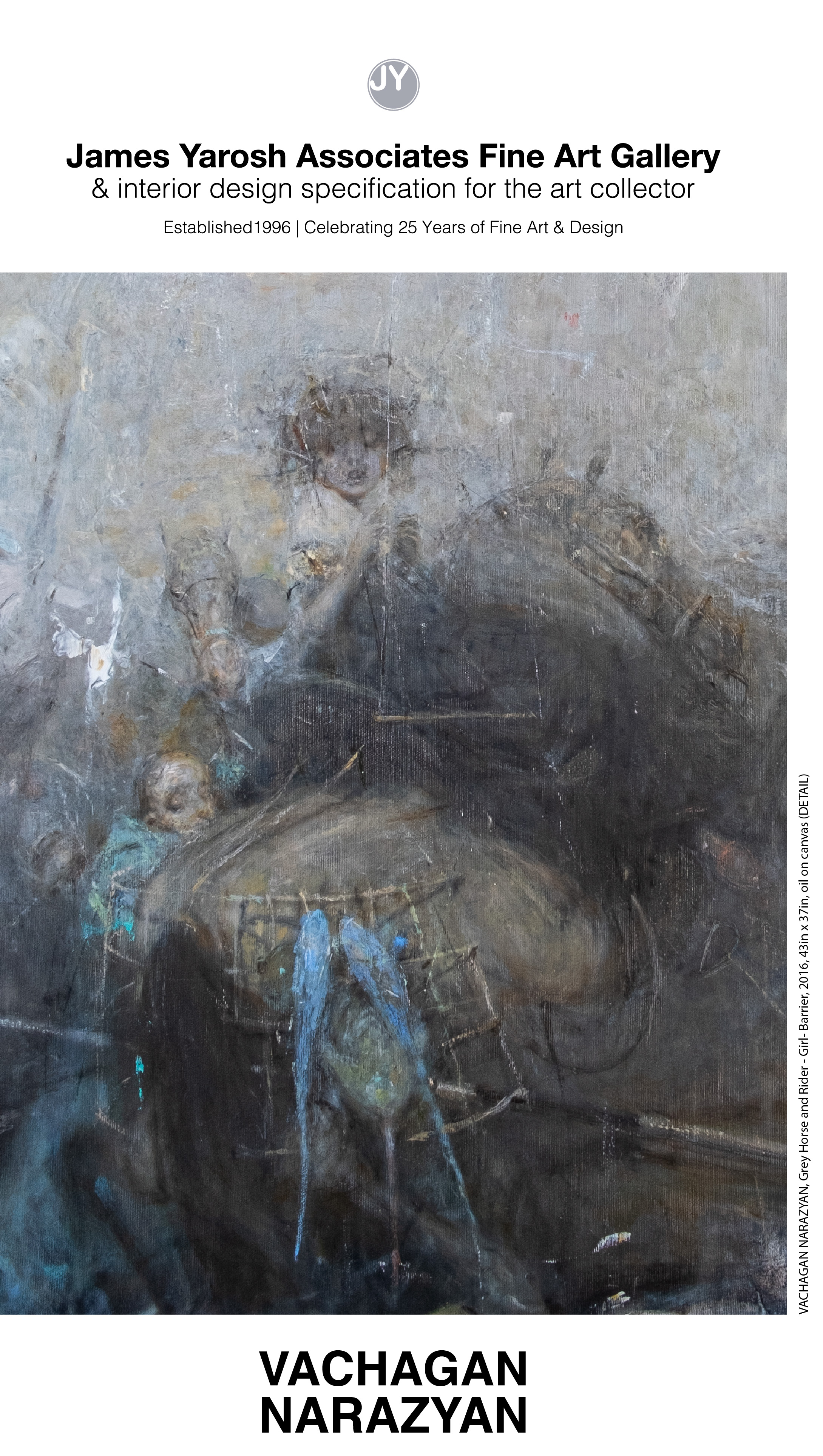 THE 2021 VACHAGAN NARAZYAN COLLECTION JAMES YAROSH ASSOCIATES FINE ART GALLERY
Vachagan Narazyan's paintings offer imaginings of fantastic journeys both horizontally (representing physical experiences) and vertically (representing intellectual and spiritual learning ) to take place in a space between heaven and earth.
Narazyan's epic and intimate paintings are arguably amongst the most important works to surface and still develop from the repression of the former Soviet Union. With a style blending old-world images with futuristic visions, the artist creates a world of mystery and enchantment for the viewer to explore. Narazyan, born 1957 in Kislovodsk, Russia and currently residing in the Ukraine, graduated Kharkiv Art Institute and developed a style underground, now coined romantic fantasy, as part of the historical Non-conformist Art Movement. Today, the artist's work is represented in museum and private collections around the world including the Zimmerli Art Museum's Dodge Collection. Our Gallery is proud to offer the paintings of Narazyan's artistic genius. CATALOG AVAILABLE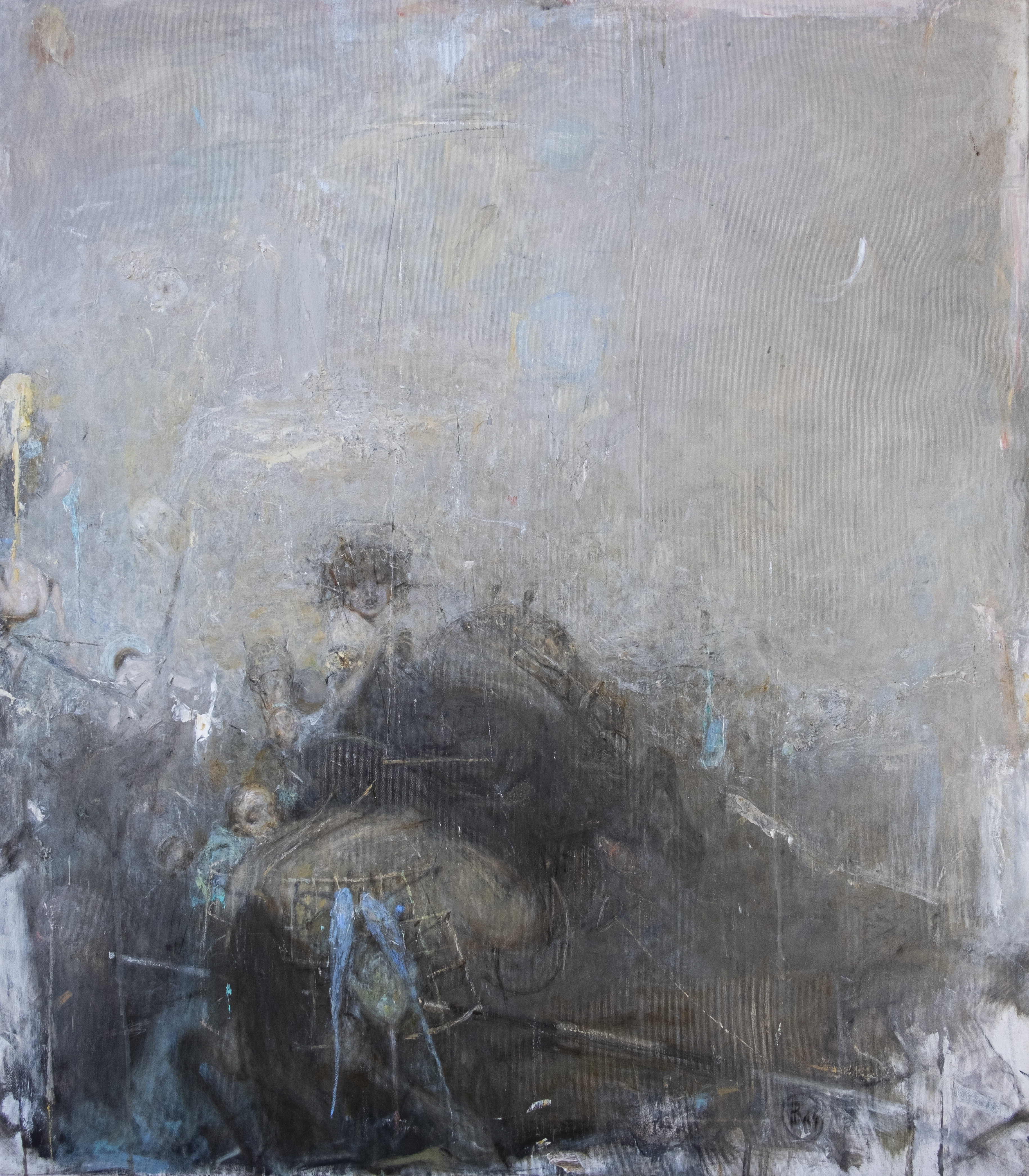 JY01 VACHAGAN NARAZYAN, Grey Horse and Rider - Girl- Barrier, 2016, 43in x 37in, oil on canvas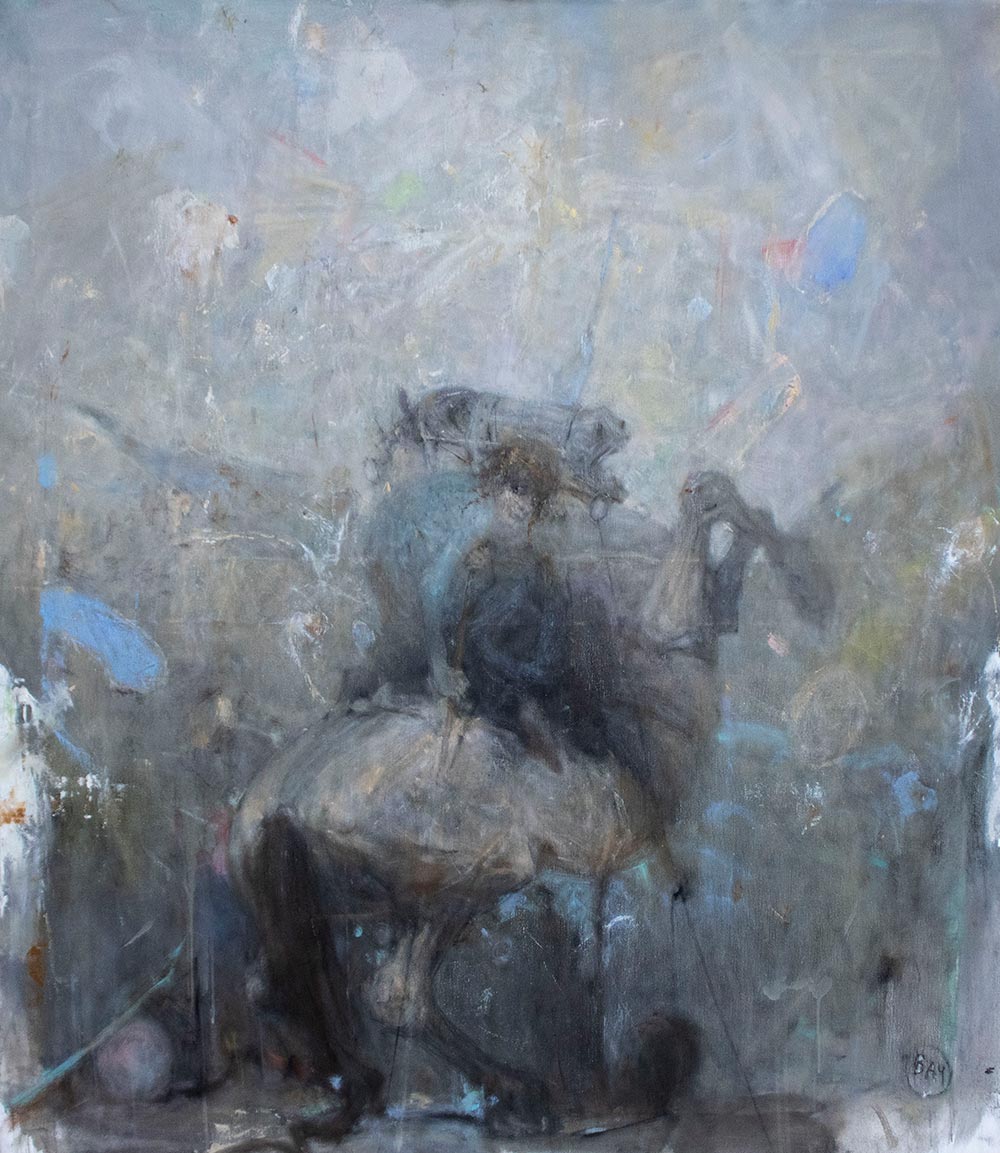 JY02-VACHAGAN NARAZYAN, Grey Horse and Rider – Boy, Taming, 2016, 39.25in x 35.5in, oil on canvas
Taming:
Equestrian scenes from the series "Taming".
The Dame taming a wild horse - a metaphor for the union and
confrontation of the male and female energies in a world of chimeras and illusions.
This is the basis and symbol of harmony on earth -VN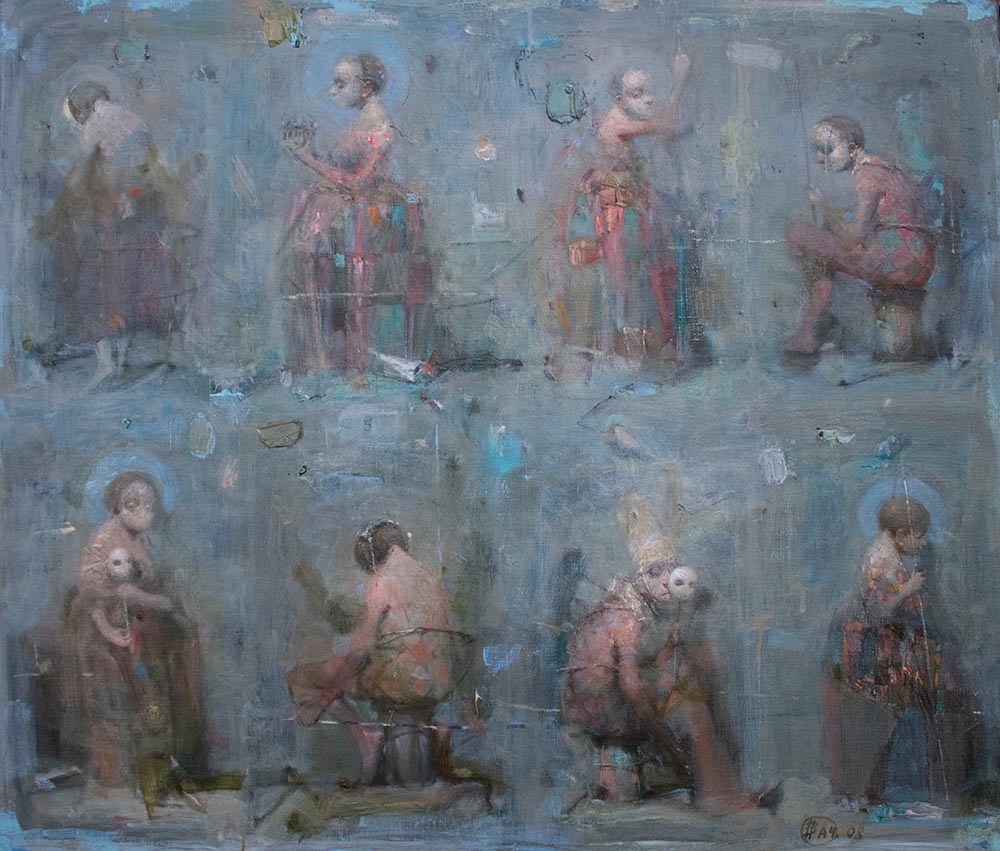 JY03-VACHAGAN NARAZYAN, Ladies and Clowns, 2008, 23.25in x 27.25in, oil on canvas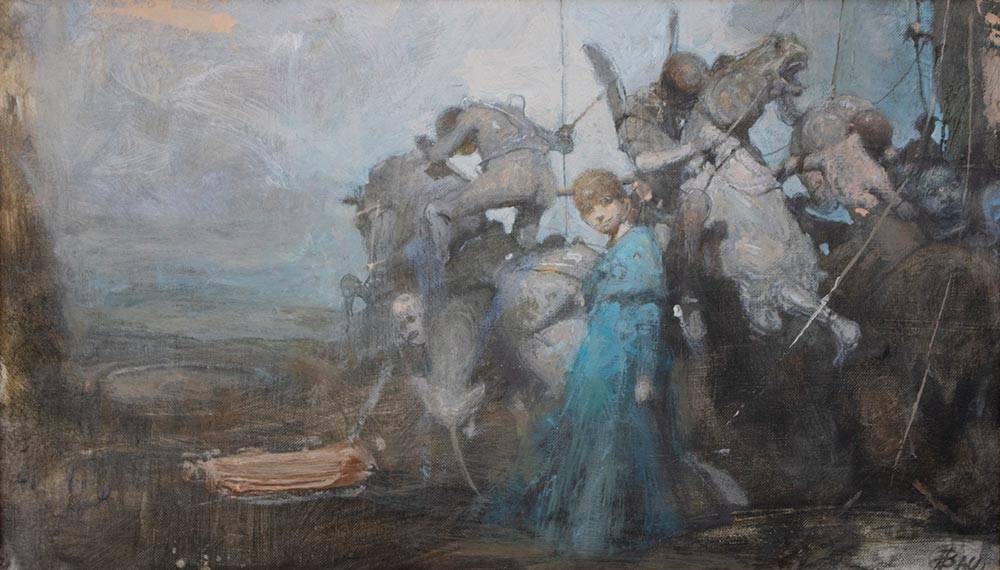 JY04-VACHAGAN NARAZYAN, Small Victory, 2005, 7.75in x 13.5in, oil on canvas

JY05-VACHAGAN NARAZYAN, Grey/Blue Horizontal, 2010, 8in x 31in, oil on canvas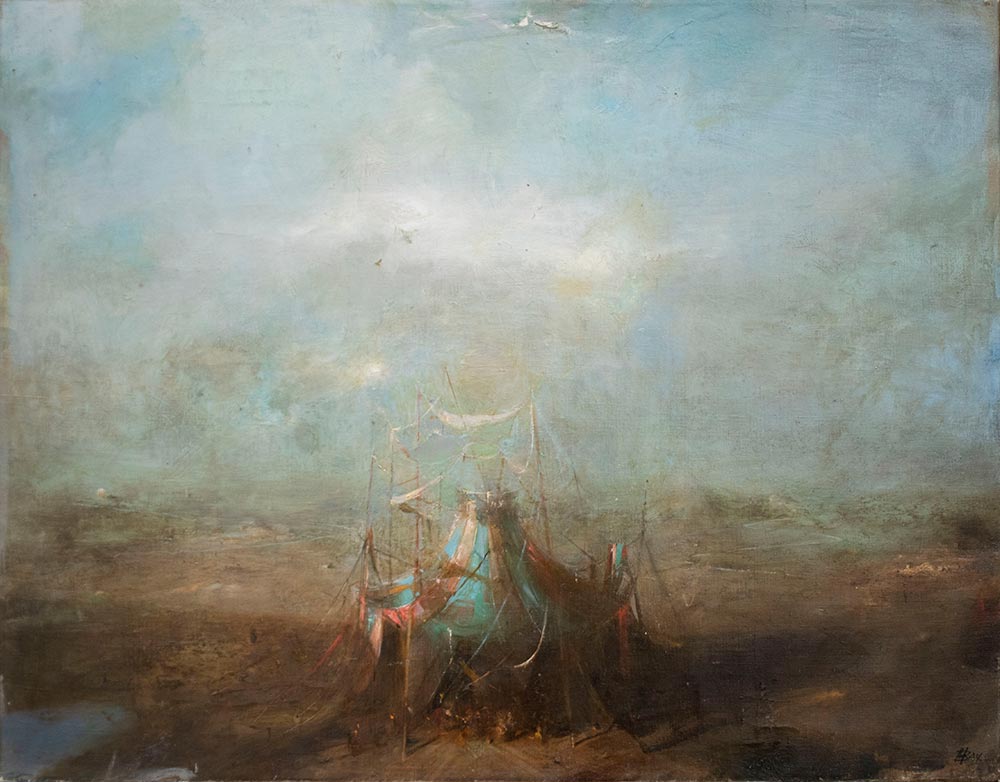 JY06-VACHAGAN NARAZYAN, Manuto Landscape, 2003, 21.5in x 27.5in, oil on canvas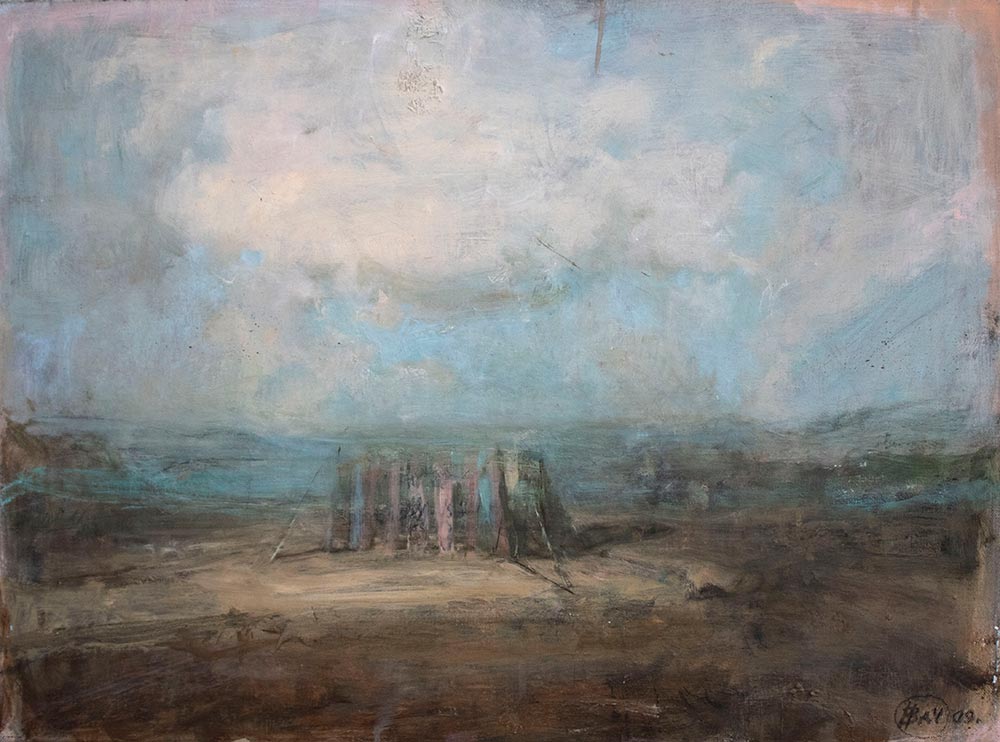 JY07-VACHAGAN NARAZYAN, Barricade, 2009, 17.5in x 23.5in, oil on canvas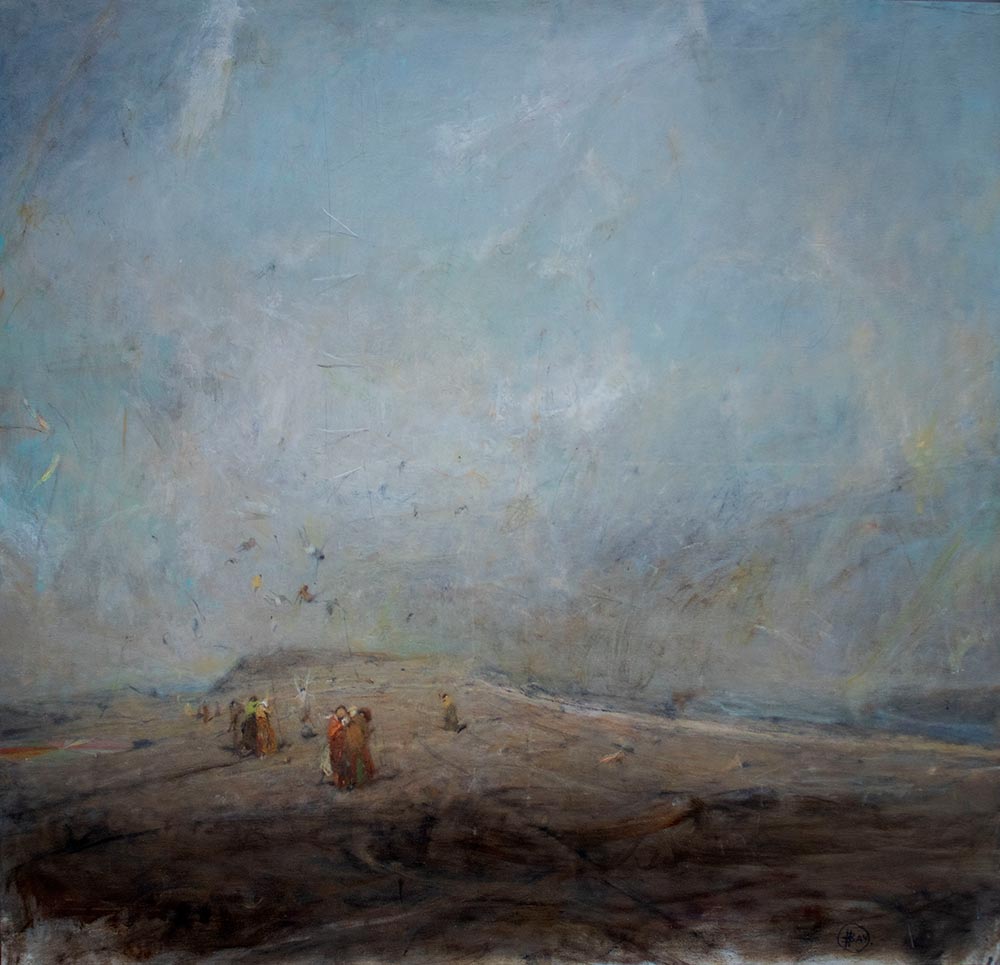 JY08-VACHAGAN NARAZYAN, Between Heaven and Earth, 2018, 41in x 39.5in, oil on canvas
"Landscape"
Space between heaven and earth.
The blurred horizon is like the threshold between reality and illusion,
where angels descend from the heavens and people rise and float gently
above the earth. - VN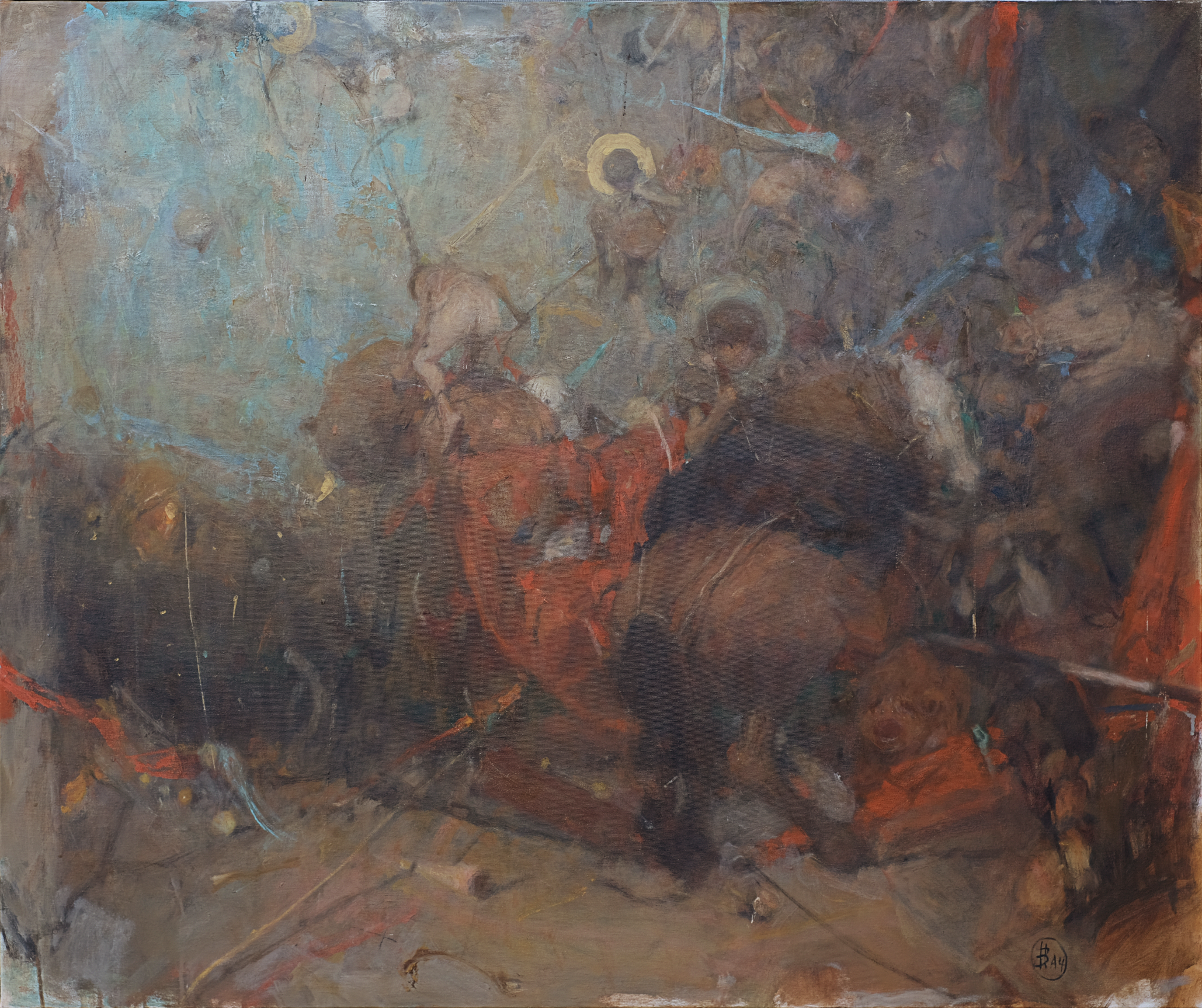 JY09-VACHAGAN NARAZYAN, Dreams and Chimeras, 2018, 37in x 43in, oil on canvas
Equestrian Scene in the Baroque Style. - VN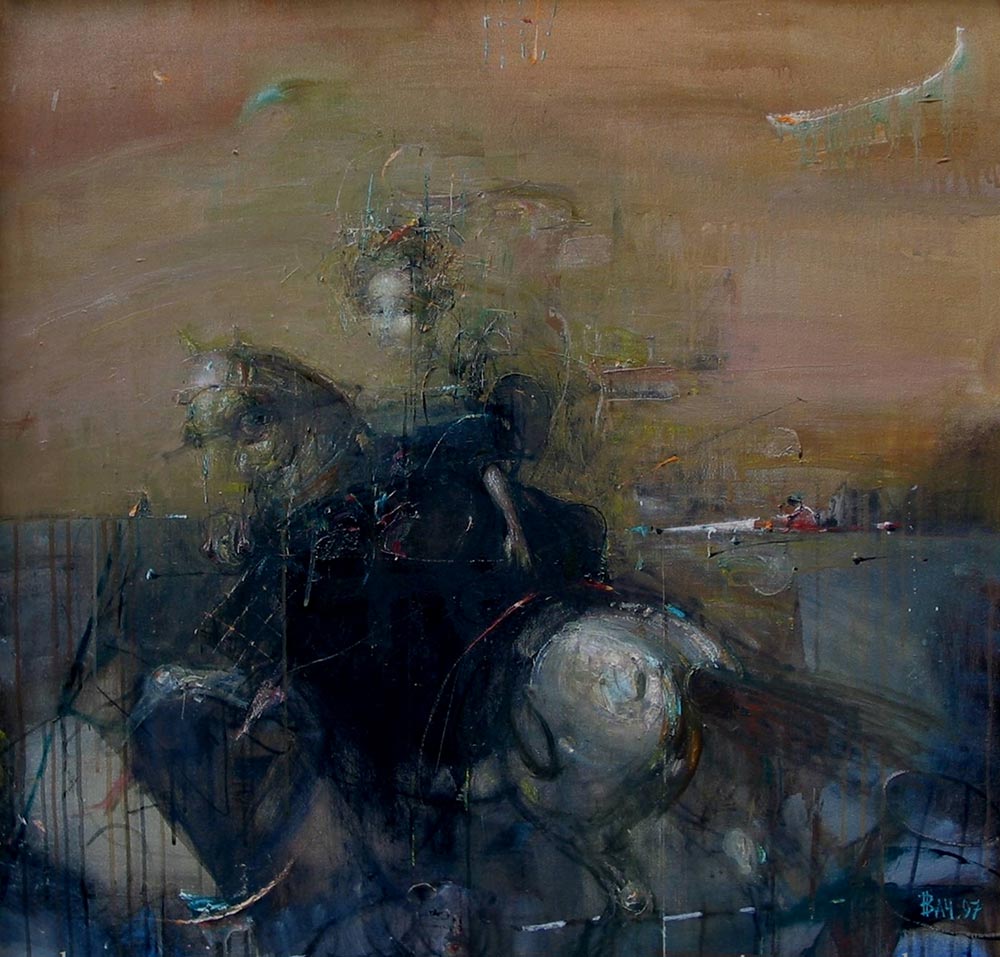 JY10-VACHAGAN NARAZYAN, Caprice, 1997, 27in x 27in, oil on canvas- original Caprice painting- Framed- Available only at gallery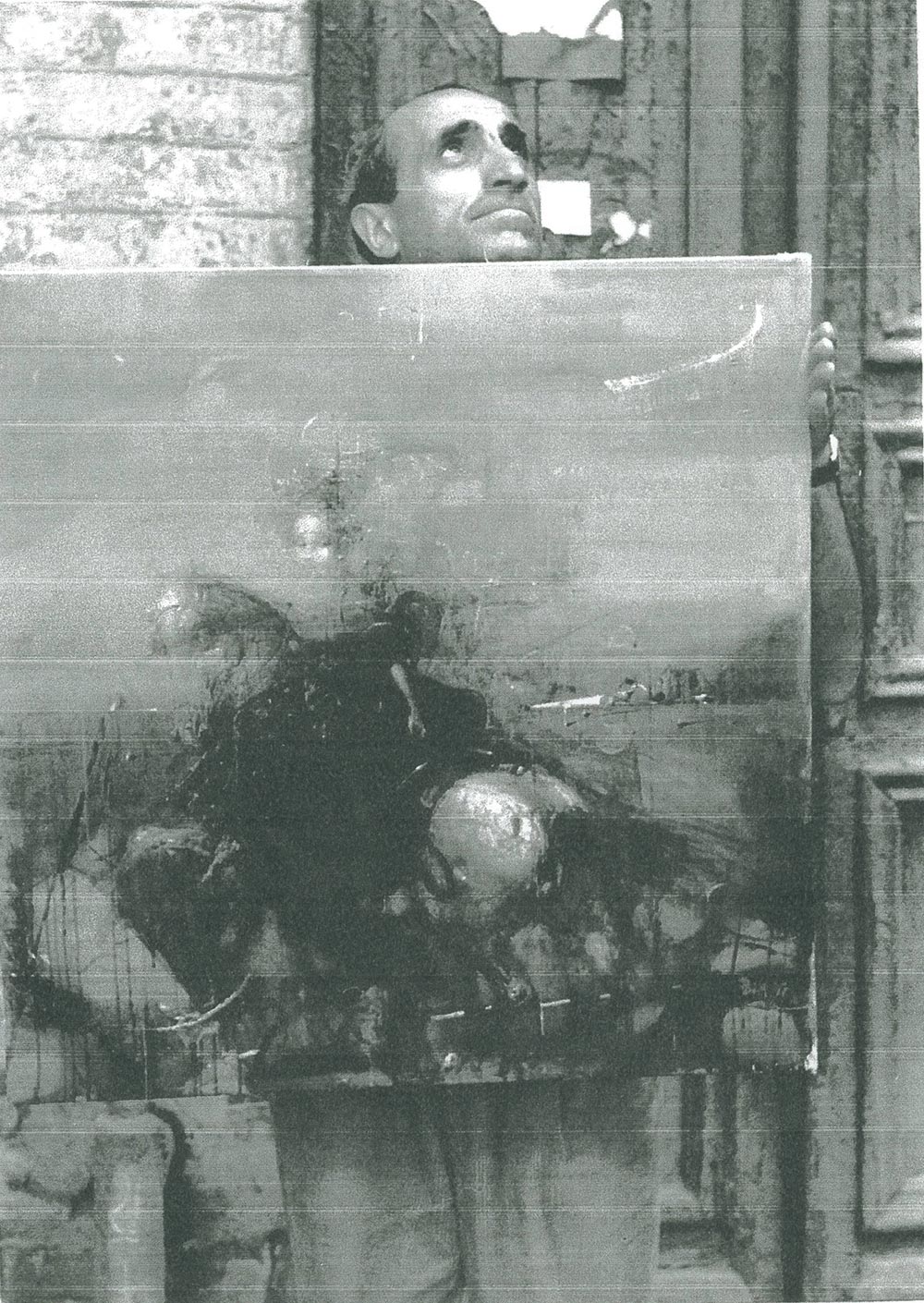 Artist Vachagan Narazyan IN 1997 with his first painting of the horse and rider subject, Caprice.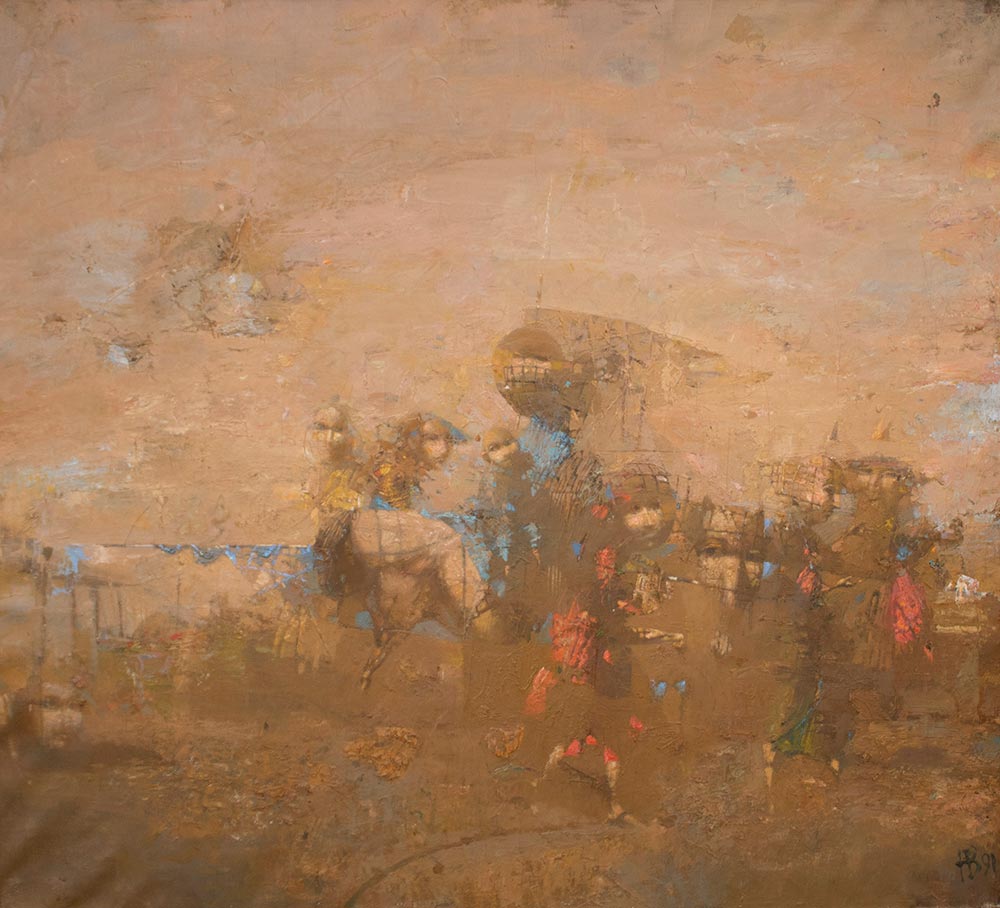 JY11-VACHAGAN NARAZYAN, Flight into Egypt theme, 1991, 35in x 38.5in, oil on canvas- Framed -Available only at gallery
Narazyan "sings" of quiet wars, whispered rumbles, personal entanglements and totems; his paintings are ballads
Vachagan Narazyan invites viewers to step into "absurd travel" through his series of paintings by that name. The above painting depicts several figures en route to somewhere, like the legendary fight into Egypt, across flatland (perhaps desert) with a hint of sea under an intricately clouded sky One catches the figures' eyes, literally, and at times an entire facial expression here and there, like fleeting encounters with being in a dream. The power of the artist's arrangement of figures against the horizon lies in the varying sizes of the heads: The viewer may explore each glance, each flash of worry, a smirk or a stare, while getting caught up in the chaotic caravan of the moment. A tiny figure dressed in red appears to be straying from the others. Animal forms carry some of the figures and their burdens. In toto, this vignette reveals how mysteriously people play into each other's personal flights and leads to the question of their survival. Despite that an angel-like figure hovers over the group, the mood remains tenuous. Interestingly, however, such a work of art is to be contemplated endlessly for its sheer beauty and brightness. It beckons the viewer's heart as though it were a family picnic on the beach, all motion and emotion, stepping forward, stepping back, and always waiting for a turning point. To nourish the subconscious into consciousness little by little, alas, the reason and foundation of art itself.
A contemporary Russian artist of the Ukraine, Narazyan gives the viewers eerily pleasant hints of Daumier, Klee, and Bosch, but all muted, blended, into a creamy wonderment. But no tabula rasa, these works: They are landscapes and events and living beings surviving in our deepest consciousness. Works that make us hum along, gasp little gasps, and subliminally understand life as a vast stage to be both played upon and carefully watched. - Art Critic – Tova Navarra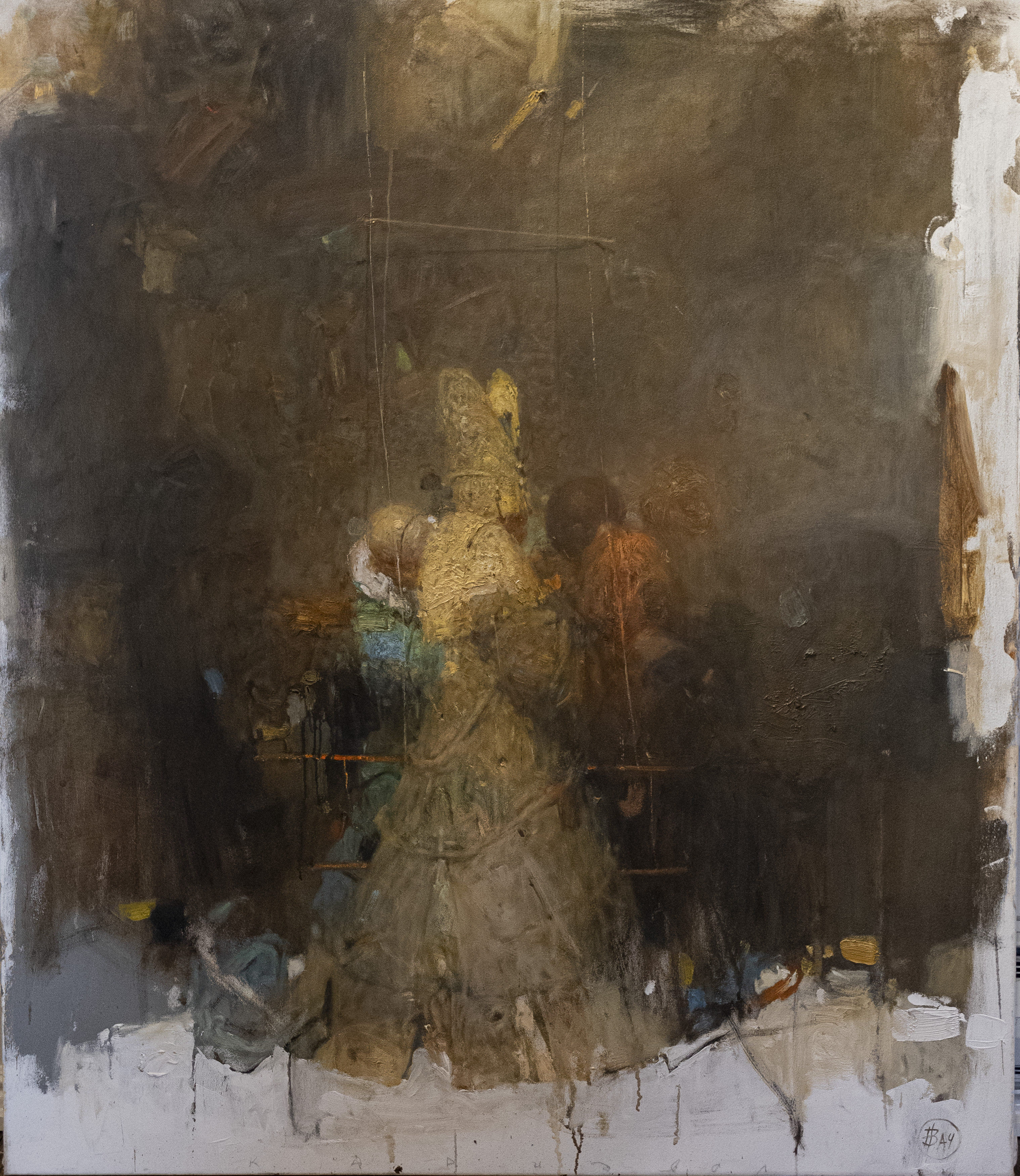 JY12-VACHAGAN NARAZYAN, Trinity, 2012, 43in x 37.5in, oil on canvas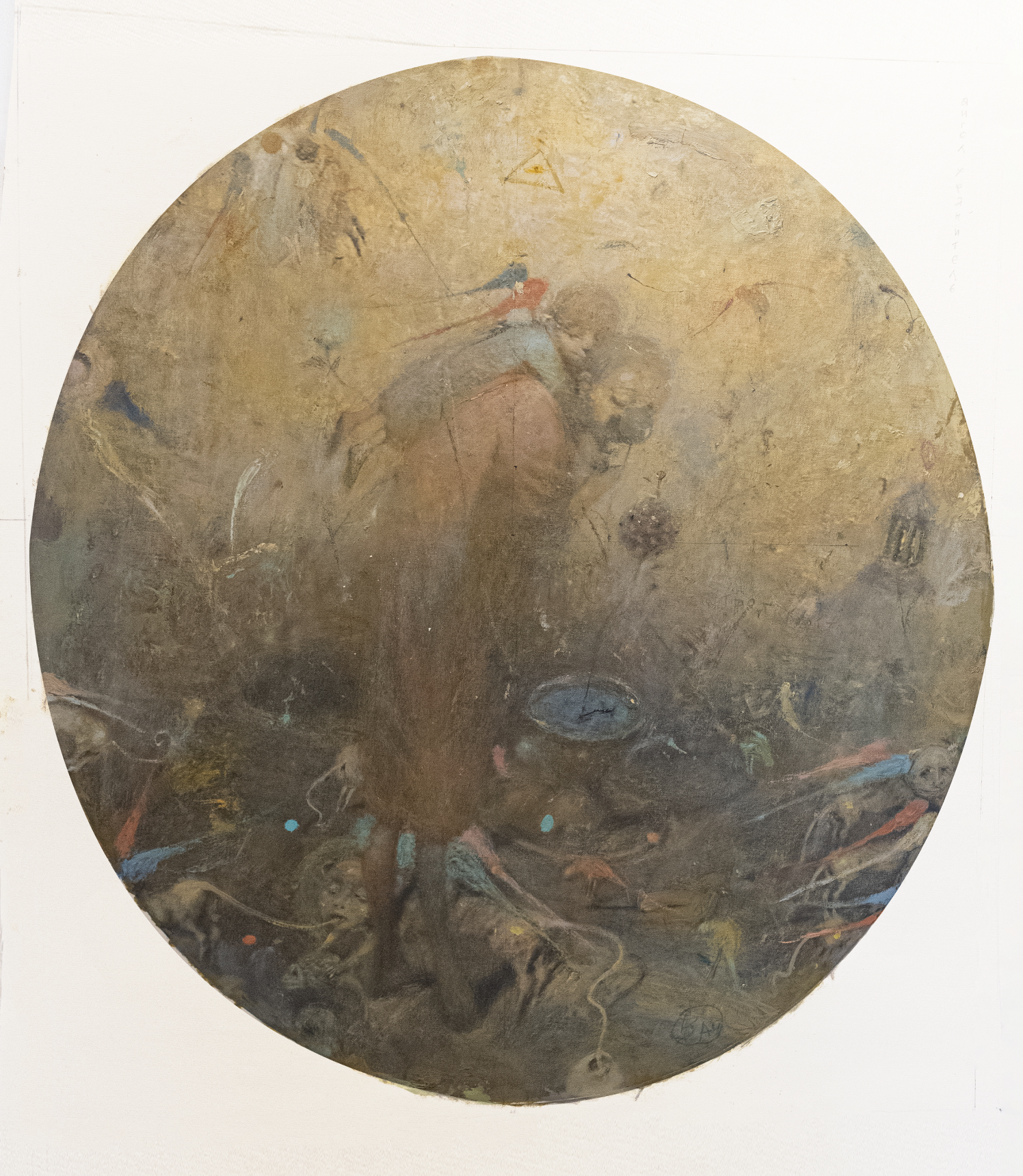 JY13-VACHAGAN NARAZYAN, Oval Works, 2016, 23in x 33in, oil on paper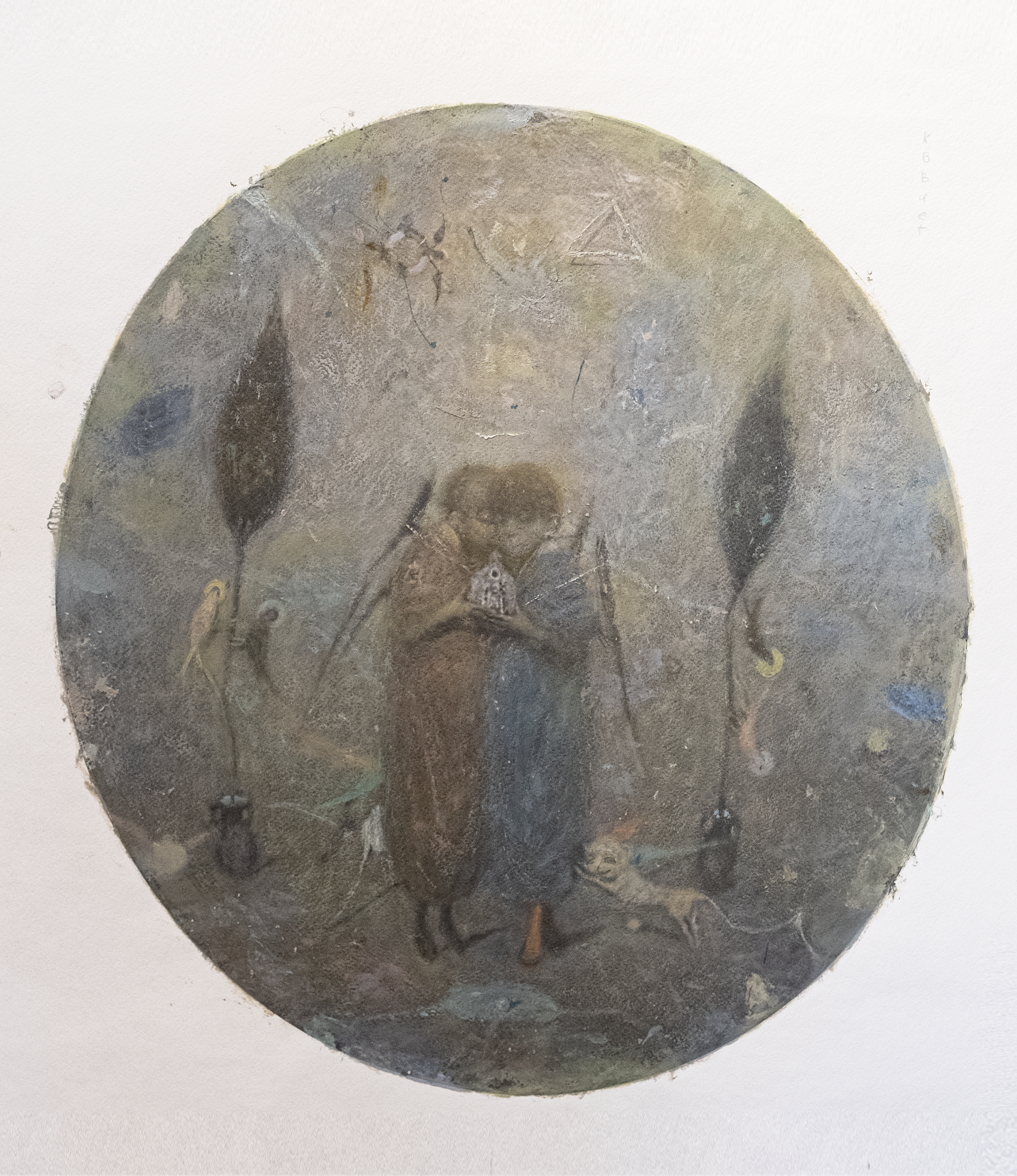 JY14-VACHAGAN NARAZYAN, Oval Works, 2016, 23in x 31in, oil on paper