WINTER'S TALE 2019 AT JAMES YAROSH ASSOCIATES FINE ART GALLERY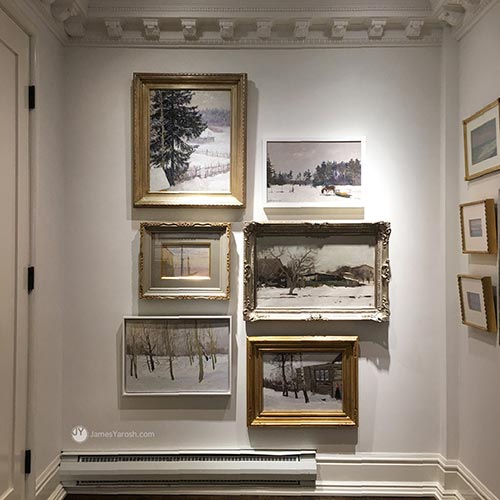 Within a limited color palette of wintry whites, artists such as Yuri Kugach, Alexander Danilichev, and Nikolai Sergeyev created paintings of stillness and beauty, with depth greater than the snow itself. As part of our gallery collections to offer, James Yarosh Associates gallery presents Russian Realism paintings, based in part on the studied principles of French Impressionism--developed and honed plein-air academic painting ideals under a closed society for generations. Winter's Tale highlights one of nature's most wondrous elements, snow, as it intersects with seemingly simple settings. The painting is unmistakably beautiful, but the subject of snow is always controversial, depending from where you sit to view it. While once feared as nature's curse to ravage the earth and battle daily living against the elements, snow is also seen as the magical sign ushering in the holidays--a reason to light a fireplace and enjoy the lighthearted activities of building snowmen, pulling out skiers, and skating on frozen ponds. Today, we view snow as a tricky commute or a potential snow day, but regardless, it allows a group moment to pause and see what is in front of us as nature gives us a blank slate to begin again. Equally inspiring beyond Winter's Tales to tell are how the artist's create them--often in the snow, as plein-air paintings, with bold brushstrokes and sensitive color relationships that create exquisite realism in the most simplest terms in paint. Masterful and brilliant; if the paint were words, these works would indeed be poems.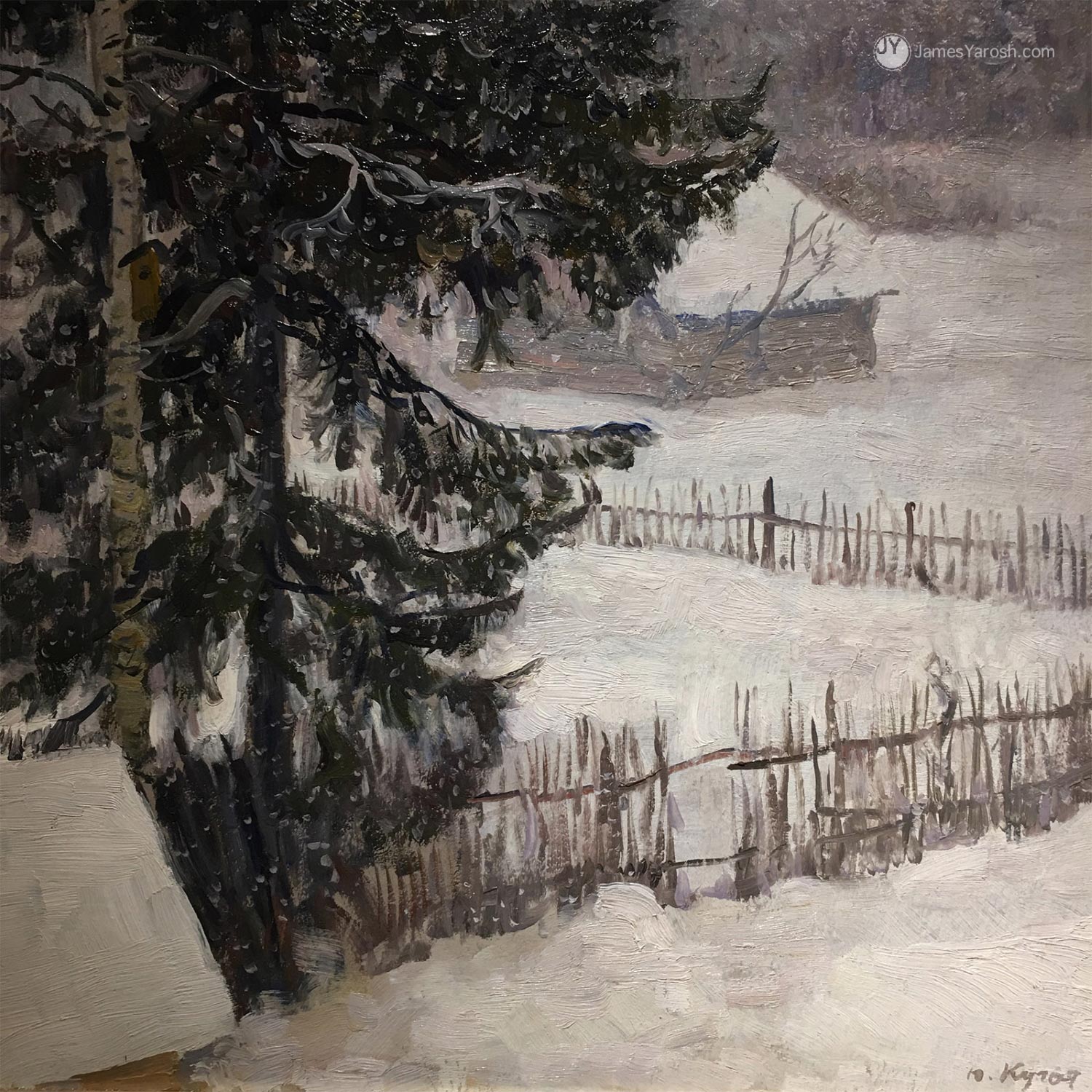 YURI KUGACH, Snowing, 1981, 15.75in x 19.5in, oil on panel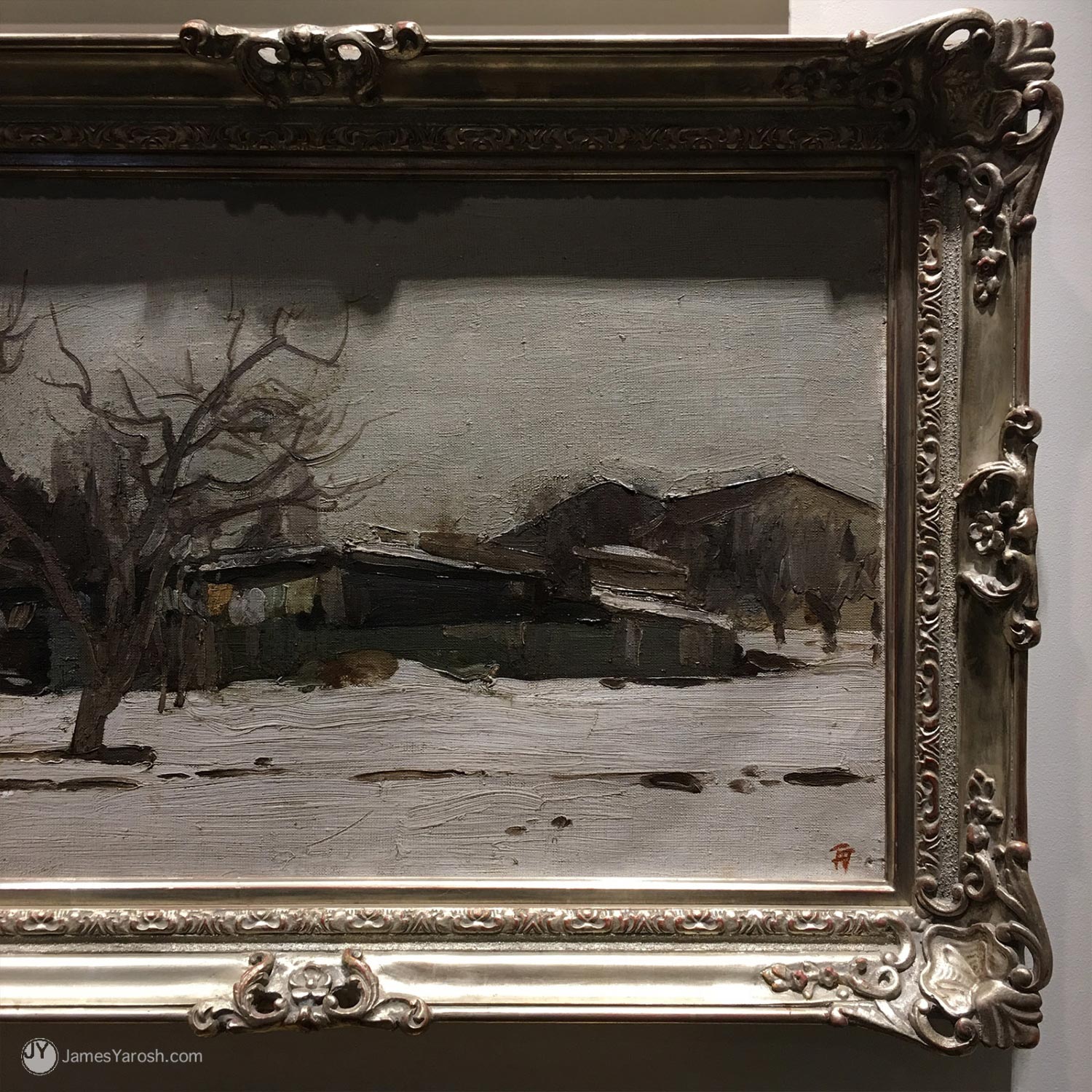 RUSSIAN REALISM COLLECTIONS:
Although Socialist Realism suppressed the influences of contemporary artistic movements within itself, Socialist Realism fostered its own unique diversity. Russian artists, like the masters before them, expressed themselves not by evolving to meet artistic movements of their time, but by becoming the absolute best within their specific painting genres. Russian Realism painting, based in part on the studied principles of French Impressionism, developed and honed plein-air academic painting ideals under a closed society for generations; it is now becoming discovered and lauded by the Western world. Achieving excellence through complete artistic integrity and ultimate devotion to their "Immortal Beloved"—the art of painting—artists of Moscow's School of Russian Realism exhibit distinct perception of color and outstanding color relationships that trademark their pedigree of traditional Russian painting. The works in this collection represent the paintings the artists created from their hearts, in their free time. At these moments, they painted for themselves, to find the truth and beauty in their subjects; in turn, they found their greatness. These are painter's paintings. Russian Realism art has created a lasting legacy and a universal connection beyond its origins and is considered to be one of the most important realism movements of the 20th century.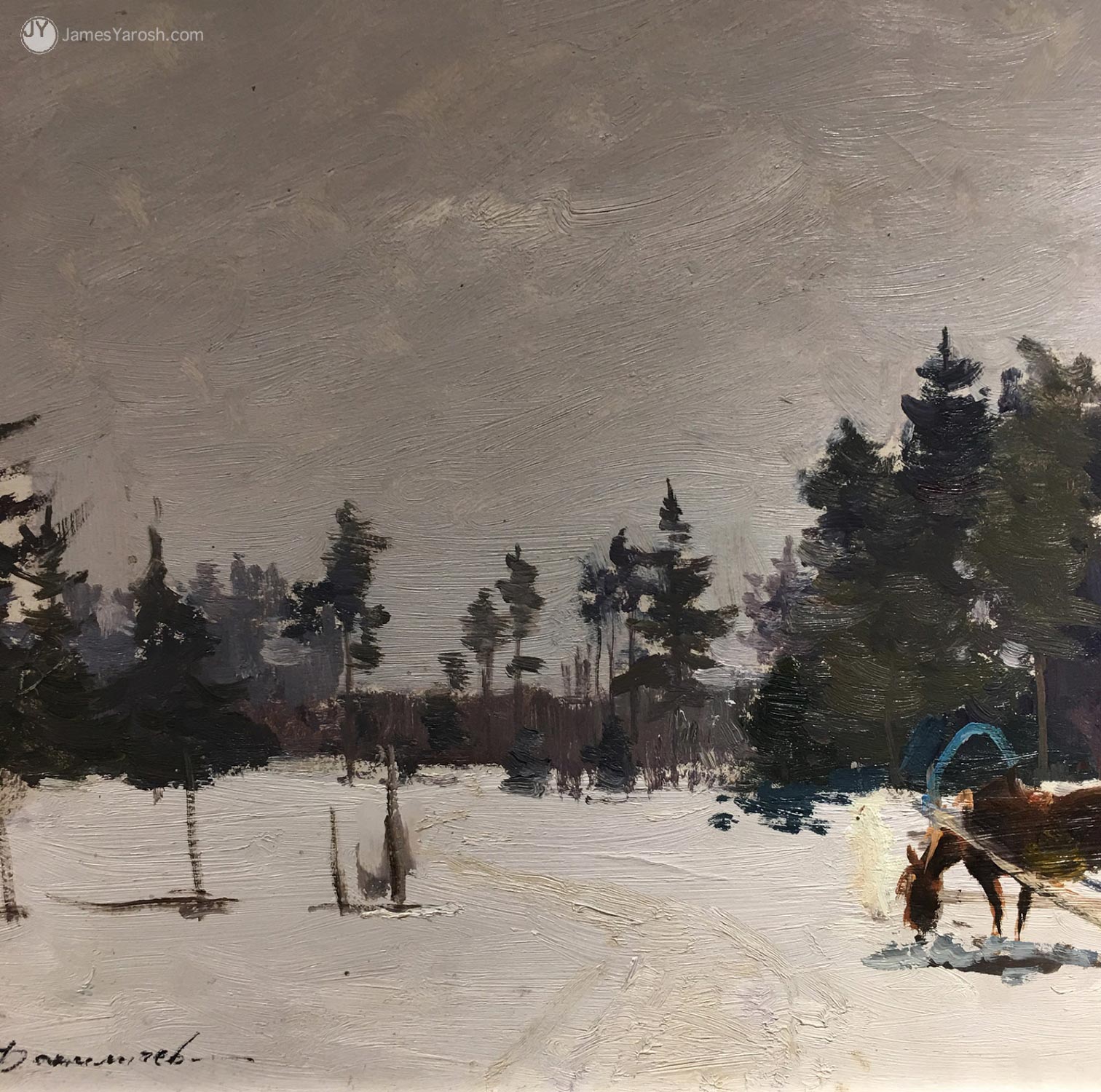 ALEXANDER DANILICHEV, Horse and Sled, 1975, 13.75in x 19.75in, oil on panel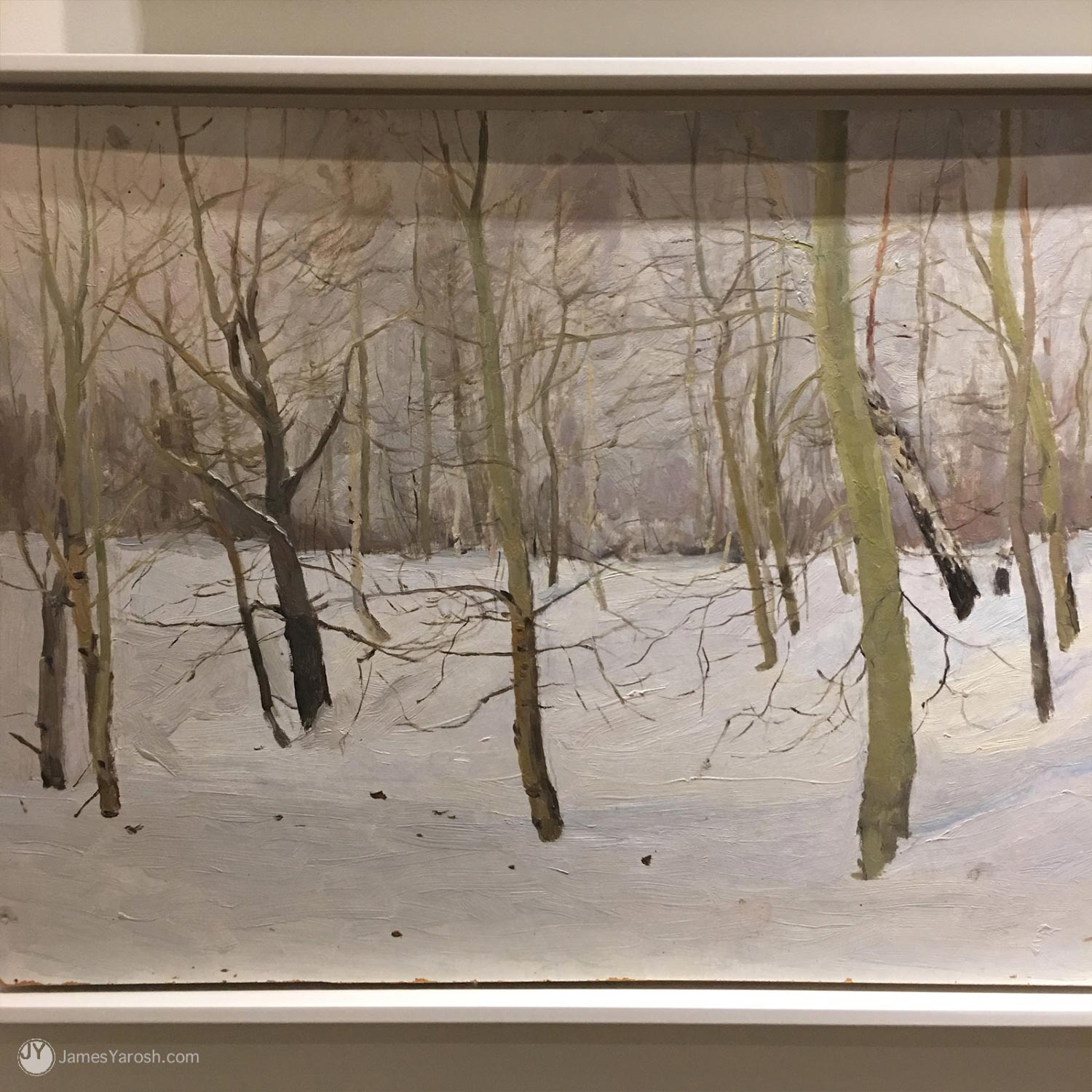 NIKOLAI SERGEYEV, Small Winter (Trees Dancing/Ring around the Rosey) , 1957, 13.85in x 19.5in, oil on panel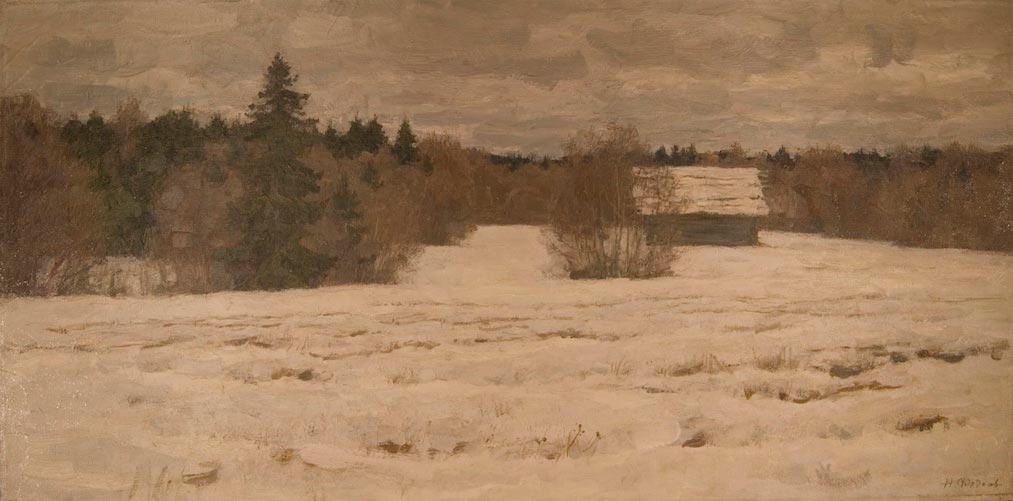 NIKITA FEDOSOV, Into Spring, 1978, 20in x 39.5in, oil on canvas
Nikita Fedosov (1939-1992) is revered as Russia's greatest artist of the 20th century. Born in 1939, Fedosov was only 2 years old when WWII began and spent the early part of his life moving back and forth between the city and the countryside. At the age of 10, Fedosov went to study at the Moscow Secondary Art School, the preparatory school for the Surikov Institute, where Fedosov and his cousin, Mikhail Kugach, also an accomplished artist, studied until 1956. Fedosov was greatly influenced by his uncle, the famous artist, Yuri Kugach. Fedosov spent a great deal of his time either alone or with the Kugach family in Kizhi. Once completing his studies at the Moscow Secondary Art School Fedosov went on to study at the Surikov Institute for six more years. Due to the general rejection of the Russian Realist School during the decade following his graduation from the Surikov, Fedosov and several other individuals from Surikov and elsewhere banded together in 1973 to form the "Exhibit of the Twelve." The group included Surikov graduates Mikhail Kugach and Vyacheslav Zabelin. It was with this group that Fedosov began exhibiting his works and started receiving wider recognition within the art world. In 1974, the Moscow River Group of painters was formed by the renowned Yuri Kugach. This group included the "Exhibit of the Twelve" artists as well as others. In 1991, Fedosov was nominated by the Russian Artists' Guild and it's president V.M. Siderov, for a major government award for his series Seasons and other works. Beginning in 1991, Fedosov exhibited in Seoul, Korea with V. Korchagin, A. Sukhovetskii, G. Sysolyatin, V.Telin, and V. Shalaev. One of the paintings he sold there was a portrait of a monk, which he painted with his left hand after breaking his right. Copies of the pieces are now displayed in Korea. Nikita Fedosov died on May 17, 1992.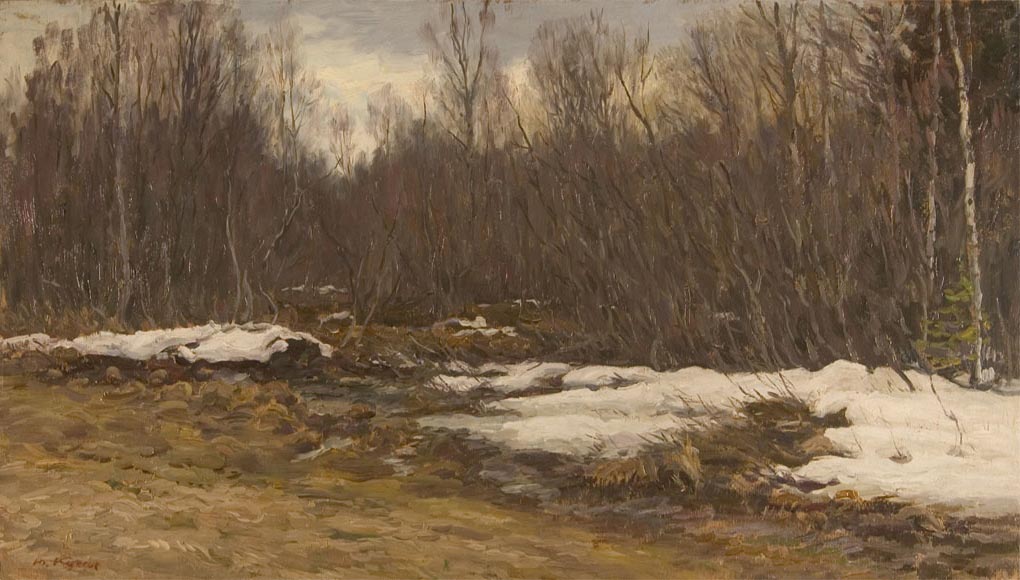 YURI KUGACH, Last Snow, 1981, 16.5in x 29in, oil on panel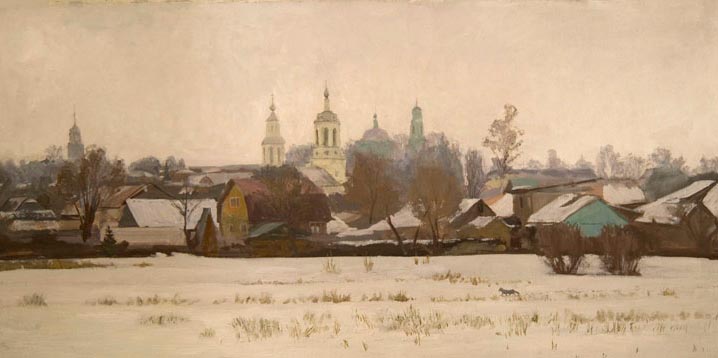 ILYA YATSENKO, View of Kozelsk in Winter, 2014, 24in x 48in, oil on canvas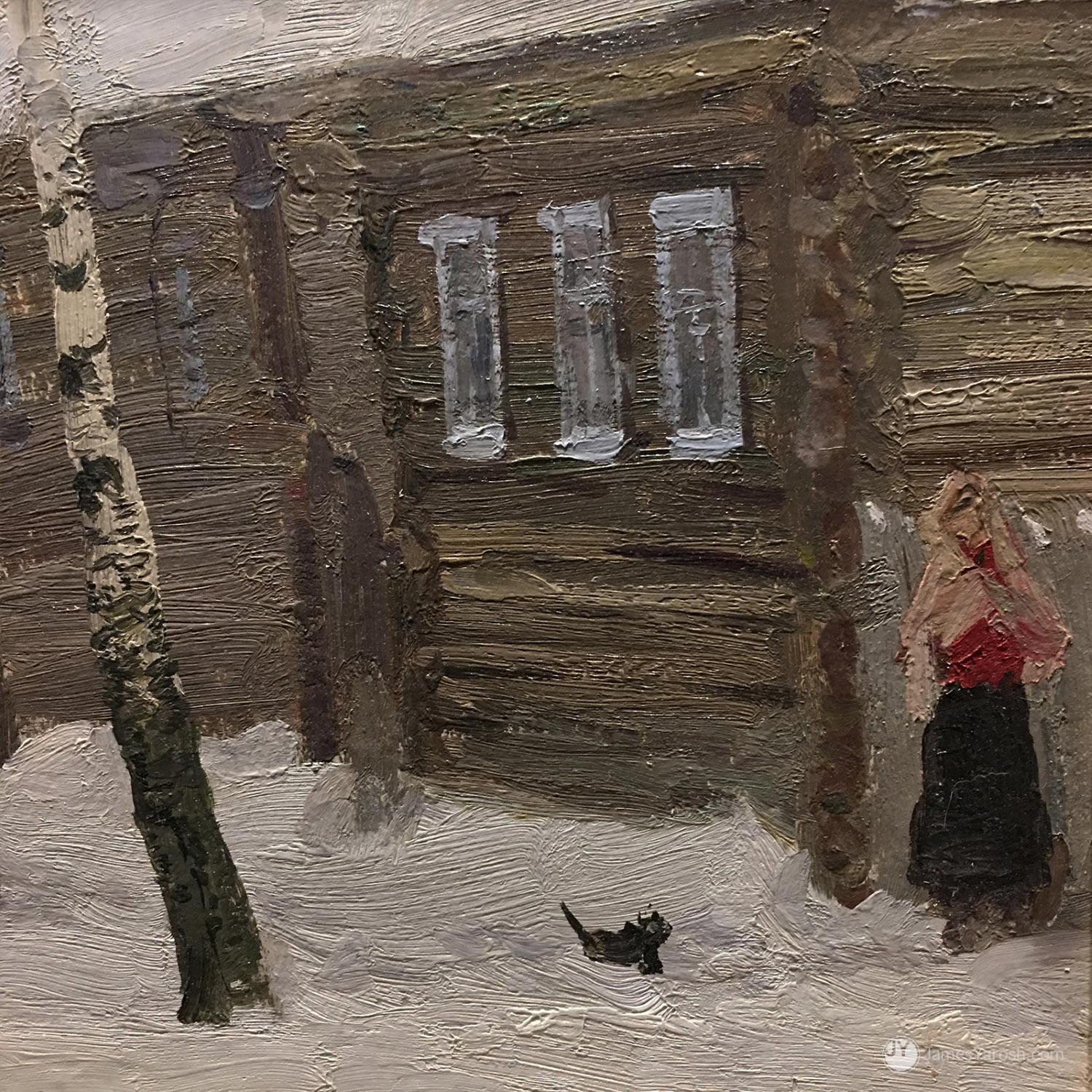 YURI KUGACH, In a Village, 1967, 15.5in x 11.5in, oil on panel
Yuri Kugach - (1917- 2013) Yuri Kugach is known as one of the finest representatives of impressionism and realism in the post-revolutionary Russia. He has over 200 paintings displayed in national and other major museums all over the world. Yuri has been awarded the top USSR artist awards, taught at the Surikov Art Institute and is a founding member and first President of the now world famous Moscow River School.