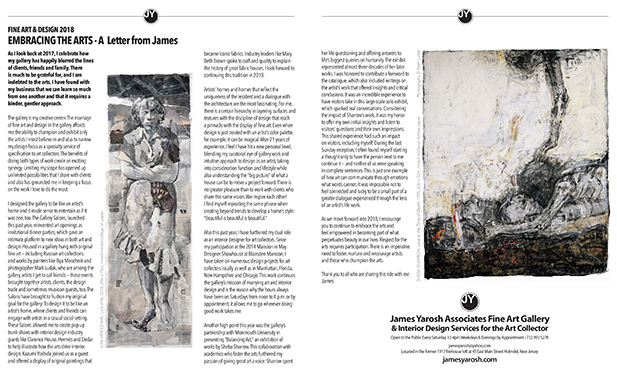 As I look back at 2017, I celebrate how my gallery has happily blurred the lines of clients, friends and family. There is much to be grateful for, and I am indebted to the arts. I have found with my business that we can learn so much from one another and that it requires a kinder, gentler approach

The gallery is my creative center. The marriage of fine art and design in the gallery affords me the ability to champion and exhibit only the artists I most believe in and also to narrow my design focus as a specialty service of specification to art collectors. The benefits of doing both types of work create an exciting synergy. Limiting my scope has opened up unlimited possibilities that I share with clients and also has grounded me in keeping a focus on the work I love to do the most.
I designed the gallery to be like an artist's home and it made sense to entertain as if it was one, too. The Gallery Salons, launched this past year, reinvented art openings as invitational dinner parties, which gave an intimate platform to new ideas in both art and design. Housed in a gallery hung with original fine art — including Russian art collections and works by painters like Iliya Mirochnik and photographer Mark Ludak, who are among the gallery artists I get to call friends — these events brought together artists, clients, the design trade and sometimes musician guests, too. The Salons have brought to fruition my original goal for the gallery: To design it to be like an artist's home, where clients and friends can engage with artists in a casual social setting. These Salons allowed me to create pop-up trunk shows with interior design industry giants like Clarence House, Hermès and Dedar to help illustrate how the arts drive interior design. Kazumi Yoshida joined us as a guest and offered a display of original paintings that became iconic fabrics. Industry leaders like Mary Beth Brown spoke to craft and quality to explain the history of great fabric houses. I look forward to continuing this tradition in 2018.



Artists' homes and homes that reflect the uniqueness of the resident and a dialogue with the architecture are the most fascinating. For me, there is a certain hierarchy in layering surfaces and textures with the discipline of design that reach a pinnacle with the display of fine art. Even when design is just created with an artist's color palette, for example, it can be magical. After 21 years of experience, I feel I have hit a new personal level, blending my curatorial eye of gallery work and intuitive approach to design as an artist, taking into consideration function and lifestyle while also understanding the "big picture" of what a house can be to move a project forward. There is no greater pleasure than to work with clients who share this same vision. We inspire each other! I find myself repeating the same phrase when creating beyond trends to develop a home's style: "Beautiful is beautiful is beautiful."
Also this past year, I have furthered my dual role as an interior designer for art collectors. Since my participation at the 2014 Mansion in May Designer Showhouse at Blairsden Mansion, I have taken on numerous design projects for art collectors locally as well as in Manhattan, Florida, New Hampshire and Chicago. This work continues the gallery's mission of marrying art and interior design and is the reason why the hours always have been on Saturdays from noon to 4 p.m. or by appointment; it allows me to go wherever doing good work takes me.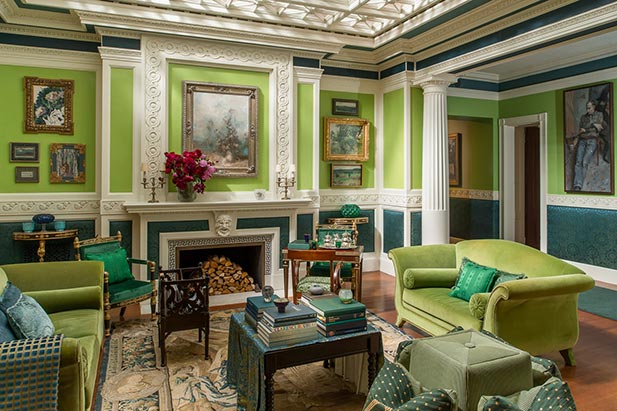 Another high point this year was the gallery's partnership with Monmouth University in presenting "Balancing Act," an exhibition of works by Sheba Sharrow. This collaboration with academics who foster the arts furthered my passion of giving great art a voice. Sharrow spent her life questioning and offering answers to life's biggest queries on humanity. The exhibit represented almost three decades of her later works. I was honored to contribute a foreword to the catalogue, which also included writings on the artist's work that offered insights and critical conclusions. It was an incredible experience to have visitors take in this large-scale solo exhibit, which sparked real conversations. Considering the impact of Sharrow's work, it was my honor to offer my own initial insights and listen to visitors' questions and their own impressions. This shared experience had such an impact on visitors, including myself. During the last Sunday reception, I often found myself starting a thought only to have the person next to me continue it — and neither of us were speaking in complete sentences. This is just one example of how art can communicate through emotions what words cannot. It was impossible not to feel connected and lucky to be a small part of a greater dialogue experienced through the lens of an artist's life work.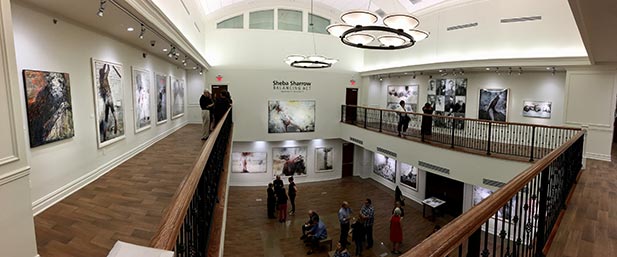 As we move forward into 2018, I encourage you to continue to embrace the arts and feel empowered in becoming part of what perpetuates beauty in our lives. Respect for the arts requires participation. There is an imperative need to foster, nurture and encourage artists and those who champion the arts.
Thank you to all who are sharing this ride with me.
James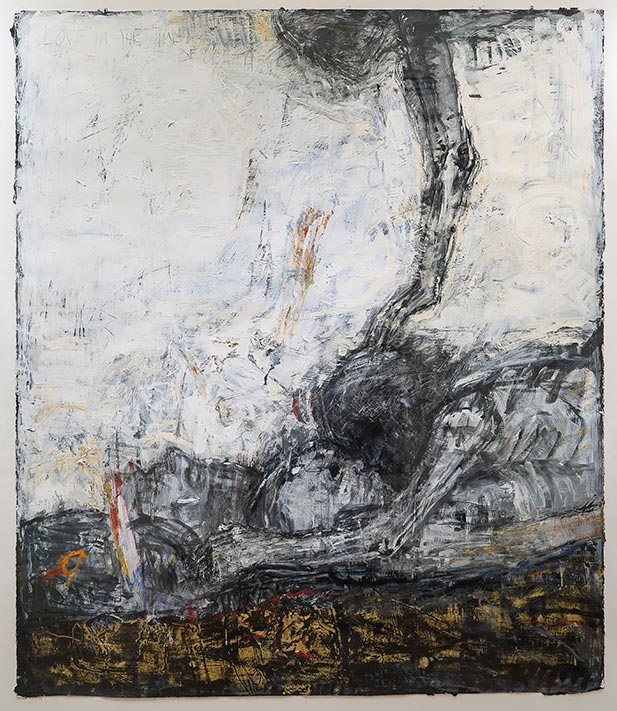 SHEBA SHARROW, Love in the Time of Death, 1995, 60in x 52in, mixed media on Arches paper
Photography@Mark Ludak

View the digital version of the catalog of the Sheba Sharrow exhibit Balancing Act at Monmouth University presented in partnership with James Yarosh Associates Fine Art Gallery here: LINK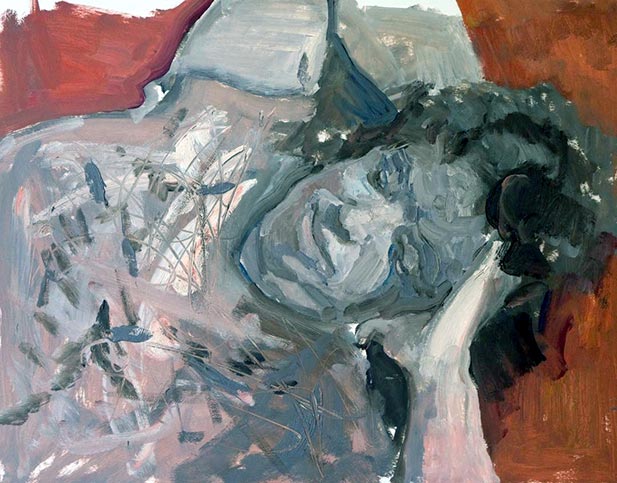 ILIYA MIROCHNIK, Lot's Wife #1, 2017, 18in x 24in, gouache on paper
A note about Lot's Wife from artist Iliya Mirochnik:
I've had this idea that my mother "turned back around towards her home" when they were leaving Odessa, and in some sense, some part of her turned to stone/salt, remaining forever looking back.
Lots wife #1
This painting is a study for a painting of Lot's Wife which is to also be a portrait of my mother. My family came from Ukraine shortly after the fall of the Soviet Union and settled in New York City. There is much in the immigrant experience that I believe is the exact opposite of the commonly presented dream and hope for freedom and prosperity. Lot's wife could not but look back at her native city and remained there forever. From my own experience, I believe that all immigrants leave a part of themselves behind in the places they leave. And sometimes, it's the only part that counts.

Study for Lots Wife #2
This is another piece in which I "painted" my mother's portrait in bits of newspaper. I needed to figure out a textural and expressive quality for the painting through means outside of paint in order to achieve the particular contradictory sense of permanence and transience. Using the printed and written word, as well as elements of collage is something which has been entering my work more and more.



ILIYA MIROCHNIK, Study for Lot's Wife #2, 2018, 24in x 75in, mixed media/collage on paper

Lot's Wife
by Anna Akhmatova
And the just man trailed God's shining agent,
over a black mountain, in his giant track,
while a restless voice kept harrying his woman:
"It's not too late, you can still look back
at the red towers of your native Sodom,
the square where once you sang, the spinning-shed,
at the empty windows set in the tall house
where sons and daughters blessed your marriage-bed."
A single glance: a sudden dart of pain
stitching her eyes before she made a sound . . .
Her body flaked into transparent salt,
and her swift legs rooted to the ground.
Who will grieve for this woman? Does she not seem
too insignificant for our concern?
Yet in my heart I never will deny her,
who suffered death because she chose to turn.
To request gallery fine art & design catalogs, exhibition information or salon invitation, please register your contacts care of jamesyarosh@yahoo.com