Established in 1996, the James Yarosh Associates Fine Art Gallery in Holmdel was founded upon and remains loyal to its vision: to represent fine art for art's sake and to curate gallery collections and thoughtfully present art with an artist's eye and understanding. Gallery owner, Jame Yarosh has received national critical acclaim for presenting Russian fine art collections and recognizing significant art movements in their early stages. Drawing upon both international and regional resources, Yarosh represents a variety of artistic voices of our times by showcasing the works of both new and established, museum-recognized, artists of merit in a space designed to replicate the intimacy of an artist's home.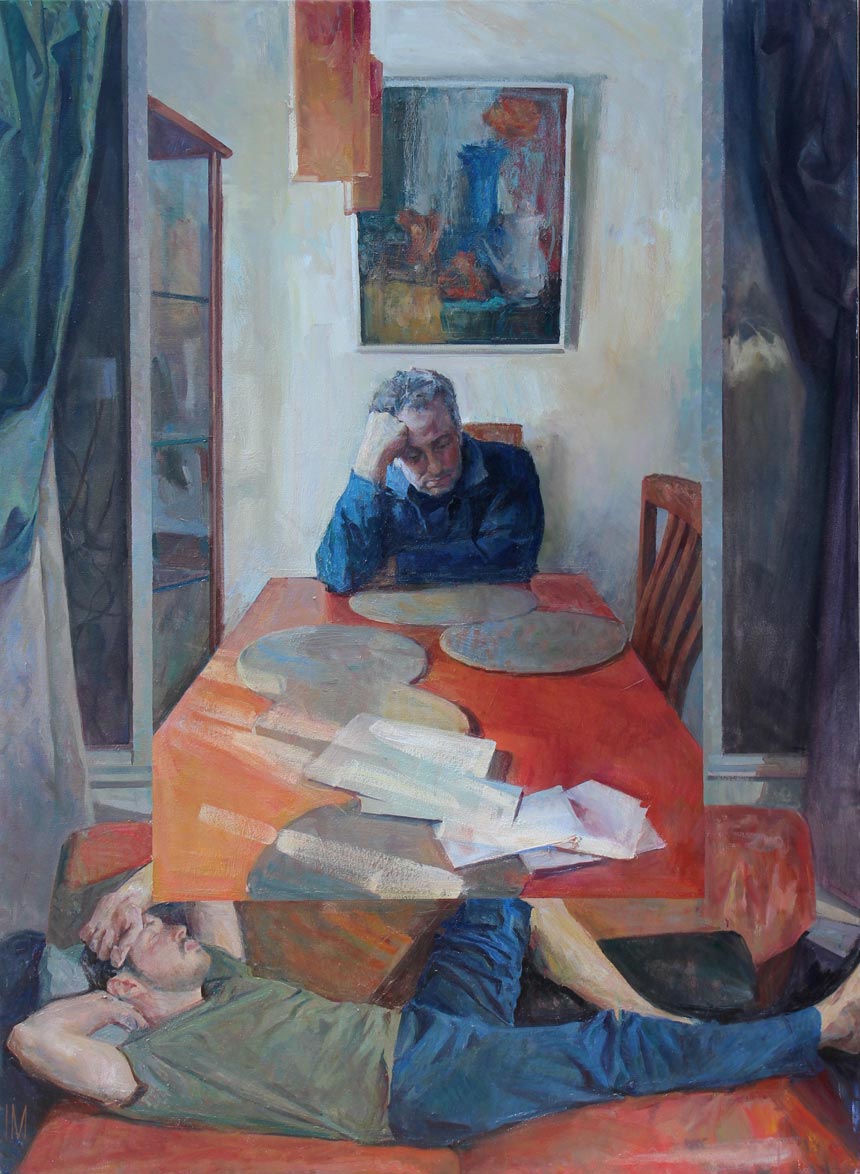 Iliya Mirochnik, Fathers and Sons, Spaces Between series 2014-5, 50in x 70in, oil on canvas
Currently on view at James Yarosh Associates Fine Art Gallery, the series "Spaces Between" spotlighting 14 new works by artist Iliya Mirochnik. The series of paintings poetically illustrate shared life journeys imagined as racing through the museum using his perceptions of seeking order and sanctuary for its treasures, before closing time. The show also includes the artist's composition paintings that led up to the finished large scale works.

MORE ABOUT FATHERS AND SONS PAINTING
VIEW SPACES BETWEEN SERIES
ILIYA MIROCHNIK ARTIST PAGE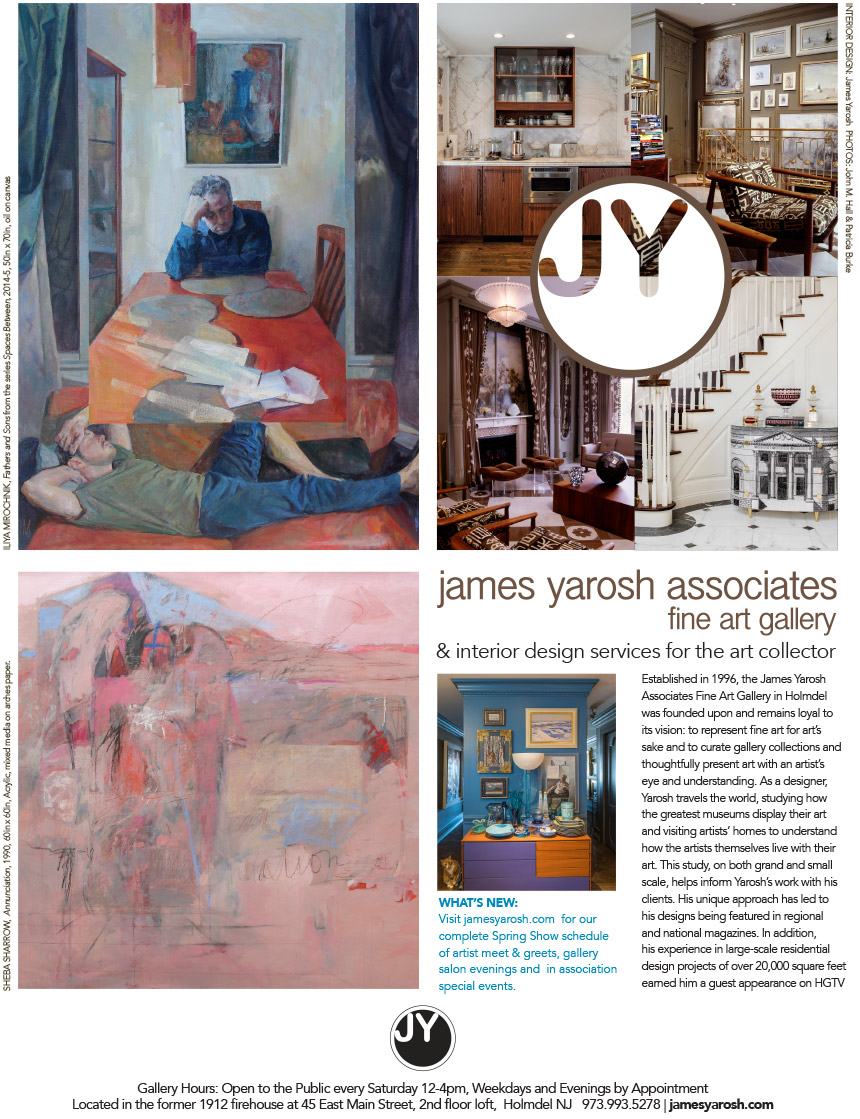 Sheba Sharrow, Don't Look Now, 2001, 56 x 89, Acrylic on Canvas
"Don't Look Now" is "painted in layers of pale blues, purples, pinks and white. At first look the surface has the abstract luminosity of the surfaces of Monet's late Waterlillies. Then we see: on the left panel a figure hanging from a trapeze is about to fall, while on the lower right of the right panel another sits hunched over…and a third figure is falling from a cross. In this beautiful and haunting painting Sharrow tells us that without solidarity we are alone and lost."
Alejandro Anreus, former Curator, Jersey City Museum

The artist, Sheba Sharrow, was born in Brooklyn in 1926, to Russian Jewish immigrant parents and was raised in Chicago. While in high school, she was awarded a scholarship to the School of the Art Institute of Chicago (SAIC), and where she ultimately earned a BFA. She said: "The smell of oil paint was like perfume to me" and that the very high praise she received in that era was that she "painted like a man."
She went on to become a 1951 Alumna of the Pennsylvania Academy of Fine Arts (PAFA), and to earn an MFA at the Tyler School of the Arts at Temple University. Among the grants and awards received were those from the Pollock-Krasner Foundation, the N.J. State Council on the Arts, and the Geraldine R. Dodge Foundation. Her work has been exhibited in over 30 solo shows at museums, universities and galleries.
In the dominant milieu of Abstract Expressionism beginning in the 1950s, which actively rebelled against identifiable "meaning," Sharrow remained grounded in a humanist tradition and a social context. Curator and writer Alejandro Anreus placed her "in the company of Kollwitz, Beckman and Orozco" and writer Amy Fine Collins linked "her sensibility to German Expressionism." Sharrow has been considered part of the "Chicago School" of imagist painters, fitting generationally into the "Monster Roster" group of artists from that city, including the most well-known of her classmates to lead the charge of image and ideas over pure abstraction, Leon Golub and Nancy Spero. Yet there are significantly unique elements to Sharrow's work which hold her somewhat apart.
She was a child of the Great Depression as well as a witness and participant in the social justice movements of the 1960s and 70s. Her work, however, consistently displays a profound awareness of conditions beyond gender, class and nation – our human condition, animated by desire and vulnerability, power and mortality, warfare and spirituality. Despite the seriousness of these subjects, she was unable to distance herself from beauty - the grace, strength and balance of the human form - nor to inhibit the exuberance of her palette and brush.

SHEBA SHARROW ARTIST PAGE:




ARTIST IN SPOTLIGHT - YURI KUGACH: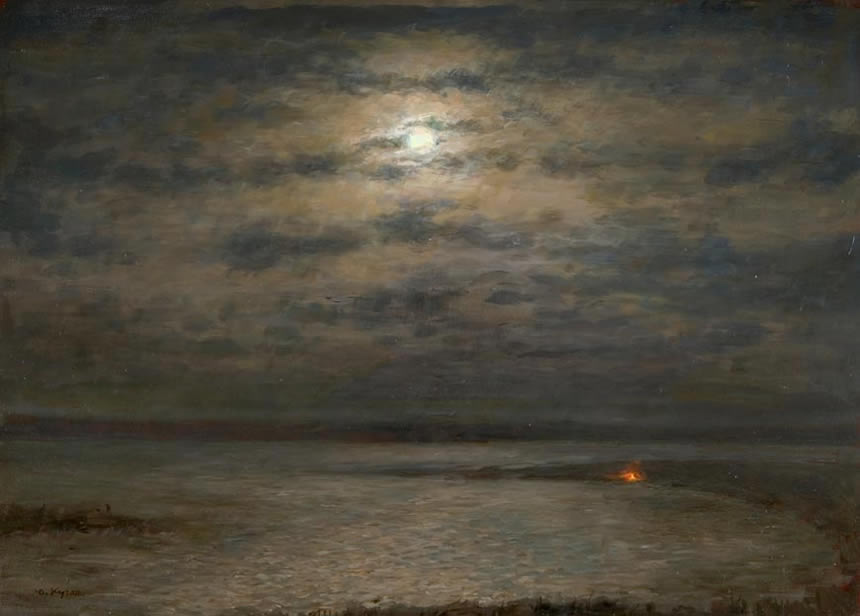 Yuri Kugach, Full Moon, 2007, 19 1/2in x 27 1/4in, oil on board.
Yuri Kugach (1917-2013)
"Full Moon" was painted by Yuri in 2007, then 90-years-old. It is a moonscape above the water. Mikhail shared that his father, considered to be one of the most important artists in Russia, had completed a series of paintings that just blew away his peers and followers, who perhaps thought Yuri's advanced age had caused him to lose his artistic luster. The moonscape paintings, like the epic story paintings of the artist's past, now offer the night impression of the artist, painting in the darkness of night. Profoundly, we are asked to imagine the artist with his palette, black with night, as is his canvas, working alone, at the end of his life, staring at the heavens and working by the dim moonlight's reflection, poised next to the rippling, endless sea with just a small fire still burning in the distance, otherwise enveloped in the night's darkness and the heavens above. In this way, the work offers not only a subtle, luminous moonscape, but also a metaphor serving as the artist's self-portrait facing mortality.

YURI KUGACH ARTIST PAGE:




ARTIST IN SPOTLIGHT - JACOB LANDAU: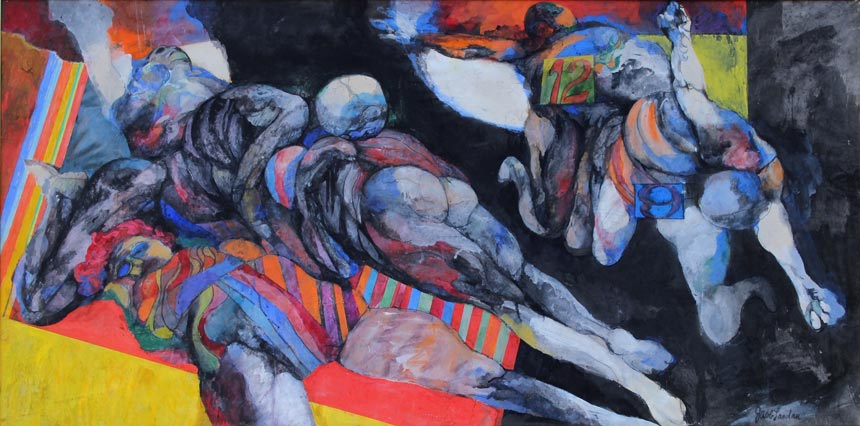 Jacob Landau, The Lost Comic series, circa 1060's, 36in x 72in, mixed-media on paper
"I am interested in art as advocacy of the human, as revelation of the tragic, as hope of transcendence."- Jacob Landau
Jacob Landau (1917-2001), printmaker, painter, humanist, and teacher, was an artist whose works explored the basic themes of human existence and morality, with insight that was both passionate and indignant. Born in Philadelphia, PA, where he began as an illustrator, Landau spent most of his adult life in Roosevelt, NJ. Here, Landau immersed himself in the town's thriving artistic community, alongside notable artists such as as Ben Shahn, and began a distinguished career as a professor at Pratt Institute, Brooklyn, NY. The art he created gained Landau an impressive reputation, with many of his works included in the permanent collections of the world's finest museums, such as the Metropolitan Museum of Art (New York, NY), the Hirshhorn Museum (Washington, DC), and the National Gallery of Art in Washington, DC. Landau also received numerous honors, including fellowships from the Guggenheim and Ford Foundations.

In retirement, Landau became a professor emeritus at Pratt and received an honorary doctorate in fine arts from Monmouth University in 1996.

JACOB LANDAU ARTIST PAGE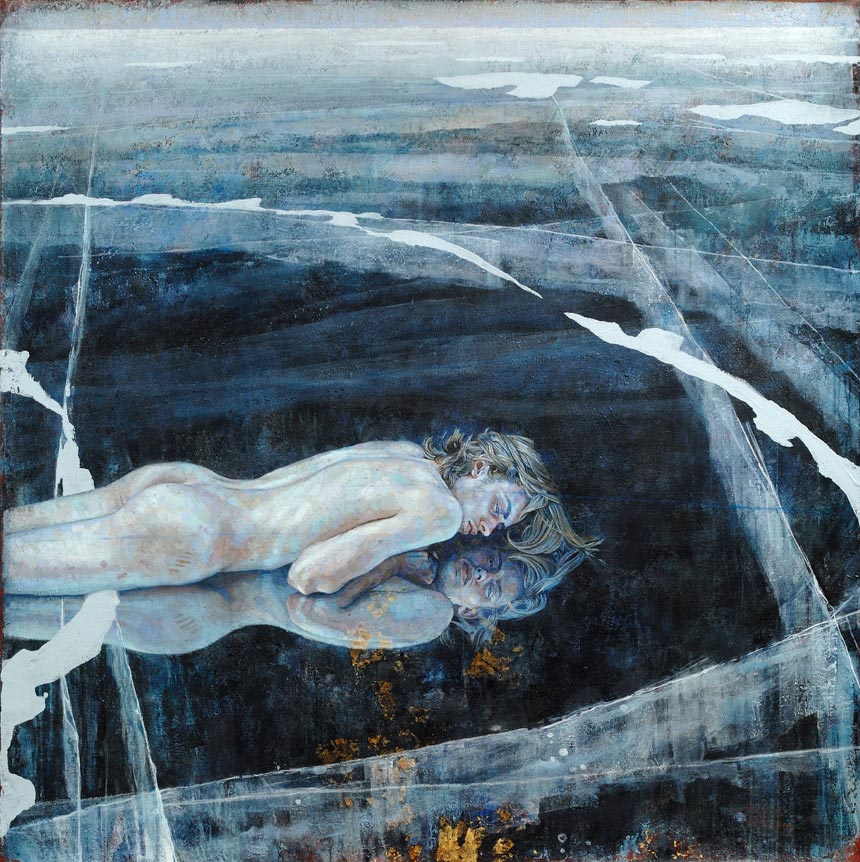 Daniel Barkley, Brother's Keeper, 2012, 60" x 60", acrylic on canvas
Artist Daniel Barkley's comments to gallery owner James Yarosh regarding his painting, Brother's Keeper:
"I'm very happy you like this one because I think it is one of my very best. It just kind of happened; it all came together and became a painting about memory for me— and many other things as well. I grew up along the shore of the St. Lawrence River, exploring, swimming and boating in the summer, then skating and sledding in the winter. At night, as teenagers, my friends and I would go lie on the black ice— the first ice of the season not yet clouded by snow— and stare at the stars. This is a subject I will definitely re-visit. The official story still references the figure of the handsome blond man as Archangel Michael. Below, in a frozen prison, is his brother Lucifer, represented by the gold leaf. For Flemish and German painters, Lucifer was always the most beautiful angel, the 'Golden Angel.'"

Artist catalogs available by email upon request at jamesyarosh@yahoo.com