The seasonal series gives opportunity for guests to converse with artists and design trade industry leaders and get a glimpse of the sources of their inspiration HOLMDEL VILLAGE, NJ—James Yarosh Associates Fine Art Gallery announces a seasonal Salon Series for 2017 featuring themes of fine art and interior design and co-hosted by the industry's top style-setters.
During these intimate afternoon and evening events held at Yarosh's loft-gallery, guests will enjoy an exclusive opportunity to mingle with likeminded individuals and have one-on-one discussions with design leaders in the forum of an artist's salon. In this relaxed atmosphere, guests can spend time with displayed works of art as they meet artists and hear about the inspiration and mastery behind the works.
"The idea behind the Salons is to share what's 'behind the curtain,'" says Yarosh. "Guests can see what excites those who live to appreciate the arts — those who visit artists' studios, travel to museums and reference international design sources from cities of culture such as London, Paris and Milan. Through this mutual celebration of beauty in the world of art and design, we aim to spark meaningful conversation."
The Salons are open to the public, but advance registration is required, as space is limited. Each of the three events will focus on the artistry behind the designs offered by co-hosts Clarence House and Hill Brown, Hermès and Dedar and a from the artist studio evening with Iliya Mirochnik.



SPRING-MAY 18, THURSDAY 6-9PM:

Spring Salon: Hermès & Dedar Fabrics and
Wallpapers 2017- May 18, Thursday 6-9pm
(Please register for invitations)
Event also open to the public May 20, Saturday, 12-4pm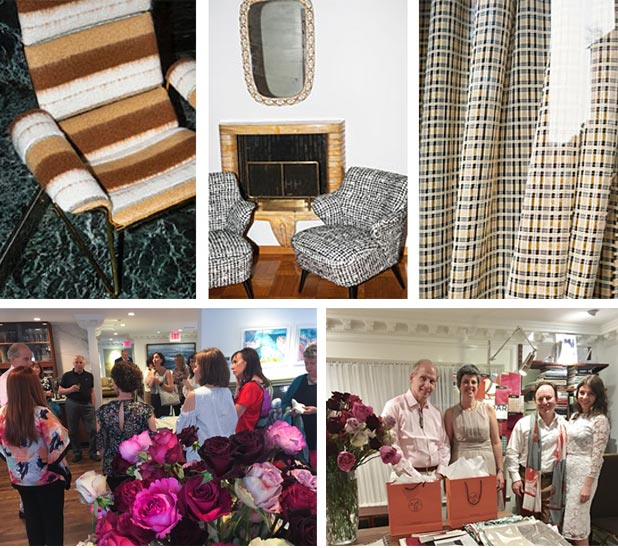 Hermes & Dedar Salon: left to right, Rosecrans Baldwin, Elizabeth Sarkisian, James Yarosh and Gretta Hobein.



Rosecrans Baldwin, President of Dedar Inc and Director of Hermès Fabric and Wall Papers in North America and Elizabeth Sarkisian, the New Jersey Representative of Dedar and Hermès, co-host a collector and to-the-trade launch of their Spring/Summer 2017 introductions.

"There is a reason why great design houses became giants — it's all about the arts leading the way," says Yarosh. "Dedar brings home fashion ideas from Milan, and Hermès is known for its brilliant scarf patterns that have made the brand a Paris institution. Color in home design has returned, and interior designers are similar to painters in how they curate their creations. It's like I remind clients when helping them realize their dream concept for their homes: 'Beautiful is beautiful is beautiful; individuality looks like a kaleidoscope.'"



SUMMER:


The Art of Design: Clarence House and Hill Brown
[Summer: Date to be announced - Please register for invitation] Clarence House provides an exclusive glimpse at original paintings by Kazumi Yoshida that inspired some of the firm's most iconic fabric collections for 45 of its more than 50 years. The event features an art trunk show of original paintings and drawings by Yoshida, Clarence House's most celebrated art director, who will be in attendance to talk with guests and sign books.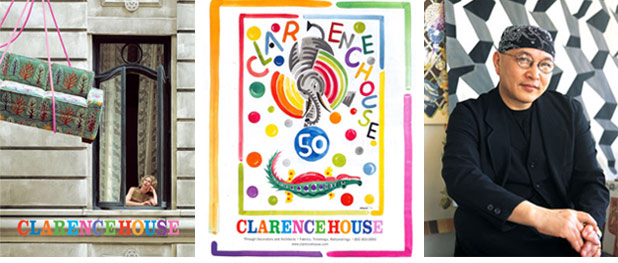 The event is co-hosted by Clarence House's Sales Director Mary Beth Brown, who has nearly three decades of experience in the textile industry and has become known as an interior designer's best friend, championing Clarence House for the past 13 years — and Scalamandré for 12 years before them — as an industry leader. Brown's past collaborations with Yarosh include furnishing the Clarence House Hill Brown fabrics and wall upholstery damask for Yarosh's design of the Blairsden Mansion Atrium at the 2014 Mansion in May Designer Showhouse.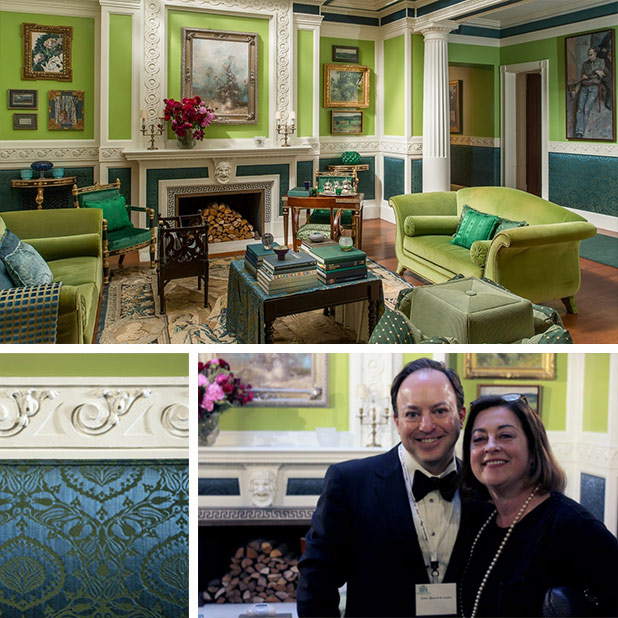 FALL:
From the Artist's Studio: Iliya Mirochnik
(Fall: Date to be announced - Please register for invitation) The event will include an artist meet-and-greet, as well as a first glimpse at new works by artist Iliya Mirochnik. Mirochnik was born in Odessa, Ukraine, raised in Brooklyn and earned his master's degree at the Repin Institute in Russia. He is critically recognized for his ability to connect the Russian aesthetic with American sensibilities. Mirochnik currently travels to teach and complete artist residencies in Romania, Austria, Florence and New York and has continually been recognized to place in juried exhibitions, including first place in the National Portrait Competition sponsored by the Portrait Society of America. Past gallery events with Iliya have included painting demonstrations; details of the upcoming salon will be announced with dates. Please register for invitation.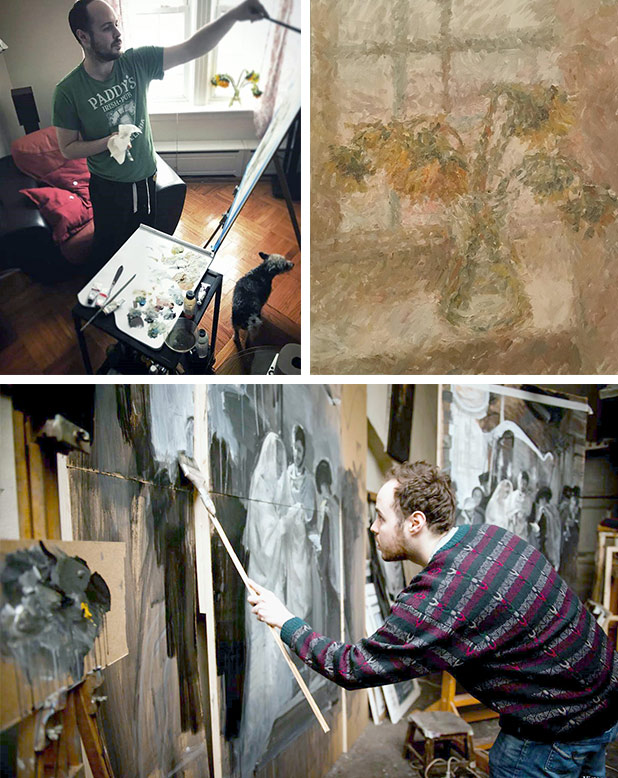 The Fine Art & Design Salon Series continues Yarosh's reputation of his gallery being a home for collectors, artists and designers to meet informally and discuss the art of home design. The concept began in the fall of 2016, when Yarosh was celebrating the gallery's 20th anniversary and created an event to bring together artists, designers, art lovers and people from the trade in an elegant, intimate setting that inspired dialogue.
"At the anniversary salon, a guest who was a film art director brought his girlfriend, a Julliard-trained violist, who played pieces of her selection. Hearing what inspired her as a musician while speaking to visual artists about their inspiration revealed to me how art is a universal language — one that finds hope and beauty in the world," Yarosh says. "I was amazed how bringing together this cross-section of artistic disciplines sparked conversation, and I decided to launch a series of such events to create a sense of community."



About James Yarosh Associates Fine Art Gallery
"A gallery with the welcoming presence and interest of an artist's home for kindred spirits of the arts to visit." —James Yarosh
Established in 1996, the James Yarosh Associates Fine Art Gallery in Holmdel was founded upon and remains loyal to its vision: to represent fine art for art's sake and to curate gallery collections and thoughtfully present art with an artist's eye and understanding. Yarosh, an artist and well-published interior designer who honed his eye for selecting and representing artists by managing galleries in Manhattan and New Jersey, offers a full-scale gallery and design center where clients can associate with other art-minded individuals to celebrate art and the talents that create it. As a designer, Yarosh travels the world, studying how the greatest museums display their art, and visits artists' homes to understand how the artists themselves live with their art.
Yarosh's trademark ability is integrating art and design, resulting in visual excitement while allowing both disciplines to still stand on their own merits. This approach has led to his designs being featured in regional and national magazines. In addition, his experience in large-scale residential design projects of over 20,000 square feet earned him a guest appearance on HGTV. As a gallery owner, Yarosh has received national critical acclaim for presenting Russian fine art collections and recognizing significant art movements in their early stages. Drawing upon both international and regional resources, Yarosh represents a variety of artistic voices of our times by showcasing the works of both new and established, museum-recognized artists of merit in a space designed to replicate the intimacy of an artist's home.
REGISTER FOR SALON INVITATIONS LINK