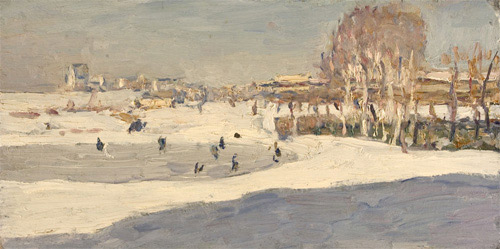 MOSCOW SCHOOL OF RUSSIAN REALISM:



Although Socialist Realism suppressed the influences of contemporary artistic momements within itself, Socialist Realism fostered its own unique diversity. Russian artists, like the masters before them, expressed themselves not by evolving to meet artistic movements of their time, but by becoming the absolute best within their specific painting genres.

Russian Realism painting, based in part on the studied principles of French Impressionsim, developed and honed plein-air academic painting ideals under a closed society for generations, and only now has been discovered and lauded by the western world. Achieving excellence through complete artistic integrity and ultimate devotion to their ' Immortal Beloved'- The art of painting, artists of Moscow's School of Russian Realism exhibit distinct perception of color and outstanding color relationships that trademark their pedigree of traditional Russian painting. These Russian artists have created a lasting legacy depicting beauty, truth, and perfection, which is considered to be one of the most important realism movements of the 20th century.