Yuri Petrovich Kugach (1917–2013), Russia, Full Moon, 2007, 19 1/2 in. x 27 1/4 in., oil on board
Kugach, his wife Olga Grigoryevna Svetlichnaya and their family are often referred to as the "Wyeths of Russia." Revered as one of the country's greatest artists, they were evacuated by the Soviet government to Samarkand, Uzbekistan, in 1943 when it was feared that Moscow might fall to the Germans. There, these artists, considered "national treasures," were kept sequestered and safe.

The founder and a member of the Moscow River School, Kugach taught at the Surikov from 1948 to 1951. In his works, as in the works of his wife, scenes of village and family life were predominant. They were driven by the principle that art is only strong when it is national, and that a nation is made up of its people.

Kugach painted Full Moon, in 2007, at age 90. The moonscape paintings, like the epic story paintings of the artist's past, offer an impression of the artist painting in the cloak of night. Reflecting upon this resonant image, we are invited to imagine the artist with his dark-toned palette, working alone at the end of his life, staring at the endless heavens and painting by the dim moonlight's reflection, poised next to the rippling, yawning sea with just a small fire burning in the distance. Is this simply a haunting landscape or a self-portrait of an artist facing his own mortality head-on? MORE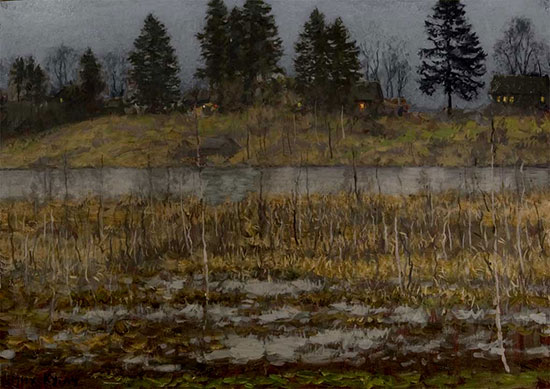 Mikhail Kugach (b. 1939), Russia, Near To Evening, 2007, 19 3/8 in. x 27 3/8 in., oil on canvas
"Only art—paintings—can make the dumb speak and the deaf begin to hear," asserts Moscow-born Mikhail Kugach, son of famous Russian artists Yuri Petrovich Kugach and Olga Grigoryevna Svetlichnaya. A graduate of the Surikov, Kugach is a member of the Moscow River School, which was founded by his father and steeped in the academic tradition. As represented here, Kugach often focuses on capturing a moment in nature as a universal theme for his works, placing great emphasis on capturing the emotion of the atmosphere as well as rendering an accurate representation of space. MORE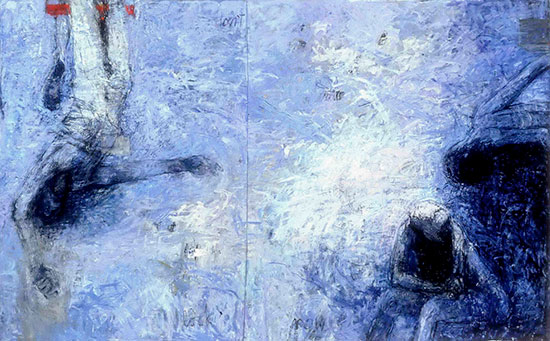 Sheba Sharrow (1926–2006), New York City, Don't Look Now, 2001, 56 in. x 89 in., acrylic on canvas
Born during the Great Depression and coming of age during World War II, Sharrow's art exemplifies an artist whose eyes are wide open. Her expressionist paintings abstract humanity using masterful execution, poetically engaging us with topics such as mortality, desire, vulnerability, power, warfare and spirituality.

Though a child of the Great Depression as well as a witness and participant in the social justice movements of the 1960s and '70s, Sharrow's work consistently displays a profound awareness of conditions beyond gender, class and nation. In the dominant milieu of Abstract Expressionism beginning in the 1950s, which actively rebelled against identifiable "meaning," Sharrow remained grounded in a humanist tradition and a social context, and her sensibility has been linked to German Expressionism. Yet there are significantly unique elements to Sharrow's work that hold her distinctly apart.

At first look, the surface of Don't Look Now offers the abstract luminosity of the surfaces of Monet's late Waterlillies, notes curator Alejandro Anreus. "Then we see: On the left panel a figure hanging from a trapeze is about to fall, while on the lower right of the right panel another sits hunched over … and a third figure is falling from a cross," he says. "In this beautiful and haunting painting Sharrow tells us that without solidarity we are alone and lost." MORE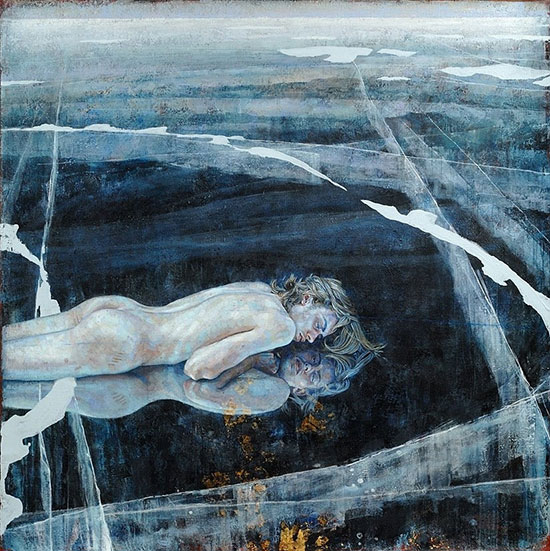 Daniel Barkley (b. 1962), Canada, Brother's Keeper, 2012, 60 in. x 60 in., acrylic on canvas
The human figures prominently featured in Barkley's works are characters captured in a split-second in theatrical narratives. Alluding to myths, legends and to the history of art, these figures—often represented in the nude to strip them of preconceived notions of social class, period and age—present inherent truths about the human condition in a broad context that often leaves the viewers to discern their own speculations.

The artist considers Brother's Keeper one of his best works: "I grew up along the shore of the St. Lawrence River, exploring, swimming and boating in the summer; skating and sledding in the winter. As teenagers, my friends and I would lie on the black ice at night and stare at the stars."

In this work, the figure of the handsome blond man refers to the Archangel Michael. Locked in a frozen prison below is his brother, Lucifer, who is represented by the gold leaf. "Flemish and German painters always considered Lucifer the most beautiful angel—the "Golden Angel," Barkley explains. MORE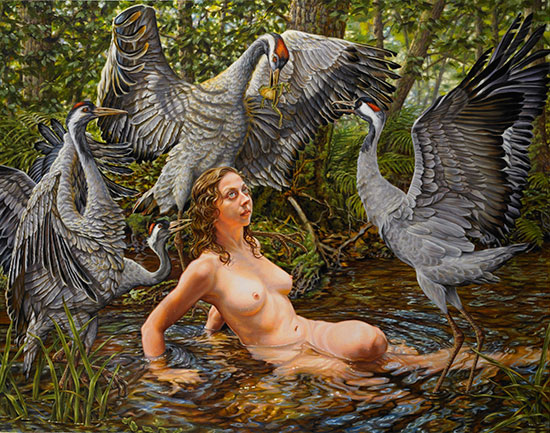 Susannah Martin (b. 1964), Germany, Baltanz, 2013, 43 in. x 63 in., oil on canvas
Inspired by the mythological story of Leda and the Swan, Balztanz is part of Martin's continuing series of nudes in landscape. The cranes she paints, however, are not gods costumed as animals, but the actual birds. Balztanz is German for "mating dance," an activity that is particularly flamboyant in cranes. Here, the energetic flock surprises the young lady during her skinny dip with their theatrical display, and she in turn does not appear impressed with the performance or their offering of a frog. In this painting, Martin presents a subtle power shift: The birds have out-numbered, out-witted and out-performed the small and helpless human. Nature, if only for a moment of visual fantasy, is the dominant force once again. MORE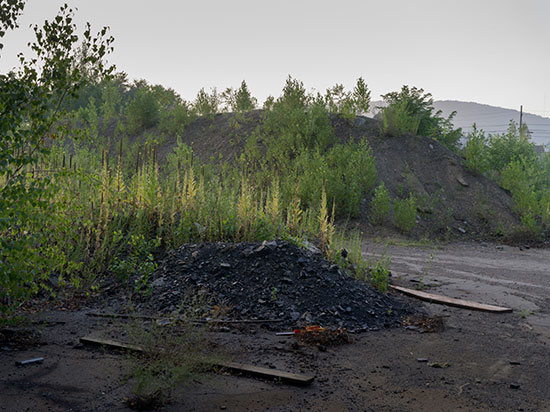 Mark Ludak, Philadelphia, Coal-Huber Breaker, 2012, 40 in. x 53 in. pigment print – edition of three
Ludak's background as a documentary and editorial photographer is manifest in Coal-Huber Breaker. This ephemeral, in-your-face-real image showcases what Ludak represents best: Life where humanity and the environment intersect, unadulterated, raw and without any trace of sentimentality. "Photography is always that cusp of 'before-and-after' narratives and for me," says Yarosh. "Ludak's work appeals because his fine eye always finds the beauty that favors such balances." MORE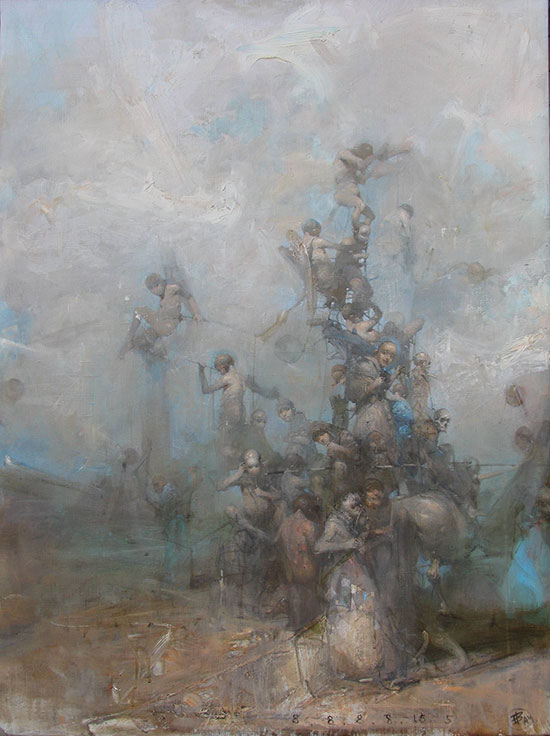 Vachagan Narazyan, (b. 1957), Ukraine
Narazyan's epic and intimate paintings are arguably among the most important works to surface and still develop from the repression of the former Soviet Union. With a style blending Old World images with futuristic visions, the artist creates a world of mystery and enchantment for the viewer to explore.
Born in Kislovodsk, Russia, and currently residing in the Ukraine, Narazyan graduated from the Kharkiv Art Institute and developed a style underground—now coined "Romantic Fantasy"—as part of the historical Non-Conformist Art movement. In these works, the ladder suggests the vertical journey of travel that is more mental, spiritual and intellectual. Narazyan explores the fantasy and mystery that go hand-in-hand with the theme of shapito—a constantly moving circus. This composition of a tent surrounded by figures is part of Narazyan's "Absurd Travel" series, an ongoing subject for the artist.
A show of new works by artist Vachagan Narazyan is being planned for Saturday, June 7th, 2014 at James Yarosh Associates Fine Art Gallery in Holmdel, NJ. The two works by Narazyan that are currently on view as part of the Blairsden Mansion Atrium exhibit "An Art Collector's Sanctuary" serve as preview. Please contact the gallery direct for further details.
Iliya Mirochnik (b. 1988), Brooklyn, New York
Mirochnik is unique in his ability to connect the Russian aesthetic with American sensibilities. He works with a contemporary American thought, blended with the academics of the Russian hand. Born in Odessa, Ukraine, Mirochnik was raised in the United States, studied at the Repin in Russia and now resides in Brooklyn. The rigorous training he received has earned this young artist recognition on these shores and beyond, such as First Place in the International Portrait Competition sponsored by the Portrait Society of America.

"Mirochnik's gift is that his artist's antennae is international, yet he is armed with the Repin's academic training," says Yarosh. "He shares stories in paint that go beyond their origins. His work is of our times and gives a sense of shared experience. Seeing his exquisite painting and sensitivity to beauty and poetry in our lives affords hope." MORE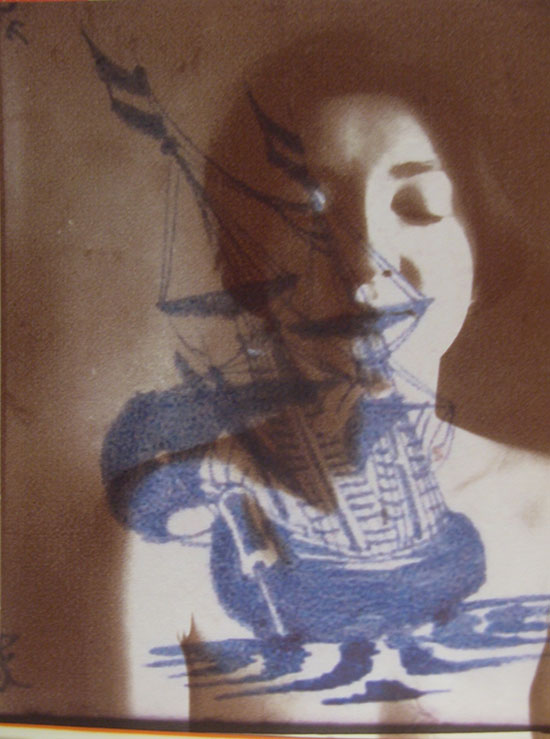 Tatyana Zhurkov, (b. 1948), New York City
The Russian-born and -educated Zhurkov's small scale sculptures, drawings and portrait works reflect her fine artistic training, Russian sensitivities, modern materials and new world perspectives. Her original photo collages and marker drawings collectively form a modern-day self-portrait. Each work is individually iconic and as interesting as a page pulled from an artists' diary. She is represented in prestigious collections such as The Hermitage and The State Russian Museum in St. Petersburg; The Renwick Gallery of the National Museum of American Art, Smithsonian Institution and The Hillwood Museum in Washington, D.C.; and The Jane Voorhees Zimmerli Museum at Rutgers University in New Jersey. MORE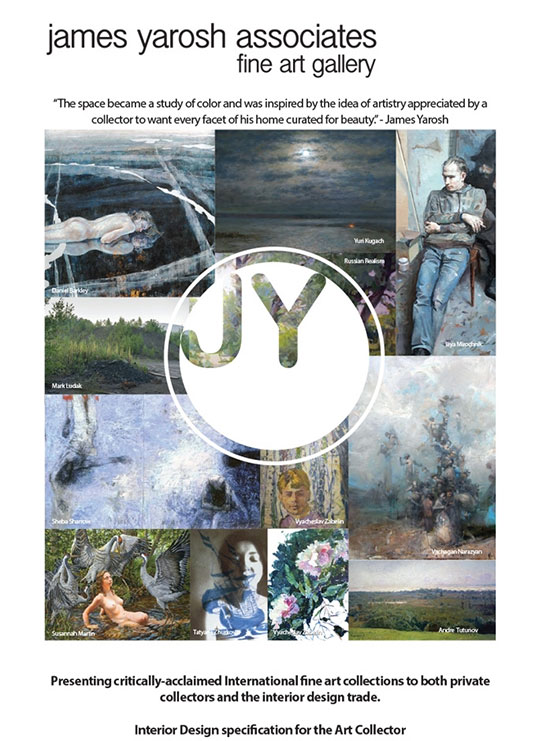 View the Blairsden Mansion Atrium "An Art Collector's Sanctuary" design portfolio our HOUZZ

MORE