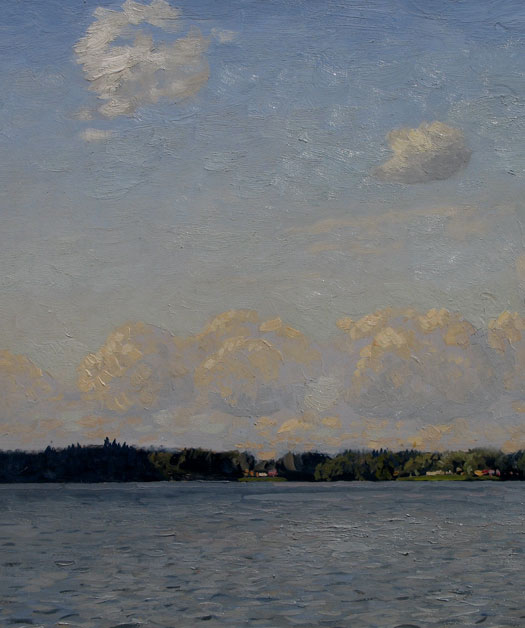 MK, "Lake Mastino," 2005, 20in x 23in, oil on board

Mikhail Yurevich Kugach was born January 2, 1939 in Moscow. He is the son of the famous Russian artists Yuri Petrovich Kugach and Olga Grigoryevna Svetlichnaya. In 1949 he enrolled in his first art classes at the Moscow secondary art school, which was affiliated with the Surikov Institute. He studied here until 1956 when he was accepted into the Surikov Institute. He graduated from the Institute in 1962 and began to actively exhibit his works.

Since 1963, Mikhail has participated in every regular exhibition that is associated with the Artists' Guild. In 1965 he became a full member of the Artists' Guild. From 1967 to 1968 he had the opportunity to work under B.V. Ioganson in the studio of the Soviet Academy of Arts. He is a member of the famous Moscow River School (founded by his father), a school steeped in the academic tradition. Great emphasis lies on capturing a sense of atmosphere as well as the accurate depiction of space. Mikhail Kugach continues to paint the every-day life or genre scenes he is notorious for. Aside from painting he has been honored to hold several significant posts throughout his life.

From 1987 to 1989 he was the director of the "1905" Moscow Art Institute. Since 1988 he has been the chairman of "Moskvorech'e", the creative union of artists. In 1995 he was selected to be the member-correspondent for the Russian Academy of Artists. He is also an active member and has been the president of the legendary Moscow River Group. Mikhail continues to paint today primarily in the Tver' region, along the Msta River. This Russian countryside is continuously a theme in the artist's work. His works can be found today in galleries, museums, and private collections around the world.
Russian Realism Show - thru Saturday, July 28, from 12-4 and by appointment

A limited time show exhibiting over 100 paintings from the Moscow School of Russian Realism is planned for consecutive Saturdays between June 23 and July 28, from 12 to 4pm with additional times by appointment. Previews for collectors and design trade begins Thursday, June 21. Please contact the gallery for further information regarding this special event.

PREVIEW:




---
MUSEUM SHOW IN REVIEW:
KUGACH, KUGACH, KUGACH

Artists Mikhail Kugach and son Ivan were in attendance of the Katzen Art Center at the American University Museum show opening honoring their family's three generation of artists legacy. Preview weekend included a Russian Embassy dinner hosted by Luba Taubvurtzel of Global Arts Network and an Collectors luncheon with slide show and lecture by Mikhail Kugach with translation by JonathanWurdeman, presented courtesy of John & Kathy Wurdeman.

FULL PRESS RELEASE WITH VIDEO
GLOBAL ARTS NETWORK LINK WITH VIDEO
FROM JOHN & KATHY WURDEMAN
PHOTO ALBUM

---



SAVE THE DATE:
RUSSIAN FINE ART EVENT - JUNE 20 & 21, 2009
One Weekend Only The Moscow School of Russian Realism

Join us as the gallery presents our bi-annual fine art trunk show event featuring The Moscow School of Russian Realism. Co-hosted with art historian John Wurdeman, this exclusive tri-state area showing will feature over 200 plein-air landscape and portrait paintings by Russia's renowned Current and Soviet Era Master Artists including The Kugach family, Zabelin, new works by Kosnichev, first time in four years, Yatsenko, Smirnova and Brusilov among others. Open 12-4 p.m. both Saturday & Sunday - Fathers Day weekend.

PREVIEW & PRE-SALE:
REGISTER FOR SHOW INVITATION/ NOTICE

---



Special Event December 8 & 9, 2007- One Weekend Only The Moscow School of Russian Realism

Join us for our Annual Fine Art Trunk Show featuring The Moscow School of Russian Realism. Co-hosted with Art Historian John Wurdeman, this exclusive tri-state area showing wil feature over 200 landscape and portrait paintings by Russia's renowned Current and Soviet Era Master Artists

PRESS RELEASE | MSORR | FINE ART CONNISSEUR MAG. | MORE INFO