VACHAGAN NARAZYAN SHOW SCHEDULED JUNE 7th, 2014 AT JAMES YAROSH ASSOCIATES FINE ART GALLERY- HOLMDEL.
During Mansions in May, 2014 (May 1st through 31st), Two works by Vachagan Narazyan will be featured to include the painting "Ladder No.2" over the fireplace mantle and the large scale painting "Shapito" as part of the Blairsden Mansion's An Art Collector's Sanctuary exhibition. Please also visit or contact James Yarosh Associates Fine Art Gallery regarding additional works on view by the artist and available through the gallery.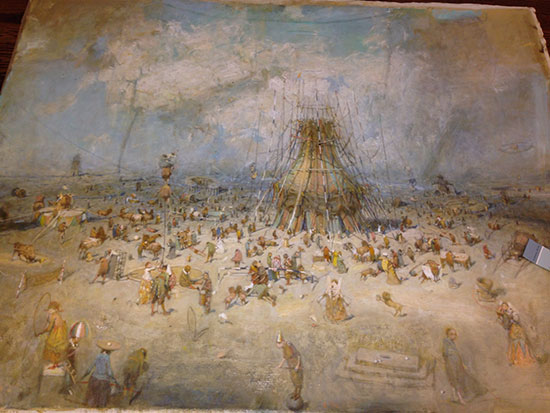 Life Journeys of Horizontal Travel: Vachagan Narazayan's "Shapito" on view at the Blairsden Mansion Fine Art & Design exhibition.

Vachagan Narazyan, (b. 1957), Ukraine
Narazyan's epic and intimate paintings are arguably among the most important works to surface and still develop from the repression of the former Soviet Union. With a style blending Old World images with futuristic visions, the artist creates a world of mystery and enchantment for the viewer to explore. Born in Kislovodsk, Russia, and currently residing in the Ukraine, Narazyan graduated from the Kharkiv Art Institute and developed a style underground—now coined "Romantic Fantasy"—as part of the historical Non-Conformist Art movement. In these works, the ladder suggests the vertical journey of travel that is more mental, spiritual and intellectual. Narazyan explores the fantasy and mystery that go hand-in-hand with the theme of shapito—a constantly moving circus. This composition of a tent surrounded by figures is part of Narazyan's "Absurd Travel" series, an ongoing subject for the artist.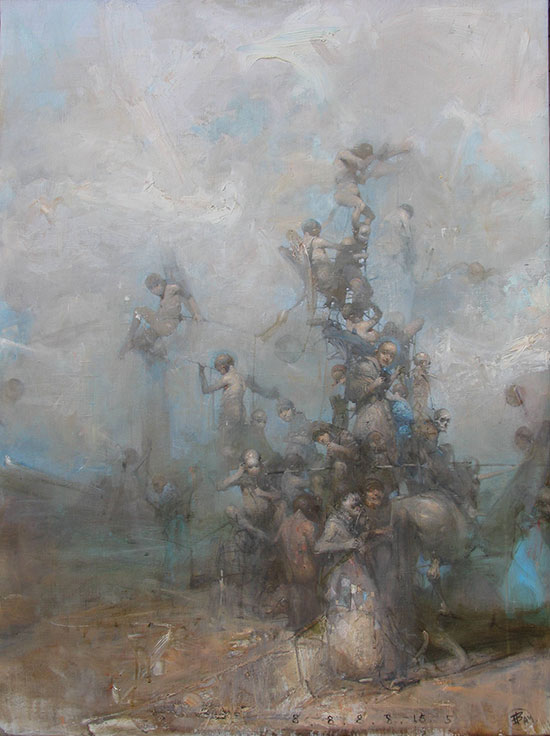 Vertical travels within: Vachagan Narazyan's "Ladder No.2" on view over the fireplace in the Blairsden Mansion Atrium as part of the Mansion in May 2014 Designer show house and charity fundraiser. Please contact James Yarosh Associates gallery regarding current collections by the artist available. A show of new works by Vachagan Narazyan is being planned for Summer 2014.