James Yarosh Associates Fine Art Gallery
& Interior Design Services for the Art Collector
There is a comfort in surrounding yourself with greatness, and there is no
easier way than living with fine art to achieve it. James Yarosh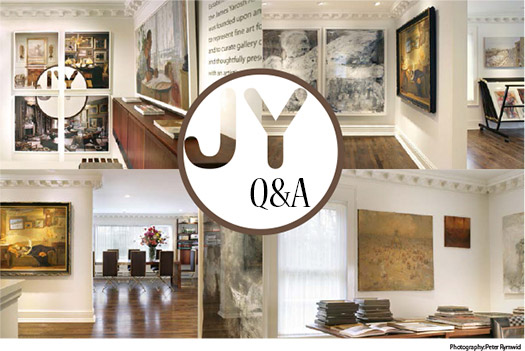 A q&a interview with james yarosh
How do you define art?
Art is a communication of an artist's thought to the viewer. It is a successful translation that transcends languages and the continuum of time to communicate a fundamental thought that illustrates our shared humanity.

What is your gallery's mission?
The gallery endeavors to represent fine art for art's sake by pioneering both new and museum-recognized artists of merit and artistic voice of our times. The idea is to offer the highest quality of art still accessible on a gallery level and to curate gallery collections and thoughtfully present art with an artist¹s eye and understanding.

What is an artist's eye and how does it inform how you present art?
It is the life-long honing of all things visual and the distillation of what is important and real. It is the ability to understand beauty, to see it in all aspects of our lives and also to have the sensitivity and empathy to feel compassion when there is a lack of beauty.

I grew up in the arts and began working in galleries at age 17. I studied art in college and in night schools and value continuing education. This is why I have recently taken drawing classes at the Metropolitan Museum of Art and chase museum shows abroad. Gallery work has always been the yin to my artist life's yang. In 2002, I was asked by a teacher at the Bridgeview School of Fine Arts in New York to be part of an artist study program in Russia. Due to my own gallery commitments, I had to decline, but that is the balance we all juggle. My role as an art dealer is strengthened from my relationships with artists and from studying the many great artistic talents before me. It's humbling, and instills in me strong values and grounding, despite my successes.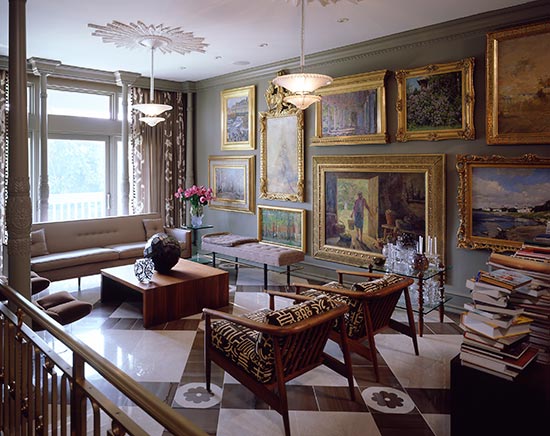 I mentioned a successful work of art is one that allows a true dialogue between the artist and viewer. My role in this discussion is the use of my experience and eye to select an artist's best works and become their advocate in imparting their stories and then to engage gallery guests in this discussion by sharing with them how to interpret the language of the artist as presented through their works. It's an honor and great responsibility to help unlock the poetry created by an artist. I become their storyteller.

What is an artist¹s understanding?
As it pertains to my work as an art dealer, it is the gift of being an artist and yet still having the ability to wear the hat of art dealer to champion others. I recognize artistic greatness and understand the need to nurture the arts and the importance of being such an art gallery. It's visionary and it's my life work. I remember hearing art historian Sister Wendy Beckett once say, Art is like meeting a great genius, to just talk to, to even be in the presence of such a person, you feel enriched, enlightened: You're more than you were before you had that encounter. She deduced that is what paintings are offering us: encounters with greatness.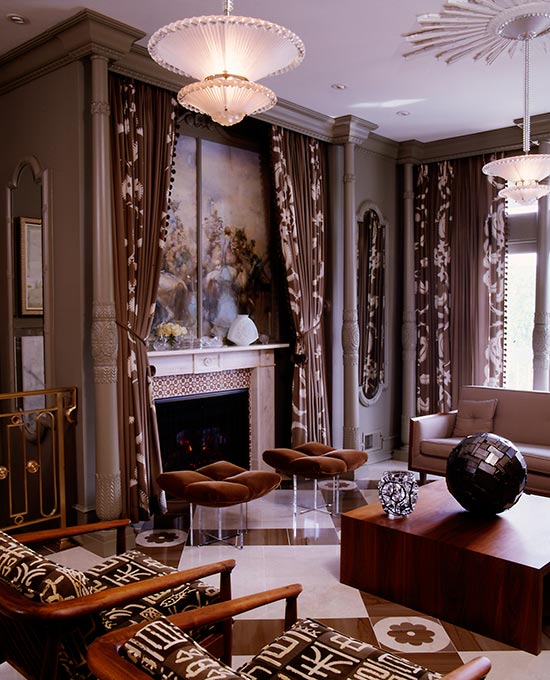 What is the marriage of your gallery with fine art and design?
There are so many parallels. Artists by nature love interior design; this is why artists homes are always so fascinating and truly represent the personality of who lives there. Like artists self-portraits, artists homes are telling, and like brushstrokes and colors are to a canvas, collected items and textures of a home become conscious choices like shared diary secrets for welcome guests.

I have always had a strong association with the interior design trade. When working together, my collaborations with designers often result in third ideas, greater scenarios for the clients. The best designers are artists themselves and most demonstrate that quality by focusing their attention on creating the very best project first and understanding that good business will follow as reward. It's easy to become fast friends with designers when we work together to solve needs to please the client and project. Relationships form, and an ongoing creativity is established by how much beauty can be squeezed in with art, framing and curation of home collections to appoint and reach client¹s goals.

My by-appointment hours affords me the flexibility to accommodate gallery meetings, client meetings and home appointment follow-ups and installation.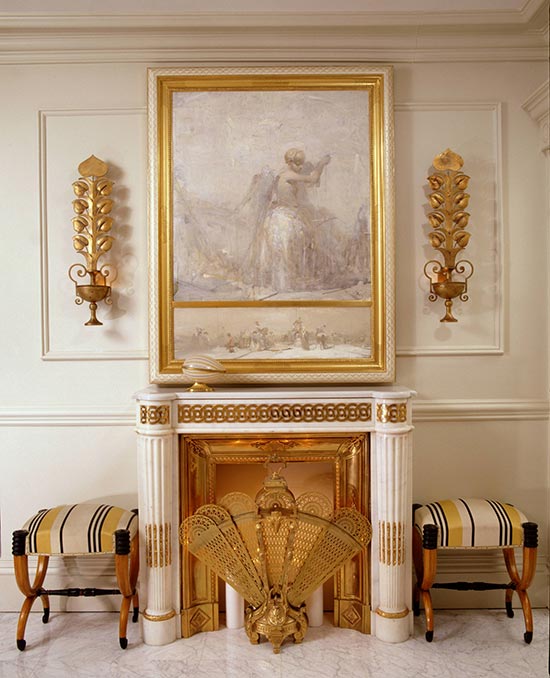 What is your experience in the interior design trade?
I opened my gallery in 1996 in an old church space and in 2001 moved the gallery down the street in Holmdel into what became known as the Fine Arts & Design building, which was owned by designer Sura Malaga. It also housed space for Bilotta, whose headquarters were at the A&D building in Manhattan. It was then, while growing the reputation of my own gallery, I began a ten-year apprenticeship as a design consultant for hire. During this time, I worked behind the scenes and on-site to infuse creative inspiration and an artist's eye to assist on all aspects of interior design specification. I had a natural aptitude for such work and knew learning and gaining experience in the field would only fuel my value with interior designers. It was incredibly eye-opening and educational for me to learn about projects, from client contracts, to the architectural blueprint stage to the final hanging of art.

Renovation projects to 20,000-square-foot new construction projects were my fast-paced training on how to deliver myself as an asset. I worked insane hours to doubly task myself to excel in both fields. During this time, I traveled Europe to visit the world's great museums. There was a synergy between my work in the interior design trade and my travel and study. For example, if a project required a French influence, I understood as I had been to France a half-dozen times, my eyes wide open to absorb.

My ten years of experience working in the trade, participating in show houses, having my own design work published and having art collectors seek me out to curate their home's design to best showcase their collections was a strong foundation and confidence was earned.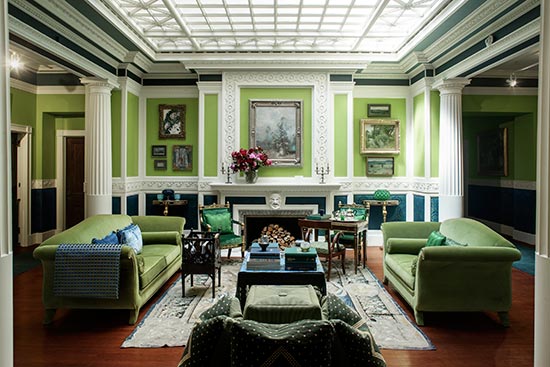 Why Holmdel, New Jersey?
James Yarosh Associates is designed to be a destination gallery, complete with ample parking and situated just one hour outside of Manhattan for international clients. I actually live at the shore, also in Monmouth County, but wanted a location that was quicker to visit from major roadways. More to the point, I wanted the gallery to be a gentler experience to allow visitors an opportunity to slow down, to be able to feel the art resonate with a space. This was why the renovation of my current gallery space in a 1917 former firehouse loft was such a careful project. The plaster molding and lighting were selected so that it would resemble a residence rather than a commercial space. I wanted it to impart the welcome and interest of an artist's home.

Saturday hours allow the public to visit and make casual first introductions as one would expect in any gallery space. The by-appointment hours allow me to serve clients individually and at their convenience. Outside the city, I still have all its access and, like many of my clients, much of my time in the city is for work and entertainment. As often as one contemplates purchasing art, it's reasonable to make a very purposeful journey that feels more a part of leisure time to enjoy the act of seeing. I certainly enjoy the quiet respite of the gallery, and my clients feel similarly. Of course, there are gallery openings, salons and special gallery events to allow participation in an art community, as well. And people do travel for art as evidenced by the national and international success stories of the gallery's leading collections of Russian Realism works and of such noted artists as Vachagan Narazyan, Sheba Sharrow and Tayana Zhurkov.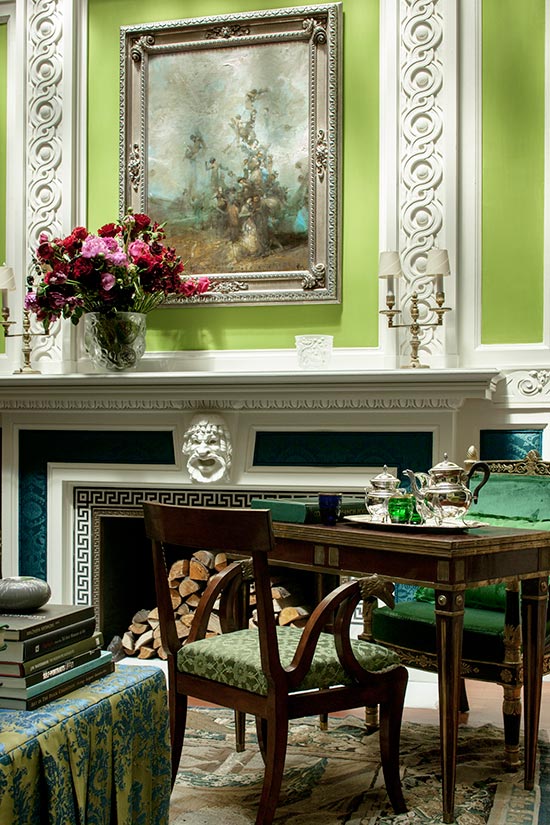 Additional Interior Design images available on the gallery's page featured on HOUZZ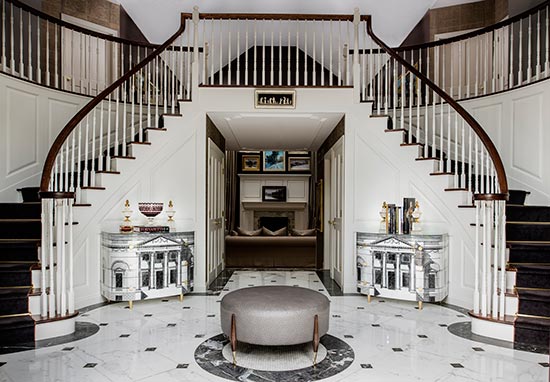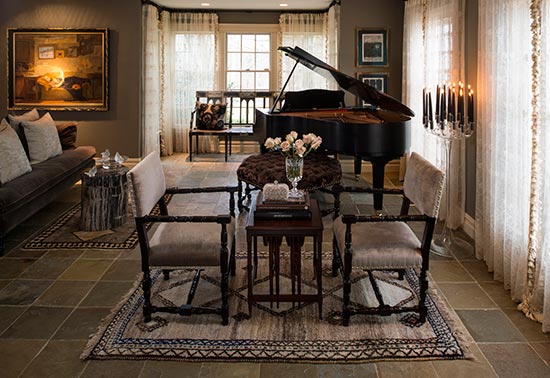 A gallery catalog is also available upon request care of jamesyarosh@yahoo.com